I don't know of a country that doesn't have its own kind of sausages. As with mince, sausages are often created because the basic meat ingredient would be tough if grilled or roasted in the piece. So it is minced up, flavoured and put into a casing. I am old enough to remember when "Austerity" meant exactly that – when there wasn't much of anything. If you were lucky enough to have a few sausages granted to you by your butcher, they were nothing to shout about, being mostly bread with a leavening of minced fat and gristle. On grilling or frying they invariably burst open. They required a good dollop of sauce – but that was pretty scarce, too. Even seven years after the war I remember queuing at the butchery in an old counter-service Sainsbury's to get four of their pork sausages – what a treat they were!  Nowadays, we have a huge range of bangers to choose from: pork, beef, chicken, turkey, venison, duck, and so on. Herbed, spiced, with added apple, tomato or whatever.  For me, though, I like my sausages made from lean pork and simply seasoned.
As the late, great Tommy Cooper would say:  "Juss like this…."   Perfect porkers made from local meat by the Butchery at Emmerdale Farm Shop (not far off the A12 on the turning to Westleton a few hundred yards north from Yoxfird)    Sizzlingly beautiful bangers.
A Super Traditional Plate – Sausage Toad-in-the-Hole
The engine room of the great British breakfast, our native pork sausage is one half of one of the world's great dishes (Bangers and Mash), it's good casseroled and delicious cooked, cooled and sliced. Then there's the glorious flavour of a sausage, charcoal barbecued, in a bun with fried onion, mustard and tomato ketchup. Among my hot sausage favourites is Toad-in-the-Hole, which comprises two bangers per person and a basin of Yorkshire Pudding mixture. Most recipes half cook the sausages before baking, but this is not necessary.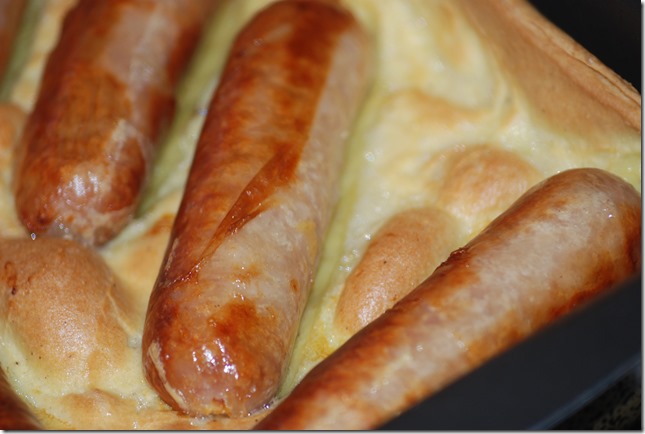 Making the Yorkshire Pud
3 heaped tbsp plain flour
1 cup of one part milk and three parts water)
1 egg
Salt and ground black pepper
1. In your food processor whiz (or beat in a bowl if you like) flour, salt and pepper
and egg.
2. Dribble in milk mixture and whiz/beat until you have a quite thin batter with bubbles on the top.
3. Cover and set aside for 45 minutes.
Assembling and Cooking
1. Pre-heat oven to 220ºC (200ºC Circlo-Therm)
2. Grease a medium sized roasting tin (about 23 cms / 9" x 28cms / 11") with a little beef dripping, lard or butter.
3. Distribute your chosen sausages evenly in the roasting tin.
4. When ready to cook, beat the mixture again to form the bubbles and pour
into roasting tray around the sausages.
5. Around 45 minutes in your hot oven — wizard!
6. Serve with gravy, fresh cabbage and spuds you like.