Admittedly, Russia isn't the first region that springs to mind when we are asked to name our favourite wine countries. Or even the tenth. I've always assumed that Russians drank only vodka—morning, noon and night. But as I've recently come to learn, there is some excellent wine being produced in Russia that will soon hit the European market.
The history of Russian winemaking is similar to that of Cyprus. It was first made there (mostly in Caucasus, near the Black Sea) thousands of years ago, then for various reasons it nearly stopped altogether, and when it started again the emphasis was on bulk wine for the masses. In fact, even today at least 75% of the wine produced in Russia is bulk wine, a lot of it chemically enhanced, some of it not made from grapes but from concentrate or powder, and almost all of it undrinkable for anyone who has tasted even Bulgarian wine. There are, however, a few enterprising individuals (as in Cyprus, starting in the 1980s) who know and have a passion for what good wine can be, and they have started making artisanal wine from traditional European grapes and from local varieties as well. And since the collapse of Communism (I wonder if someone should tell President Catastrophias about that), there are millions in the country who, benefitting from a greater freedom to travel, are fast becoming avid consumers and connoisseurs of fine wine. Beautiful new wine bars are opening every month, not only in Moscow and St. Petersburg but also in every major city and large town.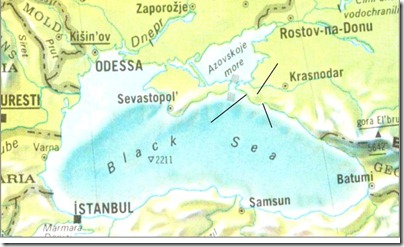 I was lucky enough recently to taste some samples from one of these quality-driven, small wineries: Domaine Burnier, located in the Krasnodar area on the northeast coast of the Black Sea. Started by Swiss winemakers, Renaud and Marina Burnier in 2001, in Stanitsa Natukhaevskaya, near Novorossiysk (you know the place), it was the culmination of several years of research and strong interest in the area and many exploratory trips to find just the right piece of land for wine grape cultivation with the most conducive micro-climate and soil composition. The Krasnodar area, by the way, is in the same longitudinal belt as the great wine producing regions of Bordeaux and Piedmont.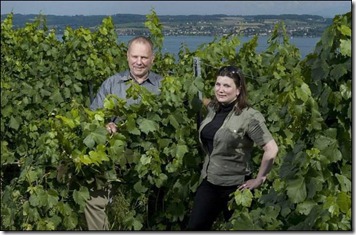 The stated goal of the young Swiss entrepreneurs is "to produce wine of the highest quality which will properly represent Russia on the international market". Their vineyards, which they started planting in 2003, are located on the sunny southwest slopes of the Caucasus Mountains, the plots for red grapes composed of drab clay and those designated for white grapes made up of marl, stony soil. So far, high-end clones from Italy and France of Chardonnay, Pinot Blanc, Pinot Gris, Yellow Muscat, Viognier, Merlot, Cabernet Sauvignon, Cabernet Franc, Malbec and Syrah have been planted. But the one that I predict will make the Domaine's reputation is the local, nearly extinct grape, Krasnostop Zolotovskiy.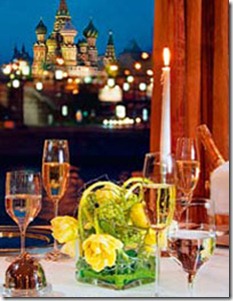 The majority of the work at Domaine Burnier, including the harvest, is done by hand. No chemical fertilizers are used, some biodynamic methods are employed and there is minimum human interference in the natural processes of winemaking (fermentation, maturation, etc.). Four labels have been produced in limited quantities, most of it slated for export to Europe. There is: Burnier Blanc 2007, a blend of Chardonnay, Pinot Blanc, Pinot Gris and Muscat; Burnier Merlot 2007, a complex wine showing good structure; Cabernet Sauvignon Barrique 2005, fifty per cent of which spent 18 months in French and Russian oak; and Krasnostop Barrique 2007, aged in French oak for a year and a half.
I had the opportunity to enjoy two bottles, the Cabernet Sauvignon and the Krasnostop, at my leisure, which means they could be properly decanted and aired and I could note the changes, good or bad, that occur one or two days after opening. The design of the labels themselves, I have to say, are not aesthetically appealing, and I believe something will have to be done about that if the wine is to succeed in the fine wine market. The Cabernet Sauvignon, an hour after opening, was rich, quite spicy and heavy in the tannins. It was better with food than alone, and I would have to rate it a generally good wine, an interesting expression of the Cab Sav grape on a foreign soil, but not a great wine.
The Krasnostop, however, I do not hesitate to pronounce a great wine. From the first sip, even before proper aeration, it created pleasure heaven. Thickly, silkily smooth, deeply complex, it had an intriguing intensity and rich flavours I've never encountered (never having tasted this particular grape). Later the same day it was even better and its attractions irresistible, causing me to almost abandon my dinner. The next day, at lunch, it was just as good and I began plotting a way to get more of it.
Much in the way that I believe the Maratheftiko and Lefkada varietals will create an honoured and permanent place on the international wine map for Cyprus, I'm convinced that this Krasnostop Zolotovskiy grape will bring Russian winemaking out of obscurity and into the world wine market with the acclaim it now deserves.
Fine winemaking from Russia. Who knew?
Reproduced from "Cyprus Gourmet" weekly edition, published every Wednesday in the "Financial Mirror", Nicosia.    For business, political and to find out what's going on in Cyprus, view www.financialmirror.com