Arising from my article about tasting and serving wine, I received an Email from Allan in Limassol, who asks: "When you have people in for a meal, is it polite to talk about the wine? And, if someone asks where you bought the wine they are drinking, should you tell them the price?"
Well, Allan, in Cyprus of course, there are quite a lot of local people who will simply come straight out and say "How much you pay for this wine". Generally, though, there are no cut and dried answers to these two questions. In both Cyprus and England, I find that most guests simply drink the wine offered (some rather greedily, I have to add!) and make no effort to appreciate it, or to ask about it. Frankly, this is sad. However, when at a lunch or dinner you are faced with a couple of wine bores who spend all the time talking about the wine, that can be sad, too.
All this said, a comment on the wine, especially if you do take the trouble to have an unobtrusive sniff, swirl and taste, is surely appreciated by the host. If you are asked for details of purchase and price, give them, even if this causes some embarrassment. A few weeks ago, we had a delightful lunch for three other couples, with a seafood starter. The wife of a friend, sitting next to me, sipped and said: "What a delicious, fruity wine. What is it?" It was Hungarian, I replied, naming the brand and where I got it, concluding "…. and it cost £4.79". "Oh", the lady replied, clearly put out at being served "a Cheapo". All I could to was to put on my wine-writer's expression and say: "I think it's a lot better than many whites of double the price…. And I love it". I am happy to report she had several glasses.
Was it necessary to tell her the cost? Yes, because she shops at the same supermarket and would have seen it there, and thought to herself "Old Skinner is a cheapskate".
This Week's Recipe…. Don't Run Out of Puff
Turn a spot of Pastry dough into a super snack lunch
A 375 gram packet of fresh puff pastry can be cut into six good portions. If there are less than six to serve, what you don't use can be frozen. Fresh, it keeps for at least ten days. It's a useful and inexpensive way to make a meal. All you need to do us roll out each piece of pastry to an oblong about 12cms x 7cms, brush with beaten egg or milk (for a golden, glossy top) and bake for 20 minutes or so in your oven heated to 200ºC / 180ºC Circlotherm.
For a jolly lunch try this mushroom sauce. Confuse everyone by giving the dish its French name (there's posh for you)
Feuilleté de Champignons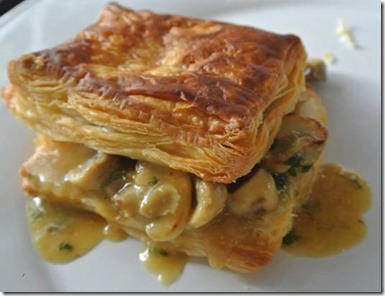 Ingredients for four servings
4 cups (or good handfuls) of fresh button mushrooms, each one cut in half
1 walnut sized knob of butter and one tbsp olive oil
125ml white wine
1 flat tsp sugar
Salt and Pepper
A couple of sprigs of chopped parsley
1 des-spn flour
Method
1. Pre-cook your four pieces of puff pastry and keep warm.
2. On high heat melt the butter in the oil until, it's sizzling and beginning to brown.
3. Throw ion the mushrooms and fry quickly (about 2 – 3 minutes)
4. Before they start to throw their juice, lower the heat and sprinkle over the flour.
5. Season and stir.
6. Pour over the wine and stir gently until you have a good sauce of not runny or thick texture.
7. Cook gently for 2 – 3 minutes.
8. Open up each pastry, put on plates and spoon the mushroom sauce over the bottom.
9. Put the "lid" on and serve. Fresh green beans are a good accompaniment.
WINE MATCH
In the UK, the wine mentioned above, the bright and cheerful Hungarian white from Hilltop Estates called "Eva's Vineyard". In Cyprus, a lightly chilled Xynisteri from Zambartas!
Tribute to Akis Zambartas
"One of the gang" – Akis Zambartas with Costas Tsiakkas, Sophocles Vlassides and George Evripidou
The contribution made by Akis Zambartas to the making of wine in Cyprus, and to the dissemination of knowledge about winemaking to both wine students and consumers will be recorded in greater depth elsewhere. This modest tribute is based on 20 years of knowing him as M.D. of one of Cyprus's largest companies and as a small independent winemaker. He was a singularly modest man, extremely well educated, master of at least three languages, and highly qualified as chemist, oenologist and hands-on winemaker.
By completely re-developing and modernising the KEO winery at Malia, Akis set the seal of authority on the axiom of "make the wines where the grapes are grown". As a result the Cyprus industry moved from one producing bulk wines in large quantities for export to a smaller one making good quality bottled table wines, largely for local consumption.
In 1994 I took up writing about wine and food for the Cyprus Mail, an English language daily newspaper of quite small circulation and one not central to the KEO company's marketing strategies. But when I contacted the firm and was connected to Akis I was greeted with charm and interest then, and on many other occasions on which I sought an hour out of his busy schedule. We didn't always agree, especially when he shut the beautiful traditional sherry Bodega in Limassol, but a mutual friendship and respect allowed such differences of opinion.
We met regularly over the years and shared a table from time to time, when he would enjoy both the plate before him and the wine in the glass. The latter he would, in an unostentatious fashion examine carefully, sip and savour. Comment would be expert and only delivered on request.
The sea-change created by KEO's move to Malia may not be fully appreciated today, but it was a catalyst of great significance. Even though Othello remained Cyprus's largest-selling wine for some years (it got better, by the year, by the way), new wines were introduced and grapes like Maratheftiko grown and vinified. The impact that the move had on the attitudes within the industry was profound. The very fact that "KEO were up there making wine in the hills" was a spur both to his three Limassol competitors and independent winemakers.
There is no doubt that the writing was on the wall for the old Cyprus bulk-wine producing industry as EU membership for Cyprus became a possibility, but the nettle of down-sizing and moving from quantity to quality was one Akis Zambartas grasped.
Akis was modest, self-effacing almost, but he was a highly experienced international businessman, at home in virtually any group of people. But for me, he seemed at his happiest when he was in his winery, when he was talking about wine and when he was in the company of the young winemakers of this country, as my picture shows.