The Anchor. The Street, Walberswick, IP18 6UA Telephone: 01502 722112 Every day except 25th December for lunch from mid-day to 3.00 p.m. and dinner from 6.00 to 9.00 p.m. Car park. Disabled access. A la Carte and two and three course Table d'Hote lunches. Meal for two with wine: £50.00 up. There's also a good bar menu.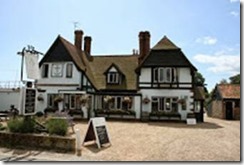 A warm, comfortable and user-friendly building. With scrubbed wood tables, wooden floors and an interesting eclectic selection of wall art, there's a warm and homely feeling here. Mine hosts since 2004, Sophie and Mark Dorber hold sway over cooking and front of house respectively. Her food is uncomplicated, properly cooked and simply presented. Local sourcing is much in evidence.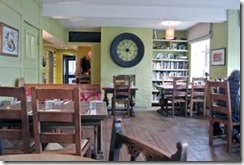 On a miserable blustery rainy day in early November we enjoyed a quiet birthday lunch, which concluded with a short but illuminating chat with Mark about several of the Spanish wines on his list. Rather a nice touch, by each of Sophie's quite short (good for her!) food listing he has added a proposal for a specific wine or beer.
£52.00 got us: a basket of home made bread and butter; one starter, an exemplary Chicken liver parfait; two main courses, home-made fish-cake and chips, linguine with spicy tomato sauce; one dessert, hot chocolate pudding with vanilla ice cream; two black coffees, a bottle of sparkling water and a 175ml glass of Rioja.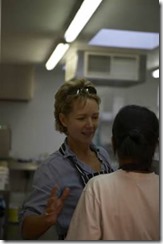 The cooking is light on salt – not necessarily a bad thing; you can always add but you can't take away. The style is personal; the tomato sauce on my linguine, for example, leaned towards purée rather than Napoli. We felt a little more "oomph" might be got into the flavours.
Service was leisurely – you couldn't call it slow – and it was efficient and attentive. Portions are sized well enough for the hungry walkers taking lunch. Verdict: satisfactory all round.
The Anchor has a user-friendly website which provides excellent background to the Dorbers' enterprise, as well as menus and information about accommodation and their programme of events.    Follow this link www.anchoratwalberswick.com