The next best thing to travelling, they say, is reading about it. As you get older this becomes truer. I always have at least one book on the go and for me this is my "Paris Season". It was brought about by my finding a journal I wrote in 1959 describing my first visit to that glorious city. Our cheap little hotel was next to the Sorbonne University and close to the Latin Quarter, with its cafés, restaurants, jazz clubs and places of entertainments. Our cash was limited, so we looked out for inexpensive places to eat. We soon found good food at good prices. "Look out for priests eating in a restaurant", people said. "If there are bicycles outside, eat there", was another hint. Only on our first evening meal at a main street around the corner from our lodgings, a roast chicken place, were we disappointed.
This was our first lunch at a small restaurant in a side street just off the Champs Elysée, to which we'd travelled by bus:
Garlic sausage (with fresh French bread, of course); trout fried in butter, Steak/Frites (a thin cut quickly fried and still pink in the middle, with thin cut fried potatoes); dessert (a slice of fruit tart); cheese (Brie); coffee. Accompanied by a carafe of house wine.
Perfect! The cost for two was €2.00. Yes, two Euros. Ah, those were the days. Those two Euros would equate to 40 today – even in a modest taverna you can't get much of a lunch for two, with wine, for that!
                    Americans in Paris
Most people, asked to name American writers who lived or spent much time in Paris, reply: "Ernest Hemingway". Yes, he was one – but he kept himself quite a bit to himself whilst there and didn't take much part in the French-American literary scene (His little book "A Moveable Feast" is evocative and entertaining, however). However, my personal favourite is A.J. Liebling (1904 – 1963), who is best known for writing for the "New Yorker" magazine from 1935 until his death. He spent some years in Paris and caught the flavour of its life, times, food, drink and amours. A particular friend of his, Yves Mirande, lived a full life around a contented and luxurious home with wife to match, a well-to-do mistress and a well-filled stomach….
"In the restaurant on the Rue Saint-Augustin, Parisian actor and gourmand Yves Mirande would dazzle his juniors, French and American, by dispatching a lunch of raw Bayonne ham and fresh figs, a hot sausage in crust, spindles of filleted pike in a rich rose sauce Nantua, a leg of lamb larded with anchovies, artichokes on a pedestal of foie gras, and four or five kinds of cheese, with a good bottle of Bordeaux and one of Champagne, after which he would call for the Armagnac and remind Madame to have ready for dinner the larks and ortolans she had promised him, with a few langoustes and a turbot — and, of course, a fine civet made from the marcassin, or young wild boar, that the lover of the leading lady in his current production had sent up from his estate in the Sologne. 'And while I think of it,' I once heard him say, 'we haven't had any woodcock for days, or truffles baked in the ashes, and the cellar is becoming a disgrace — no more '34s and hardly any '37s. Last week, I had to offer my publisher a bottle that was far too good for him, simply because there was nothing between the insulting and the superlative.'"
It would be with some difficulty that I could today dispatch a repeat of my first meal in France, but tackling the meal consumed by M. Mirande I could not even consider in my prime. But observe the writing – how wonderfully it evokes the time, place and people.
Writing came easily to Liebling – he observed life closely, often from the table, at which he was a glutton. He over-ate, over-drank, became obese and died at 59. His literary legacy is not large but greatly enjoyable.

              THIS WEEK'S RECIPE
               Aubergine Canneloni
" Egg Plant", "Aubergine", "Melitzana": whatever you call it, it is a useful thing to have in the kitchen. It's quite versatile. Floured slices of aubergine, fried are an essential layer of Moussaka. It is the basis of Moutabal, that lovely garlicky dip (pictured above). It is one of the ingredients of a good Ratatouille. And it makes this very interesting alternative to pasta cannelloni…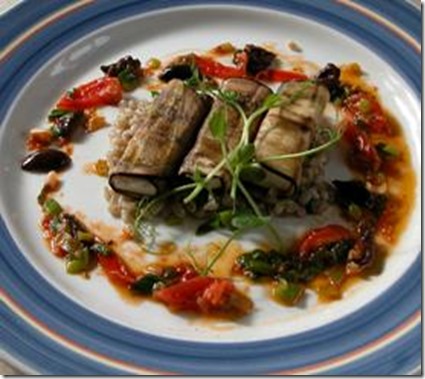 Ingredients for 4-6 servings
2 large aubergines (not too bulbous in shape).
500 g spinach, cooked, finely chopped and drained.
250 grams Anari soft cheese (or similar).
Salt and pepper.
400 g chopped peeled and de-seeded tomatoes.
Some fresh basil.
2-3 cloves of garlic, peeled and crushed.
2 tbsps grated Parmesan or other hard cheese.
Method
1. Slice the aubergines lengthways.
2. Each slice should be approximately a half cm in thickness.
3. Discard the outer slices.
4. Layer the aubergines with salt in a large colander.
5. Place a plate with a weight on top inside the colander, to press down gently on the aubergines, for approxi­mately 30 minutes. This will remove unwanted bitter juices. Place the colan­der in a basin to collect the juices.
6. Remove and rinse the aubergines and dry carefully with paper towels.
7. In a large frying pan, heat a couple of tablespoonfuls of olive oil and fry the aubergine slices on each side until they are brown and quite soft. This will take approximately 3-4 minutes for each side.
8. When you have done this, place the aubergine slices on a paper towel to remove excess oil. Leave until cool enough to handle. Mix the cooked spin­ach and the cheese until well blended, adding salt and pepper and nutmeg to taste.
9. Put approximately 3-4 teaspoonfuls of the cheese-spinach mixture in the centre of each slice of aubergine and roll up to make a small parcel.
10.Arrange the parcels in an oven-proof dish.
11.Make a simple tomato sauce by frying the garlic in some olive oil. Do not let it burn. When it is light gold, add the chopped tomatoes and simmer gently for approximately 10 minutes. Add some fresh basil and salt and pepper to taste.
12.Spoon the tomato sauce around the aubergine parcels and sprinkle with grated Parmesan cheese.
13.Place in a medium-hot oven for about 20 minutes to heat through and brown gently.
14.Serve with crisp fresh bread and a green salad. At hand, have a chilled, dry rosé.