When Mary and I ran the Cyprus Donkey Sanctuary, after a lot of hard work, we found ourselves with reasonable funds to look after our then 30+ animals. So, we were able to hire the very necessary services of a proper professional farrier, who came every Thursday to look after the feet of eventually houses more than 130) Often a new arrival would have either very long or badly trimmed hooves. It was an all-day job so I got to cooking a meal for the farrier and the helpers, often eight or even ten people. Farriery, whether doing the business with the rasp, cutters or files, or holding the animal still, was tough work. So substantial fare was required. But, whatever I served, George, our farrier, having washed up, would sniff the air and declaim "My favourite!", pronounced as two long syllables "FAYV – RIT" As an eclectic eater, I am a bit like that, but I do have particular dishes I regard as special.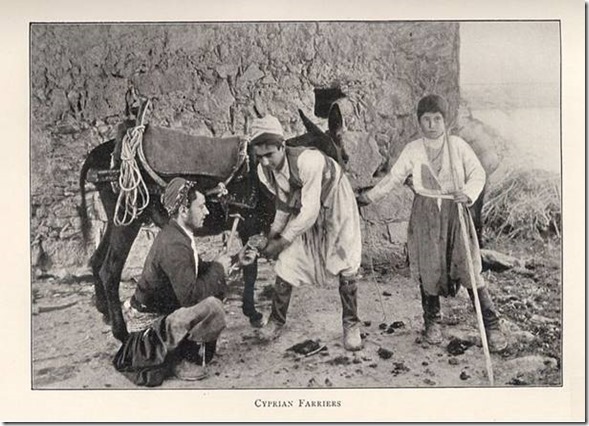 Taken in early 20th century, this photograph demonstrates that the technique of shoeing has not changed in more than a hundred years. In the early days of our running the Cyprus donkey sanctuary I asked a villager why his donkeys needed shoes. Somewhat scathingly he told me to have a good look at the ground in the vineyards and the hills. I did and saw how stony it was and how many of the stones were sharp edged. It also became clear to me that the donkey's foot was quite a complicated arrangement, with a very tender centre, requiring some skills to maintain. Alas, many donkeys had suffered from lack of proper care.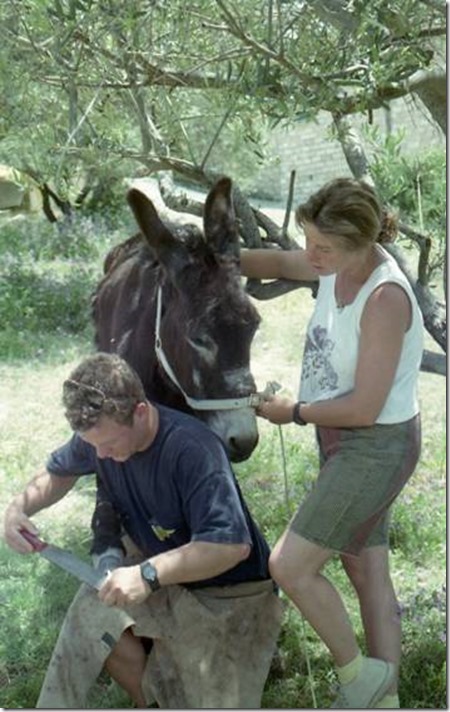 When we had just a few animals, by arrangement with the British Bases, we had the services once a month of the Army farrier (pictured above). In those days the Bases actually kept polo ponies – small, nippy horses. There were regular polo games at Happy Valley sports fields and from time to time a team from the Jordanian army, with its ponies, would fly in to play a couple of matches. With UK economic cuts, though, the polo "luxury" was closed down. Luckily, we came upon "George", an ebullient resident Brit., who was actually born in Cyprus, who looked after "our" hooves for more than a decade.
I was not the only one who cooked the "Farrier's Lunch" – several other helpers did, and it got quite competitive! After a few years, I had so many recipes in my head and in my files, a "donkey sanctuary" cook book was called for. Sales produced several thousand Cyprus Pounds revenue for the sanctuary.
I once did a little research by asking as many people as I could what their favourite Cyprus dishes were. I got a clear winner from Greek Cypriots and an equally clear one from foreign residents. Local people voted overwhelmingly for Souvla, and the other residents almost as strongly for Moussaka.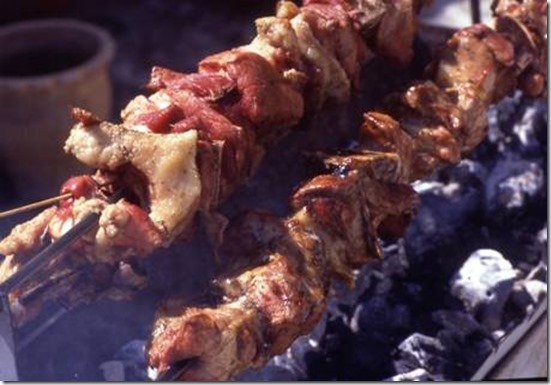 Cyprus's Numero Uno – chunks of kid and lamb turning on the spit – the charcoal-grilled flavour verges on the sublime when accompanied by hot Pitta bread and a chopped salad.
Having been introduced to Cyprus food in London at its first (and best) kebab house, where tender English or New Zealand lamb was used in the cooking, I never really took to Souvla or its diminutive Souvlaki, when it was cooked with pork. Likewise, a large percentage of moussaka cooked in restaurants has long used pork meat. It's very good, but to me it's not authentic. Moussaka cooked with lamb is the proper method!
Pork, of course, has been readily available, always tender and not expensive, by virtue of the pork industry established fifty or so years ago. I remember the lamb used in pre-pork days – stringy and tough, but of good flavour. But no wonder the pork farming and processing industries have done so well.
CLASSIC CYPRUS DISHES – 2 and the Ex-pats Number One.
     PASTITSIO STO FOURNO
     Oven Baked Cyprus Macaroni
The traditional Cyprus Pastitsio recipe does not contain tomatoes. Without them, the parsley comes through nicely. Sometimes, I either add four or five drained canned tomatoes, or a couple of tablespoons of tomato purée, which adds depth to the flavour, as do a glass of red wine and a couple of cloves of garlic, finely chopped. Every cook I know who makes Pastitsio has his or her own recipe. I like those which produce a lovely gooey, meaty, creamy, juicy dish. Here's a basic recipe for anyone who hasn't yet made this great grub.
Ingredients for 8 – 10 portions
2 tbsp olive oil
1 medium-large onion, peeled and finely chopped
250g of minced meat – lamb for preference, but beef and or pork are OK.
250 g of macaroni
1 bunch parsley, chopped
100 g of grated anari cheese
Salt and pepper.
For the "Sauce"
1litre milk
100g flour
4 eggs
Method
1. Heat the olive oil in a frying pan, add the onion and mince, and cook on a medium heat until the meat is golden brown.
2. Season with salt and pepper.
3. Add around 5oml of water and cook until the liquid has evaporated. Add the chopped parsley and stir.
4. In a separate pot, cook the macaroni for 7 minutes or until al dente; drain.
5. For the sauce, beat the eggs, add the flour and gradually add the milk, whisking continuously.
6. Transfer the mixture into a saucepan and cook over a medium heat, stirring occasionally until thick.
7. Place half of the macaroni in an ovenproof dish.
8. Sprinkle with grated anari cheese and pour over some of the cream.
9. Evenly distribute the minced meat filling on top of the cream and layer over the remaining macaroni.
10. Sprinkle again with grated anari and top with the remaining cream
11. Bake at 160°C (fan assisted oven) or 180°C (Non-fan oven with upper and lower heat) for around 40 minutes until golden brown.
For accompaniment, let's let it all hang out: lovely long kidney shaped Cyprus potatoes, halved lengthways, boiled for around ten minutes, until the edges are getting fluffy and then oven roasted in plenty of good oil, turning several times in the 50 minutes or so they take to roast. Complete with a chopped green salad: lettuce, cabbage, spring onions (scallions), raw spinach or other green leaves, mint and parsley. Dressed, of course, with oil and lemon.