A few weeks ago, browsing through the RSPB Magazine, as one does, I noticed an appealing looking and sounding inn/restaurant /hotel on the Norfolk coast, literally amid a number of nature reserves offering jolly days and nights away. My wife who is not a Twitcher, but enjoys a bit of bird watching, enthused that a lot of "waders" would be arriving or just settled in to their winter quarters and might well present some interesting sights. As her birthday was a couple of weeks ahead, it seemed a good idea to arrange for two nights at the Lifeboat Inn, Thornham.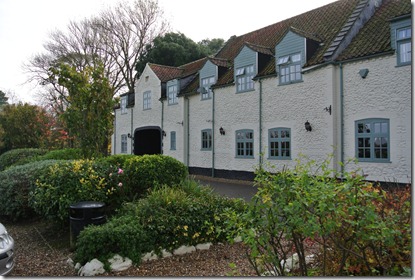 The informative advertisement seemed indicative of independent ownership, so, when I drove up to the turning into the hotel and saw the name WHEELERS on the sign-board, the little grey cells kicked into action. Wheelers fish restaurants had figured quite frequently in my younger business life, but I had lost track of them. However, a few taps at Google revealed that the once renowned but fallen-by-the-wayside eating-house brand had passed into the ownership of a group owned and run by Marco Pierre White, former  practising star chef,  now businessman, famous to the hoi poloi as the TV commercial celeb chef promoter of stock cubes and "Stock Pots", and that acquisition and renovation of the Lifeboat Inn recently was one of several moves to put the brand back on the map. As there seemed to be no single story which provided a complete picture of Wheelers, I put pen to paper – or more precisely fingers to QWERTY…..
WHEELER DEALERS
No-one could say for sure how long Oysters and Whitstable, Kent, have been synonymous, but  several hundred years certainly. The local proliferation of this mollusc undoubtedly provided cheap food for the locals for centuries and the very quantity of them created a commodity for harvesting and selling. So, as long as transport to cities could ensure arrival in a reasonable state of freshness, diners there have been enjoying Whitstables.
In the mid-19th Century a certain Captain Richard Leggy Wheeler, citizen of Whitstable, who was a Master Mariner and a Dredger Man, seemed also to be engaged in the business of nurturing and harvesting oysters. In 1856 he went a step further, opening an oyster bar in the town and putting his surname over the door. Wheelers Oyster Bar still survives in the same building, but the Wheeler family disappeared at some unknown point. Today the keepers of the flame are youthful, enthusiastic and proud of the tradition they are preserving. Delia Fitt and Mark Stubbs say: "Its history is woven into the very fabric of Whitstable's heritage as a harbour and breeding ground for the now famous Whitstable Oyster. In that time, it has survived the many harsh winters, and two world wars, and this bright pink little (14 covers) restaurant has won the Les Routiers, and Gourmand awards among many others".
The length of the Wheeler period is not known. It seems that not too far into the 20th century another oyster man, surnamed Walsh was in ownership, with his son Bernard working long days packing thousands of oysters into oak barrels, baiting several hundred hooks, or digging out thousands of lug worms between tides. Young Bernard, a tall, blue-eyed, strapping lad had the sea – and the oyster – in his blood, but more than that he had a yen for the footlights and followed the trail of thousands of others to the big city. In London he became a chorus boy and a stage manager, falling in love with, and marrying, a chorus girl in the process.
For the young married man, Bernard Walsh, the stage didn't provide a steady income. Despite the recession of the late 1920s, the oyster trade was surviving and prospering. Bernard's father saw a shuttered shop in Soho and advised him to take it and sell oysters from there. On the first day of business, in 1929, 4,500 oysters were delivered by tricycle to West End restaurants.
On finding the mark-ups restaurants were charging, Bernard Walsh decided to turn over his shop to an oyster bar, and furnished it with four tables and sixteen chairs purchased from the Bayswater department store Whiteleys for £14.00. The Old Compton Street Wheelers was born and became a mecca for writers, journalists, poets and musicians. Walsh was a smart character and when asked if he would allow a club of such people to meet in an upstairs room once a week he agreed immediately.
The catalyst of the Thursday Club, as it was called, was an artist-illustrator of some talent and connections, Antony Wysard, who, as the authors say "had had a good War" (1939 – 1945) after which he had gravitated to the job of associate editor of the glossy fashion/social magazine Harper's Bazaar. Under his aegis the Thursday Club became a Soho institution.  Its member list was a WHO's WHO of famous literati, artists and other creatvve people who regularly created riotous assemblies on the top floor.  The stuff of which a book could have been made.
It was the Thursday Club that inadvertently set Bernard Walsh on the path that would make him rich and famous. Seeking more than simply oysters for lunch, the club asked Walsh for "something hot" and he obliged with a dish that would become a staple of his restaurants, Lobster Bisque. He cooked this on a Primus Stove and laced each plate with a slug of Champagne. The primus flame illuminated the way forward – he would have to have a kitchen and a chef.  As luck would have it, a well known and experienced Chinese chef, Mr Song, who had cooked at the famed Kit Kat Club and Café de Paris became available, and Walsh installed him in a kitchen in the Old Compton Street premises. Mr Song laid the foundations for the menus of small empire that Wheelers would become: eleven variations of cooking lobster and twenty five of Dover Sole, for example.
In 1955, Antony Wysard proposed that Wheelers should have its own quarterly magazine, "Wheelers Review", edited, naturally, by himself. Walsh agreed and a splendid publication was born, whose pages were graced by contributions from the finest writers, poets illustrators and food and wine buffs of the day. In 1986 an anthology drawn from its pages was published, from which I have extracted various facts for this article.    Copies of "Oysters and Champagne", edited by Pat Davis with a foreword by Auberon Waugh, published in 1986 by Robert Hale, may still be found.  I recommend finding one.    
By the end of the 1950s, "Wheelers Review" could be found in perhaps eight more Wheelers branches. From the mid-1950s to mid-1960s I used to lunch fairly often and dine of an evening now and then at one or other branch. The ones I frequented the most were those in Old Compton Street, Charlotte Street, Jermyn Street and Dover Street, which if I remember correctly was called the Vendome, probably because of its proximity to the Jermyn Street Wheelers. The clientele in most was business people – of the younger, modest-sized expense account sort. The house wine was Chablis and it was good. My favourite dish was Sole Waleska – fillets of sole immersed in a white wine tinged Béchamel sauce, topped with cheese and browned under a very hot grill. They did shrimp with this sauce, too, adding a slice of lobster to the top. Magnifique.  Of a warm summer's evening, a grilled Dover Sole, a salad and the chilled house wine were idyllic.  The only place I ever got a sole as good was just of Berkeley Square in Charles Street at a pub called The Running Footman.
But, times change. Good Dover sole became scarce and smaller in size due to the over-fishing, as well as prohibitively expensive, with lobster and other fish and seafood going the same way. Wheelers' places got slightly tired looking and passé. One day, enjoying a pre-prandial Fino in the Charlotte Street branch, my guest noticed a cockroach crawling up the back of the leather banquette on which we were sitting. He directed the head waiter's attention to it. That gentleman came over with a paper napkin, splatted it and wiped the seat, not saying a word in the process.
At this time Wheelers was becoming pricey, too. Expense accounts weren't so thick on the ground and advertising agency execs and the PR people took clients to more IN places. And, sadly, as it happens to one and all, the good living, fish aficionado, superb restaurateur, and racing man, Bernard Walsh passed away – apparently just after seeing on television the race he sponsored, the "Wheelers Restaurant Handicap". His daughter, a successful chef in her own right, carried on for a while, but the chain was sold. It never recovered its former glories and virtually disappeared. 
Early in the 2000s, Marco Pierre White ("MPW") bought the title to Wheelers restaurants, but his first attempt to revive Wheelers in 2002 at the Duke of York Street premises lasted only three years. In the seven years since then he has expanded his catering empire enormously, starting up, buying or taking over premises in London and many towns in England. All the time, though, it seems he had a yen for re-establishing Wheelers in the big city and around the countryside. And in 2012 this is what he did.
A famous restaurant site at the bottom of St. James's Street, just across the street from Berry Brothers entered the Marco Pierre White empire and in 2005 became "Luciano's", named after his son, exactly 70 years after its opening as a fish restaurant. Of a Parisian epicurean cooking family, Madame Prunier came to London and set it up, and for more than 30 years it prospered. In the 1970s, after her death, it became a Japanese restaurant, owned by the whisky producer, Suntory. Now, a kind of full circle is complete; what opened as Prunier's in 1935 is now Marco Pierre White's Wheelers of St. James. Quite a large restaurant, redolent of a Brasserie, and expensively kitted out, it is a far cry from the several former branches of old Wheelers a stone's throw away. Also the menu is not mainly fish; and it hasn't exactly wowed the critics (not that this is necessarily anything to worry about). This is a fairly typical extract from one.
"Marco Pierre White's branded resurrection of Wheeler's bears little resemblance to the legendary originals of oysterman Bernard Walsh, & it now smacks of the celeb chef's trademark, Anglo-French retrospective approach to matters gastronomic. Seafood is still here, of course, with classic fish pie & buttered peas, battered haddock with triple-cooked chips & Dover sole popping up at £30 with tartare sauce, but keenly priced Scotch beef, grills & roast meats, ranging from honey-glazed pork belly with butter beans to lamb Dijonnaise with a perfunctory dauphinoise, are given equal, if not higher, billing…."
Others also offer a sour grape or two, but grudgingly admit that there is a policy of trying to offer quality and reliability rather than creativity and originality. A side swipe at "lots of Americans enjoying themselves" also crops up. Outside the new flagship Wheelers, there appear to be several inns/hostelries bearing the name. Marco doesn't have a very clear idea of branding or providing a user friendly website, so I can only say there are several, at Camberley for example and the recently acquired Lifeboat Inn, which is the one we stayed at.
Friends who knew it before Marco's takeover report a somewhat run-down place with nothing much food-wise. The place is now very nicely refurbished with newly made Victorian country style room furniture and lashing of what looks like Farrow & Ball pastel paintwork inside and out. Rooms, criticised by some as being small, are comfortable and well kitted out. Ours had a large comfortable bathroom and a big screen TV.
On the ground floor there is a large and welcoming log fire a fire seat and plenty other gear on which to park yourself with with an Olde Worlde Bar, popular with locals. The restaurant is about a 50-seater and, actually, quite reminiscent of an old Wheelers with its dark wood, green décor and framed prints on the walls (here they are all large copies of original cartoons by JAK of the London Evening Standard).
The menu contains no surprises with a few nods to local produce, such as lobster ("When available"), mussels from just along the road at Brancaster and Norfolk crab. Otherwise it is one clearly emanating from a chain which has supplied some at least of the planning and sourcing, and not dissimilar from other groups' such as Hotel du Vin. Likewise, there is a significant and good wine list.
Having been welcomed on our first night by the lady general manager, we chose the mussels to start. These were very good indeed, though the accompanying liquid might have had a bit more substance. Wheelers fish pie, was just that. Freshly made and not a bad example of its kind. Very flavoursome and pink roast Aberdeen Angus was unfortunately swamped with a gloppy gravy that had herbal overtones. Yorkshire pudding (popover style) was OK. Roast potatoes, previously boiled some time before, I would think, appeared then to have been deep fried and not at all appetising. Crème Brulée was excellent.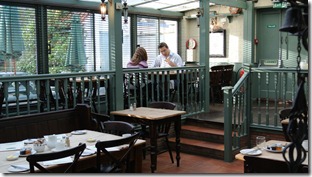 Breakfast, "in the conservatory" was outstanding and the serving ladies local and cheerful. The "Full English" would, I think, have kept one going all day. Otherwise, very good croissant, bread and other morning accoutrements, as well as the very good choice of cooked food.  Our second night's dinner saw the chef in good form. Well presented quality smoked salmon; the Brancaster mussels (popular at most tables around us); a perfectly cooked rump of lamb and a juicy chicken each accompanied by super gratin dauphinoise rang the bell. This time a shared Eton Mess completed our meal.   
At both meals, wine by the glass, with a choice of four whites one rosé, and four reds; 175ml and 250 ml prices from £4.60 to £8.50. Selection from France, Italy, Chile and New Zealand. Service was friendly, efficient and helpful, slightly of the "There you go" variety, but enjoyed, with only one asking of the dreaded question "Was everything alright?"  It was, the food and the service.  Our bags were taken to and from the room, local information was knowledgeable and freely given and our comforts well attended to.  But if you are one of those forever touching-up your I-pad tablet or I-phone, don't count on connection – Broadband and satellite links on this lovely coast are not all that hot
The Lifeboat was quite busy on the Sunday and Monday, mostly with walkers and the odd twitcher or two, of which a fair number are to be seen in this neck of the woods. I would say it has been improved by becoming part of a successful network.  It doesn't matter if it doesn't quite ring true as a "Wheelers of Old", because those who might remember the Bernard Walsh era have either joined him at the great racecourse in the sky or, like me, are knocking along a bit.   I wish MPW all the best with his Wheelers brand.  We shall most certainly go back to the Lifeboat and I should live so long as to try other places with the WHEELERS banner over them..
The Lifeboat Inn, Ship Lane, Thornham, Norfolk, PE36 6LT.  Telephone 01485 512236  Email:  reception@lifeboatinn.co.uk    Double room, B&B around £100.00 p.n.  Three-course a la Carte meal for two, with wine, from around £65.00.    RATING: food and wine ****  Service ****  Rooms ***  OVERALL: Recommended.  Comfortable, friendly, unpretentious.