Earlier this month Mary and I spent a happy week touring around Yorkshire, based on the pleasant spa town of Harrogate.   We were wallowing in nostalgia of a special kind: for old fashioned trains pulled by huffing and chuffing steam engines more than 60 years old. We were part of a group of about 40 people, mostly over 65 years of age, visiting old railway lines restored by enthusiasts to the style and appearance of 1950s travel.
The first of  two "Heritage" railway trips was on the North Yorkshire Moors Railway (NYMR), which run from Pickering to Whitby.  There are four stops on the 67 minute run, through Yorkshire's green and pleasant dales, valleys and hillsides.  The NYMR is a complete fully operational railway line, with an amazing selection of steam locomotives, with the famous 1930s LNER Streamliner "Sir Nigel Gresley" taking pride of place.    Our eight 1950s British Rail  coaches were pulled from Pickering to Whitby by a more prosaic loco, a 70-plus years old LNER Class B1  4-6-0 rejoicing in the name of "Chiru".
The NYMR and the smaller Keighley and Worth Valley Railway are complete time warps – perfect 1950s steam railways in every respect.  They're not quite authentic, because in the hey-day of live steam you wouldn't have seen a Gresley Pacific on a single track branch line!  This makes them even more exciting.  The remarkable thing  is that these railways have been restored, maintained and stocked with engines and rolling stock almost completely by unpaid volunteers and it is voluntary staff who run virtually everything on a day-to-day basis.  Their efforts have resulted in viable enterprises, many nostalgic experiences for the elderly and an introduction to the wonders of steam for the young.
At Oxenthorpe at the end of the run from Keighley, we found a homely and friendly buffet housd in an old BR coach (right hand picture), where we had a gorgeously rib-sticking bowl of Scotch broth and fresh roll, which cost all of £2.80.  On the way down the "ticket collector", a true Yorkshireman with delightful rolling brogue regaled us with accounts of the railway and its environs.   We didn't want the trip to end.
The climax of our steam-driven nostalgia wallow was reached with a visit to the vast National Rail Museum in York. Accommodated in huge exhibition structures and railway sheds, here you may see the story of the transportation system that changed more people's lives and customs than anything else.
Wheeled transport, of course, had been used by mankind for thousands of years. Ancient roads became rutted by the wheeled traffic and eventually it was seen that some kind of vehicle running on a guided track could be very valuable. Ancient grooved wood or metal tracks were used at mines and early industrial factories. How this happened is graphically depicted at York. The speed of development accelerated with the development of the coal-fired steam engine, statically used to power pumps and machinery. It was logical to harness such power to a wheeled trolley and many were the experiments. Soon all kinds of raw materials and goods were being moved short distances by steam powered railways.
The first public railway to cover a significant distance was the Liverpool to Manchester to line, where the world-famous "Rocket" locomotive pulled its passenger coaches, from 1837 onwards. This is a full-sized replica.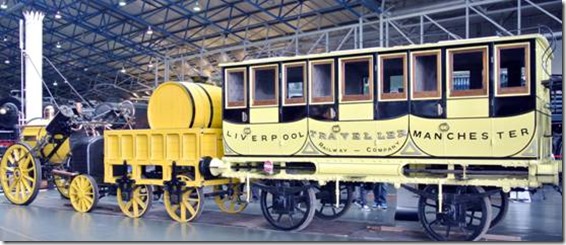 My particular interest was to see how the traveller fared for his food. Once the trains became covered and comfortable, the provision of food soon followed and eating on trains was formalised. Britain's Queen Victoria led the way with a kitchen and dining room on the Royal Train. By the 1900s good quality dining was available for all. This is an early 20th Century dining car on the Midland railway. Sustenance was needed on a journey like this of about 400 miles.  In the U.S.A. an entrepreneur called Pullman was to bring all day time com fort and night-time slumber for  millions with his dining and sleeping coaches.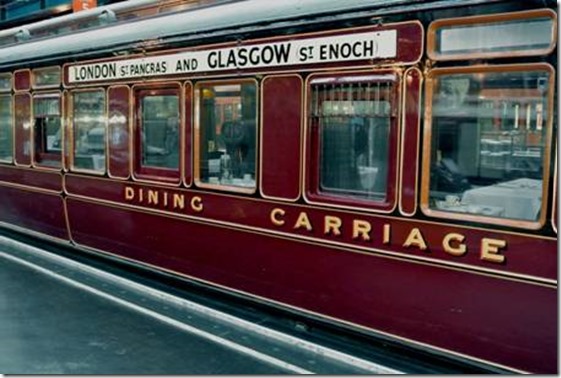 In British restaurant cars, meals were partially pre-prepared, but the kitchens, though cramped were real and in 1939 menus like this offered a good British lunch for Euro 0.23. They were served restaurant style….
The York Rail Museum is very, very spacious. It has to be because it houses whacking big steam locomotives, including a mammoth Chinese steamer and the streamlined "Coronation Scot" whose heyday was 1938.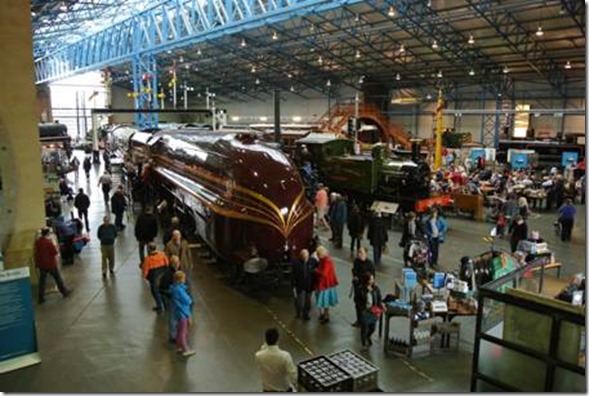 The exhibition's catering served in train-like ambience offers simple snacks and good hot and cold one plate dishes, enjoyed by people from all over the world, like this young Japanese couple.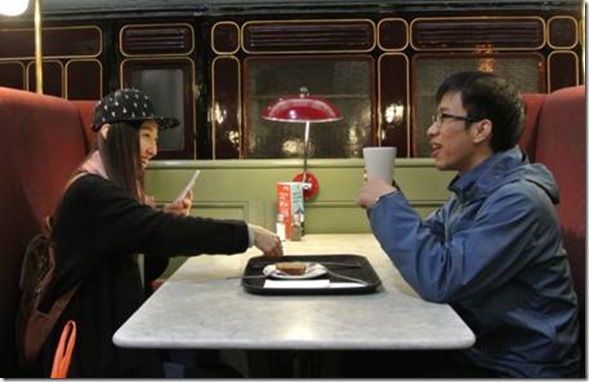 We took on board a rather elaborate version of a British Pub favourite called a "Ploughman's lunch"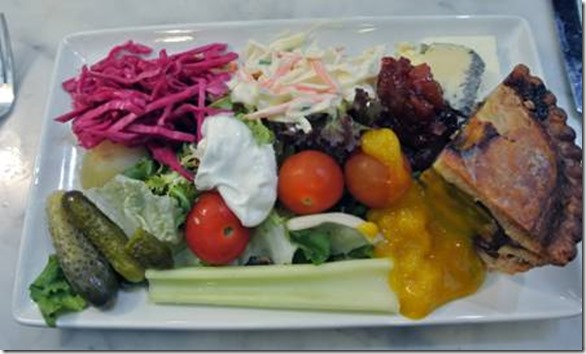 Our trip was a four night /five day  package organised by "Rail Discoveries" (formerly Treyn Holidays)  and cost about £300 a person.  Breakfast and dinner were provided at the Holiday Inn, Harrogate.  The group numbered 40 people.  The guide and coach services were excellent.