VEGETABLES FROM MARKET TO TABLE
Although I am not a vegetarian, a lot of vegetables are consumed in our house. And I love them, and devising new ways of cooking them. It's not the huge, clone-like unblemished tomato, aubergine, cucumber or courgette you see in supermarkets that fascinate me — it's the natural, home-grown sometimes knobbly all sizes of vegetable lovingly grown in someone's little patch around their dwelling, nurtured into readiness and taken to market to gain a little income.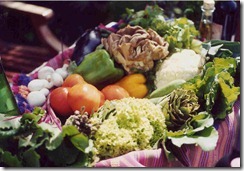 I love strolling around these markets, looking at the produce and the men and women vying with each other to sell you their wares. There's one particular stall in a small Limassol market I frequent from time to time where the garlic is better than at any other … and another with the best tomatoes, and so on.
The tradition of vegetable cookery has more than sunshine and water to it — Until refrigeration, meat was difficult to keep and often expensive to rear. Vegetables in a pot greatly extended and added flavour to a small amount of tough, stringy meat.  
Another great factor is — the olive. All around the area these gnarled old trees give up their bountiful oil-bearing crop each year, providing the basis of the healthiest cuisine in the world. Every kind of dish, fried or stewed in olive oil. Oil on salads. Oil on herbs and bread — the cheapest meal there is, like the olive oil and "Zata" of Lebanon, which has sustained many a family of the mountains over the centuries.
Add to the fresh vegetables, the peas, beans and other pulses, which are dried and easily stored and you have the basis of marvellous food, all too often sadly neglected by restaurant chefs and home-cooks alike.   Every year, for a few weeks, we can buy fresh black eye beans ("Loubia" in Arabic, "Louvi" in Greek), which make a delicious plate with some onions, garlic and spinach. But, at other times, the dried variety make are equally acceptable.
My recipe is found all around the Mediterranean, but is very popular in Greece, where it is called Briam, and in Cyprus. It uses baby marrows ('Zucchini', or 'Courgettes') and is delicious. It is truly vegetarian and suitable for periods of fasting.
* * * * * * * * * * * * * * * * * * * * *
COURGETTES WITH ONIONS, TOMATOES AND POTATOES
Courgettes bake well with onions, tomatoes and potatoes, in this Greek dish which is great for lunch or dinner parties because it can be kept a while in a warm oven until you're ready to serve it. It'll make a meatless main dish, too.
For a generous tray, get ready:
1 kilo of potatoes, peeled and chopped into chunks
750 grams of courgettes, sliced across
Two or three large onions sliced
3-4 garlic cloves, chopped
Half a kilo of tomatoes, skinned and chopped into chunks
Salt and pepper and chopped fresh herbs of your choice
METHOD (couldn't be simpler!)
Pour 4-5 tablespoons of olive oil into a large baking dish and put all the ingredients in. Mix well together with the oil and bake in a hot oven for 45-60 minutes. Stir once or twice during this time.