Anyone who watches British television will know of the many programmes devoted to "Baking" – of pies, pastries, buns, caked and bread. Where flour, water and fat are often the basis for inexpensive and filling dishes. In times past, working people, especially in the rural areas, seldom had enough money to eat meat (or fish) more than once or twice a week – a circumstance well known in Cyprus within living memory! So a considerable culinary culture of preparing cheap meals was created. Pastry could "stretch" a meal by using it as a base and/or a cover for vegetables with perhaps some chopped meat, offal or sausage. Cheese could also be added to a pie or tart or mixed into the pastry. It is one of the latter I propose this week.
Daisy Cowlard's Cheese Straws
This delicious "nibble" is simply cheese pastry cut into little strips or "straws" and baked. They can be handed round at a party as one of a selection of offerings, or used to enhance a bowl of soup. I fortified myself before writing this column with a plate of home-made vegetable soup accompanied by a handful of fresh-from-the-oven cheese straws.
I have used this recipe from time to time for more than 40 years. At that time, newly married, I lived in one of a cluster of very old, very traditional, oak-framed cottages dating from 1430 in a small village in the south-east English county of Kent. Behind ours was a tiny dwelling inhabited by two elderly sisters, Daisy and Glad Cowlard.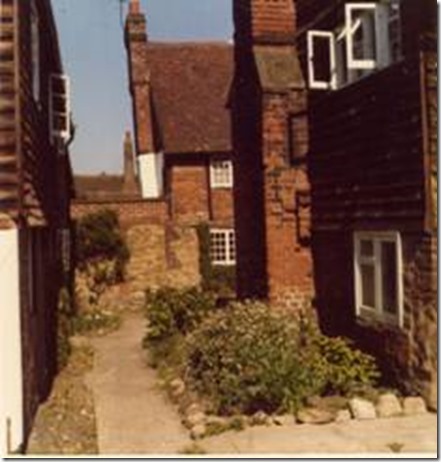 590 years old and still good homes
In their 70s, they had not long retired from a lifetime "In Service" as servants in one of the large houses of the village. Neither had ever been to London, 25 miles / 40 kms away. They had never married, but disliked being called "spinsters". As Daisy once told my wife: 'I shan't die curious'. In addition, both knew English country cooking well and would readily impart a recipe now and then. With a Christmas party coming along, one day I asked Daisy if she had a recipe for "Cheese Straws". She brought out an old scrapbook, found the page and dictated the recipe to me. Here it is.
Ingredients
85g / 3 oz plain (all-purpose) flour
60g / 2 oz butter
60g / 2 oz Parmesan Cheese
Half of one egg yolk, beaten
Pinch of Cayenne pepper
Pinch of salt
A spoonful or two of water
Method
1. In a good-sized mixing bowl hand-rub the butter into the flour until the
mix is like quite fine breadcrumbs in texture.
2. Coarsely grate the cheese and mix with the butter/flour
3. Add the beaten half egg yolk and mix well.
4. Add water and mix well until you have a solid damp ball
5. Sprinkle a little flour over your pastry board or work surface and start
Rolling out the pastry. You want to make a long piece about 10cms /
4" wide and 0.6 cms / ¼" thick.
6. When you've rolled out the pastry, cut out about 30 straws (each is a
little bit more than 0.6 cms / ¼" wide)
7. Place your straws on a baking tray and put in the centre of a medium-
hot oven (200º) until they are crisp and golden brown (about 12 – 14
minutes.
And…"The Soup"
Ingredients for 4 portions
50g butter
Half of one piece of celeriac (about 2 cups-full), peeled
1 small-medium turnip, peeled
1 stick celery
White and lower part of the green of one medium leek
1½ litres of chicken stock (or water plus 1 or two stock cubes)
Salt and pepper to taste
Method
1. Chop the celeriac and turnip into small chunks and the celery into
thinnish slices.
2. In a large heavy pot (with lid) melt the butter and when just beginning
to brown at the edges, add the vegetables.
3. Stir-fry briskly for 2 – 3 minutes and then turn heat down low and put
lid on.
4. Cook on low heat for about 5 minutes, stirring twice. Be careful not to
burn the veggies.
5. Add the stock, stir, put the lid on and simmer for around 15 minutes.
6. Chop some chives, green onion tops or mint.
7. Season to taste and serve with cheese straws!
20 YEARS AGO
Yes, my dears, I was writing about food and drink back then! It was the asparagus season (now we have it 12 months a year courtesy of Peru and I don't think we're the better for it. I like the long, often stringy local stuff!)
Here are my thoughts then.
Spear a thought for asparagus
THE SIGHT of a road-side stall near Episkopi, with bundles of the freshest asparagus, reminds me of a good English summer. There are many things you can do with asparagus, but let's start simply by boiling it.
1.  Cut any choggy or woody bits from the bottom of the asparagus.
2.  With a sharp knife, scrape the bottom section of the stem to
remove the stringy bits.
3. Tie or put an elastic band around the asparagus to make a bundle.
4. If you have a very deep pot, stand the asparagus in it and fill with water half way up the bundles. If you don't, but you have a very large frying or saut£ pan, stand some forks or something similar on one side and lay the bundles down so that the tips of the asparagus are clear of the water.
5. Cover your pan, bring the water to the boil and cook on a moderate heat for about 10-12 minutes.
6. Serve hot with melted butter, or cold with French dressing or mayonnaise.
CREAM OF ASPARAGUS SOUP (4-6 servings)
This soup is delicious hot or cold
Ingredients:
1 standard bundle of Cyprus asparagus                                                                                                                                         1 medium onion                                                                                                                             2 small to medium potatoes                                                                                                                                           Half a litre of chicken or vegetable stock                                                   Half a litre of milk                                                                                        Salt and pepper to taste
Method
1. Wash the asparagus, cut the woody bits from the bottom of the stems and, with a sharp knife, scrape very well the lower parts to remove the stringy bits.
2. Slice the asparagus into slivers. Set aside the flowers at the top, which you must cook separately. Peel and cut the potatoes into small sections, and peel and slice the onion finely.
3. In a heavy pan, melt 2 good knobs of butter and stir-fry for a few minutes the potatoes, the onion and all the asparagus except the flowers.
4. Pour in the stock/milk. Bring carefully to the boil, cover and simmer for 15-20 minutes or until the asparagus is well cooked through.
5. In a separate small pan gently simmer the flowery tops of the asparagus until they are not quite cooked through. Drain and set aside.
6. Drain the liquid from the large pan into a bowl and then put the cooked asparagus, potato and onion into a food-proces­sor and purée thoroughly. If you have a hand-held blender, so much the better!
7. Return the purée and the liquid to the big pan and whisk, adding salt and pepper to taste.
8. Chop the tops of the asparagus quite finely and, just before serving, mix into the soup.
9. Ladle into bowls, add a swirl of cream and a little sprinkling of parsley or chives, and serve at once. Note: avoid stringy asparagus. If you cook the stringy stuff you may have to put the soup through a Mouli.
10. The soup may be thickened by increasing the quantity of potato. It is also delicious cold, and makes a variation of Vichyssoise, especially if you chop plenty of chives into the soup as you serve it.
If you are in a buttery frame of mind and you can find small new potatoes, asparagus and new potatoes which have been cooked with some mint are delicious together with some melted butter. Tips of asparagus, pureed, also make a deli­cious sauce for young roast lamb. Finally, an hors d'oeuvre or buffet dish.
Ingredients, to serve 6-8
2 bundles of asparagus, 4 hard-boiled eggs, Mayonnaise, 1 cup of cooked North Atlantic prawns, 2-3 medium tomatoes,
Method
1. Cook the asparagus as outlined above.
2. Hard boil the eggs for 10-12 minutes, drain and plunge
straight into cold water.
3. On a large serving platter, arrange the cooked asparagus in an
artistic fashion.
4. Peel and halve the hard-boiled eggs, remove and discard the yolks and stuff them with a mixture of the cold cooked prawns, coarsely chopped, and some mayonnaise.
5. Slice the tomatoes and place in between or around the asparagus; then complete the display by adding the halved, stuffed eggs.
6. Dot some mayonnaise, topped by a tiny bit of parsley, on the asparagus and serve well chilled. To accompany: a fruity white wine, like Ayios Andronicos 1993.
(2016 Notes:
1. Today, you should try the 2012 to 2014 vintages!
2. When I wrote the above, on the same page I reviewed the Lofou Taverna, which I am happy to say is still pleasing customers with its eclectic mix of Cyprus favourites)