Ask for a Kebab in a Lebanese taverna, and you will most likely get a stick or two of beautifully minced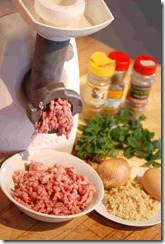 lamb, onion, garlic and herbs, cooked over hot coals. It's called Kofta, and because you need intense heat to seal the outside it is difficult to make at home. All too often, if the mix doesn't crumble the inside 'steams' and is watery. Now there's a brilliant adaptation of the recipe which results in perfect meat patties every time. To the traditional minced meat, onions, garlic and green herbs are added some breadcrumbs and an egg. As in other recipes using bread crumbs, the best in my view are those made with lightly toasted Pitta bread. Simply break some into pieces and put in a small food processor and whizz. Pitta-crumbs make gorgeous coatings for fried pork or chicken escallops and pieces of fish.
The other important thing when making minced meat dishes is to mince the meat properly, and food processors are unreliable in doing this to the right consistency. So I advocate buying a good sturdy mincer. There are still hand meat mincers you attach to the table, but I prefer an electric one and mine is the sturdier of the two Moulinex models, the "HV8 Combi". It deals with tough and stringy meat quickly and efficiently and has two grinding discs – fine and coarse. The latter is ideal for kofta and for meat and fish terrine mixtures. I use the finer one for liver paté and such.
Easy-cook Kofta
Serves 4
Kofta Ingredients
500g / 1 lb 2 oz lean lamb meat, finely minced
1 egg, beaten
2 tbsp Pitta bread crumbs
1 medium onion, peeled and finely chopped
3 – 4 sprigs of parsley, 2 sprigs of mint, a few fresh chives, and a tiny sprig of rosemary, finely chopped
1 – 2 garlic cloves, peeled and chopped.
½ tsp ground cumin, a pinch or two of ground cinnamon, and a pinch of chilli pepper. You may use these spices in quantities to please your taste.
Salt and pepper
Method
Put all the ingredients into a large bowl and mix well (hands are best for this)
Cover and refrigerate for one hour.
Make 12 slightly elongated balls from the mixture.
If barbecuing or grilling you may thread two or three balls on to skewers (if using wooden ones, soak them in water or lemon juice for 30 minutes first)
Cook quickly, turning regularly.
Or, heat a little olive oil in a heavy non-stick frying pan, flatten the balls into patties and fry them quickly for 2 – 3 minutes each side.
Serve with griddled Pitta bread and strained yogurt. Tahinisalata matches the kebabs well.  It's a nice dish for roast potatoes too!   As for salads, a Lebanese Fattoush wants a lot of beating, and I have the recipe for that.