The Cyprus Hilton and I go back quite a long time – to 1968, in fact, when on a flying visit from Beirut I first enjoyed a coffee in its very pleasant lobby lounge, not long after it opened. In the 1970s and 80s we partook of lunch, dinner and an overnight stay now and then when we were on holiday or business trips. Then from 1991 onwards when we were resident it became a rendezvous for many meetings and meals when we were in Nicosia.
General managers who came and went over roughly three year periods became friends, with several of whom we exchange Christmas greetings. The Hilton is unique in Cyprus – a hub of business and pleasure activities and the capital's premier meeting place.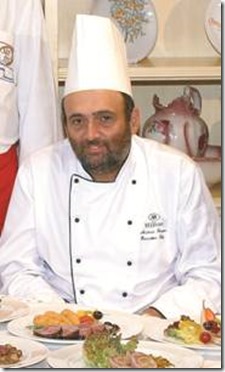 And for as long as I can remember the chef-de-cuisine has been, and still is, Andreas Georgiou, a veteran director of menus of countless functions: from Rotary and numerous business clubs to weddings, christenings, product launches, charity fund-raisers, embassy and government bashes and lots more. I have had the pleasure to work with him over the years: cookery competitions, press lunches, small group meals and for special editorial features such as the Cyprus Gourmet's "Cooking with Beer".
The food was almost always good and the event well organised – with the possible exception of a somewhat ill-advised series of "Theatre Dinners", in the 1990s.where timing went awry.
In those heady days of boom, before the bust, wine importers were lavish in their promotions, organising splendid affairs to introduce new wines or producers. One such rejoiced in the name of "Gala Dinner", in which four, five or even six courses, were matched to a specific wine. An all inclusive price covered food and drink. Le Crème de la Crème of Nicosia, Limassol and Paphos flocked to them.
I recall one such Gala Dinner at the Hilton, attended by around 100 people. The price was modest, the menu three-courses with a main dish of the most excellent roast beef, prepared to perfection by Andreas Georgiou's team (believe me, you have to be a good chef, with good servers, to bring hot roast beef to every person on every table in peak condition). The wines were excellent, from a noted Burgundy house. We enjoyed the meal immensely and said so a day or two later to the importer. "Ah", he said, "Thank you Patrick, but I had many complaints from Cypriots, who wanted much richer food and much more of it".
Andreas is always courteous, obliging and efficient. Asked a week or two ago for a couple of recipes, he obliged within a few days. They look good, as befits a hotel chef's creations, and they taste good.
Andreas Georgiou's Grilled Halloumi & Vegetable Timbale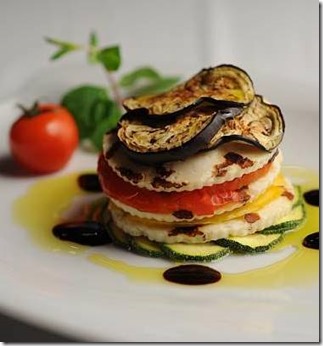 Ingredients for four servings:
200g Sliced Halloumi (enough to make 12 6 cm circles)
200g Sliced Eggplants (Aubergines)
200g Sliced Courgettes
200g Red Peppers
200g Yellow Peppers
50g  Chopped Mint
80ml Extra Virgin Olive Oil
80ml Balsamic glaze
4 Cherry Tomatoes
4 Mint leaves
Method:
1. Heat your grill to High.
2. Brush the halloumi and vegetables on both sides with olive oil and grill until beginning to brown, turn and do the other side.
3. Remove and sprinkle with olive oil & chopped mint.
4. Using a 6 cm diameter pastry ring make four timbales with the grilled halloumi and the vegetables. Make up as shown in photograph.
5. Serve timbales sprinkled with olive oil and balsamic glaze, and garnish with cherry tomatoes and mint leaves.
Cook's Note:
Remember that grilled Halloumi goes very tough and leathery when it cools, so try to be very quick in making up the dish and getting it to the table!
Spaghetti with Jumbo Prawns and Tomato Sauce, Flamed with Ouzo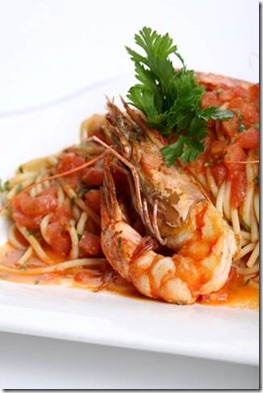 The aniseed flavour of the Ouzo (or Pernod) goes incredibly well with shrimp or prawns. If you can find North Atlantic prawns these have the best flavour.
Ingredients for four servings:
24 peeled raw jumbo Prawns, head on (see cook's note)
600g cooked spaghetti
80ml Extra Virgin Olive Oil
150g chopped onions
50g chopped garlic
80ml Ouzo (or Pernod)
200g chopped tomatoes
20g chopped parsley
20g Chopped fresh basil
Salt & Freshly Grounded Black Pepper
Method:
1. Heat the olive oil in a non stick pan and over a moderate heat fry the prawns for a minute or so each side.
2. In the pan add onions, garlic and sauté until golden brown.
3. Flame with ouzo. Reduce juices by half.
4. Add tomatoes, parsley and basil and cook for about five minutes.
5. Remove pan from heat.
6. In a large pan, salt and boil plenty of water and cook the spaghetti in a rolling boil for 9 – 11 minutes until cooked through to your liking.
7. Drain spaghetti and form out portions into a pasta plate and add the prawn mixture.
8. Garnish with some parsley leaves.
9. Serve with a crisp, well chilled Xynisteri.
Cook's Notes:
If your prawns are frozen, start by de-frosting them.
If you cannot find good jumbo/King Prawns, use the smaller variety of frozen cooked ones, defrost them and start the recipe at (2). Just stir in the prawns to the sauce after (5).
It is better to cook the spaghetti before or while you are cooking the sauce, because prawns must not only NOT be over-cooked, but should be served as soon as they are done.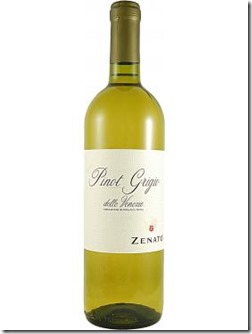 Wine Match:
Zenato 2012 Pinot Grigio Delle Venezie. From the family winery founded in 1960 by the late Sergio Zenato. whose energy, ambition and knowledge are carried on by his wife Carla and their children Alberto and Nadia, to develop and expand the business. Alberto looks after the product, from vineyard to bottle and export, while Nadia is responsible for market development and communication.
One of the Zenato range, the Pinot Grigio has a pleasing straw colour with a delicate but fruity fragrance. The leavening of 15% Chardonnay with 85% Pinot Grigio provides another layer of flavour and this is a classy white for antipasti, fish pastas and seafood. Most enjoyable.
In Cyprus, available from La Maison du Vin, Nicosia and Limassol
In UK – a number of on-line sources, simply Google "Zenato"