Every year I used to remark to my wife on the shortness of the spring and autumn seasons in Cyprus. "Yes", she would reply, "You said that last year….. and the year before". True. Nonetheless, the few weeks of spring provide us with a lot of pleasure, especially the flowering of the almond trees, which tinge the hillsides, greened by winter rains, a delicate pink.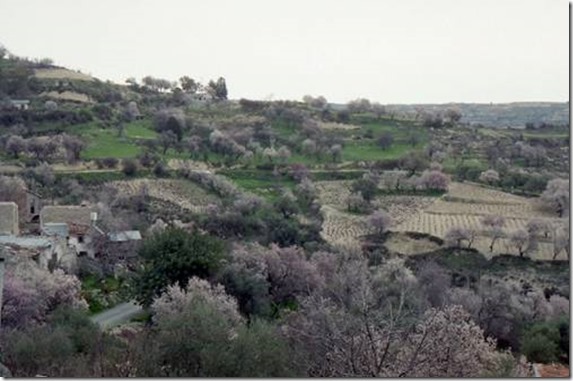 William Shakespeare wrote many sonnets and poems that allude to spring and its effects on young lovers. In these lines he explains the reason for the cuckoo's cry: it is mocking married men who are no longer free and single. They are thus unable to choose freely from the available women. He is also hinting that some men may find themselves cuckolded in the spring.
From "Spring" in

Love's Labours Lost by William Shakespeare (1564-1616)
"When daisies pied and violets blue And lady-smocks all silver-white And cuckoo-buds of yellow hue Do paint the meadows with delight, The cuckoo then, on every tree, Mocks married men; for thus sings he, Cuckoo; Cuckoo, cuckoo: Oh word of fear, Unpleasing to a married ear!"
The next lines are also by Master Shakespeare, and once set memorably to jazz music on a lovely old recording I still have.
In springtime, in springtime, The only pretty ring-time, When birds do sing, hey ding-a-ding, Sweet lovers love the spring
Onwards to the 20th Century; another age and another poet. Less elegant, but amusing was the American Ogden Nash, whose work includes this light-hearted ode to spring
Spring has sprung,
De grass is rizz.
I wonder where de boidies is?
Dey say de boid is on de wing
But, dat's absoid,
De wing is on de boid.
If in spring, as the poet says, a young man's fancy does turn to thoughts of love, whereas an old man's, like mine, turns to thoughts of spring vegetables and springtime recipes, which is better for us all. And I can recommend this one…
Spring Lamb and Vegetable Casserole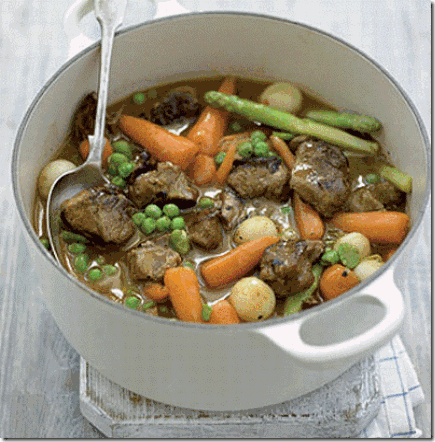 Look at my picture! The lovely baby carrots, green beans, onions and potatoes in this spring casserole. And easy is the word. Start by chunking lean lamb, dusting in flour and turning in a big oven-proof pan, in which you have heated fat or oil, until browned all over. Add pieces of onion, carrot (and other root vegetables, if you like, such as turnip, swede or parsnip) and cook for about ten minutes, stirring regularly. Pour over lamb or chicken stock to cover, put on the lid and cook in a moderate oven (100ºC) for at least an hour or until the meat is tender (this depends on the cut and age of the meat), stirring in the green beans and asparagus about 15 minutes before serving, or adding cooked beans or asparagus just before you serve)
Having grown up in England, I could never quite accustom myself to the seasons in Cyprus. The often blistering summers seemed to dry off, nay kill, grasses, shrubs and other greenery. Anywhere in the uplands that was not covered in vines looked almost desert-like And yet, with the first rains of October, green grew the grass, wild herbs, shrubs and little wild flowers. And then, come February, another show comes along.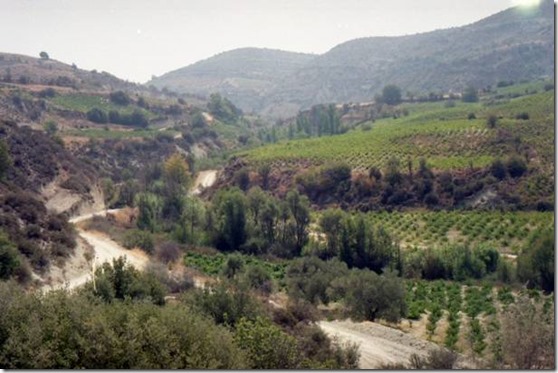 As spring unfurls, the hills become a symphony of different shades of green, a paradise for the walker, or bird-lover charting the migrations of many visitors, some of them, like the Hoopoe, most exotic. These are days for townsfolk to take the family to visit Aunty in the village or have a picnic among the greenery. Better still, leave the kids with Aunty and take the wife to a good taverna.
A DELICIOUS PICNIC LUNCH BOX
Fill a couple of plastic containers with good dishes of cold food, rather than make sandwiches, and pack them in a cold-keeper. That's my advice for a successful picnic meal. And here are a few thoughts on what to put in them…
Home-made chicken and ham pie uses frozen ready-made puff pastry and "stuffed" with chopped, cooked meats "suspended" in a little thickened stock or white sauce. Take the ingredients for "Trciolore" (Halloumi, Tomatoes and Greens) in three little boxes and assemble on the picnic plates.
(Left) Take a Dip on your picnic, like tahinisalata, hummus (pictured) or Baba Ghanoush (Melitzanasalata) with crackers or bread. Or (right) go English with a "Ploughman's lunch" of cheese, pickles and ham, to which I have added big Greek black olives and some of our delicious local ham.