Here is a three course lunch or dinner, which family or friends will enjoy, is not difficult to cook and nearly all of which can be prepared in advance.
STARTER – Mozzarella, Tomatoes and Basil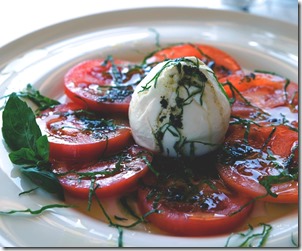 For each person, all you need is:
1 "ball" of Buffalo Mozzarella (*)  
1 smallish tomato
A sprig or two of basil finely chopped or fresh thyme
A drizzle of olive oil
Salt and Pepper
Method
Simply slice the tomato thinly and arrange in a circle around the plate, put the Mozzarella in the middle, grind a little salt over, drizzle with a little olive oil and sprinkle basil leaves artistically around the plate. Serve with hot Ciabatta.
(*) NOTE: Mozzarella comes in various sizes – "multi-packs" may contain four little balls  and it is this size we want. Larger ones may have to be cut into two.
Main – Chicken with sweet red peppers   ("Pollo ai peperoni")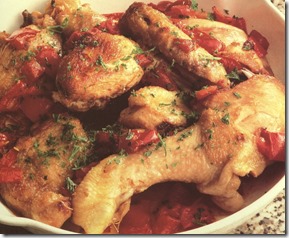 This is the sort of dish you find all over Italy – in the south and in Sicily it might be spiced up a bit and might well include sultanas, prunes, almonds or dates. You can akso find it with aubergines, courgettes and all sorts. Here, the sole additions to the bird are sweet red peppers (Capiscum) and a touch of garlic, which you can increase if you like. As for the stock, you can use an organic beef cube if you like, or buy a carton of fresh.
Ingredient for Six Servings
1 chicken, about 1.5 kilos (3 lb) or six chicken pieces.
3 red bell peppers
1 tbsp plain flour
60 ml / 2 fl oz extra virgin olive oil
30 g /1 oz butter
6 cl / 2 fl oz dry white wine
120 ml / 4 fl oz beef stock
1 garlic clove, chopped
A small piece of chili pepper, seeds removed and finely chopped or a pinch or two of ground red pepper
Salt and black ground pepper
3 – 4 sprigs of basil chopped
Method
1. If using a whole chicken cut into six pieces (use wings and remains of carcass for stock)
2. Roll the pieces in flour
3. Heat the oil in a large non-stick frying pan
4. Add the chicken pieces and cook until brown, then season, turn and continue until they are brown all over. About 15 – 20 minutes.
5. Pour the wine over and stir, adding the stock little by little. Turn heat lot and carry on cooking.
6. Meanwhile, open up the peppers, discard the seeds and choggy bit and put under a hot grill and toast the peppers until the skin is blackened all over. Scrape the burnt skin off.
7. Chop the pepper into small pieces, add to the chicken and continue to simmer the chicken until it is tenderly cooked, adding stock when necessary to make sure you have a good thick sauce.
8. Serve with rice, pasta or cous cous.
PUDDING – Tiramisu

Ingredients for 6 servings
3 medium egg yolks
100 g caster sugar
250 g Mascarpone (Italian soft cream cheese)
150 ml whipping cream
30 cl of strong black coffee (instant espresso works beautifully)
80 ml of Marsala, or other sweet wine
200g Sponge Fingers (Savoiardi)
1 tbsp Amaretto Almond Liqueur.
2 tbsp Cocoa Powder (unsweetened)
Method
1. Put the eggs, the Amaretto and the sugar together into your food processor bowl and
whizz until the mixture turns pale yellow and creamy.
2. In a second bowl whip the cream until it makes soft peaks.
3. With a spatula beat the Mascarpone until it is soft.
4. Fold the Mascarpone into the egg mixture.
5. Fold the cream into the mixture, mix, cover and put in the fridge.
6. Put the coffee and wine into a shallow bowl and mix.
7. Dip half of the sponge fingers quickly into the coffee mixture, to coat both sides of them.
8. Line a serving dish with the soaked sponge fingers, laying them
snugly close to each other.
9. Pour half the Mascarpone mix on to the sponge fingers and use a spatula to make the surface level.
10. Soak the remaining sponge fingers and arrange them on top of the cream, making a second layer.
11. Spoon the remaining cream over the top and level the surface.
12. Put in the fridge to set- about three hours. Before serving, dust generously with the cocoa powder.
WINE MATCH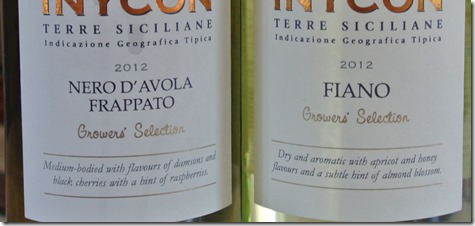 For this menu for six people, I would have several bottles of Sicilian white and red. They are bright, fruity, full of sunshine and easy to drink and digest. There are a few about in most supermarkets and wine stores and I recommend 2012 red blend of Nero d'Avola and Frappato grapes, and the Fiano white variety.