Good day to all readers. I hope that your Easter has fulfilled your needs for physical and spiritual refreshment and that you are now standing by your stove ready to try another of old Patrick's recommendations!
You have proposals to make your own baked beans this week, because I have been indulging myself in my third-favourite pastime: reading about how, why and when we humans like to feed ourselves. One essay in this excellent collection of food writing from the "New York Times" concerns the preparation of canned baked beans in their millions and concludes with
the recipe making Boston Baked Beans at home. With the many varieties of dried beans available to us in Cyprus, dishes like this are easy to make and I find the results more enjoyable than the canned baked beans, which are a but too sweetened for my taste.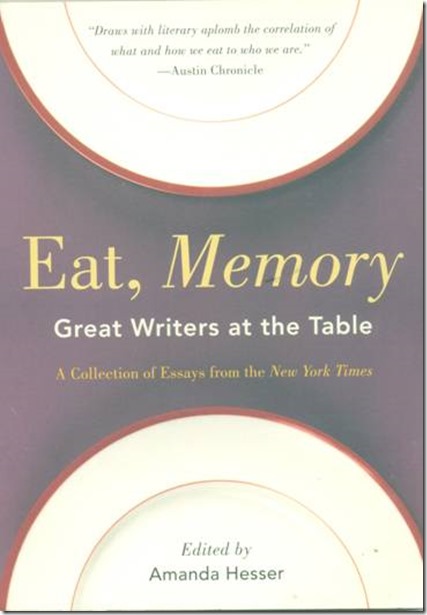 "Eat, Memory", 200 page paperback, US$15.95 from Amazon.
I didn't eat beans on the one occasion when I visited Boston. I flew up from New York to meet an old friend. He was a Lebanon-born Catholic priest, with a parish in a suburb of the city. He took me to a Syrian restaurant for lunch. The food was good, we ate excellent lamb–stuffed sweet peppers, but wine was not really on their agenda. When asked, the proprietor said: "I think we gotta a bottle somewhere in back". I went with him and, sure enough, lying on the floor behind a huge refrigerator was a bottle of German white wine. He picked up, blew the dust off and put it in the freezer.
Fifteen minutes or so later, with our plates of Boston pork and beans, the wine was uncorked and poured. For one that had lain in very warm place for heaven knows how long and then cooled in a freezer it was actually drinkable.
My other memory of that lunch was of a local politician, campaigning for re-election who came in shaking hands and seeking assurance of support at the polling booth. As he put out his hand to shake mine someone said I was a visiting Brit. from London. The hand was quickly re-directed to someone who had a vote.
BOSTON BAKED BEANS
The trick to good baked beans is cooking them very slowly with indirect heat. This recipe by James Beard calls for baking them in a tightly sealed casserole in an oven barely hot enough to toast bread. As the hours pass, the beans drink up a broth flavored with brown sugar (or molasses), mustard and pepper. The gentle cook­ing prevents the beans from breaking up and becoming mushy. By the time they're done, the pork is- falling off its bones and the beans are the classic rusty brown. Be sure to season them amply with salt so the sweetness has a sturdy counterpart.
Beard's recipe calls for dark brown sugar. The alternative is to use molasses, which will render a final
flavour and colour more familiar to canned-bean devotees. The recipe itself requires no great cooking skills, but it will easily take up an afternoon. Best to plan it for a day when you're at home.
Ingredients for 6 Servings
185 g / 6 oz / 2 cups of dried white beans some call them Lima beans, others Navy beans) 1 scant teaspoon salt, plus more to taste
1 medium onion, peeled
4 pork spare-ribs, or 8 baby back ribs
90g / 3 oz /1/3 cup packed dark brown sugar or molasses
2 teaspoons dry mustard
I teaspoon freshly ground black pepper
Method
1. In a large bowl, soak the beans in 2 litres of water for 6 hours.
2. Drain the beans and put them in a large pot.
3. Add the salt and enough cool water to generously cover the beans.
4. Bring to a boil, then lower the heat and simmer gently, stirring occasionally,
until the beans are just barely tender, 30 to 40 minutes. Drain well.
5. Bring another pot of water to a boil.
6. Preheat the oven to 130ºC / 250ºF
7. In the bottom of a large casserole with a tight-fitting lid, place the whole peeled onion
and spareribs (or baby back ribs).
8. Spread the beans on top.
9. In a small bowl, mix together the brown sugar (or molasses), mustard and black pep­per
and add this to the beans and pork. 10 Pour in just enough boiling water to cover the beans, put the lid on and bake,
occa­sionally adding more boiling water to keep the beans covered, until they are tender
but not falling apart, 4 to 5 hours.
11 Remove the casserole from the oven. 12 Season the beans with salt.
13 Pull the meat from the ribs. Discard the bones and excess fat and stir the meat back into the
beans.
14 With the lid off, return the casserole to the oven and let the beans finish cooking, uncov­ered and
without additional water, until the sauce has thickened and is nicely caramelized on top, about 45
minutes more.
Adapted from The James Beard Cook Book, by James Beard.
MEMORY LANE …. The Hotel de la Poste, Swavesey
Having enjoyed, in my time, thousands of meals (most of them good I am happy to say) it is hard to select one or a few that stand out. Sometimes one remembers only other diners … or one plate … the chef …. The proprietor, but seldom the whole deal. This is one of them.
It was a wonderful English summer Sunday, when my wife and I were driving back to our south-east home from the north. We stopped at a restaurant which was in the top ten of the British Good Food Guide, situated in a country house in a village near Cambridge, the Hotel de la Poste.
It possessed a Michelin Star in 1973, and was run by an irascible eccentric French-Algerian, André Amara, who put his estate car on the ferry to France once a week and brought back vegetables, charcuterie, cheese and the pike from which he made his specialité 'Quenelles de Brochet'.(*) The like of those quenelles I have yet to find equalled. Of them, Monsieur Amara modestly said "If God made quenelles, he could not make them better". My picture showing where his restaurant was located also doesn't find him wanting in self-esteem. Note the price, too!
After a meal that still stands tall in my memory we departed. Le Patron stood by the gate. He embraced my wife, rather effusively, I thought, and presented her with a large red rose. "And for monsieur", he concluded, taking a courgette of quite suggestive dimensions from behind his back and giving it to me. Very replete and after the Kir Royale, the Burgundy and a large digestif, I should not have been driving – and indeed after a few minutes on the country road we spied a field with an open gate. We parked the car, put a rug on the ground, lay down and slept soundly until sunset and a distinct chill in the air woke us up.
The Bill came to something like St£12.00, which seems little now, but in fact would be the equivalent of more than £100.00 today. Alas, M. Amara is long gone to the great Auberge in the sky.
The extract from the menu shows the classic and simple French cuisine on offer at what was then one of the best restaurants in England. Difficult to find its like today.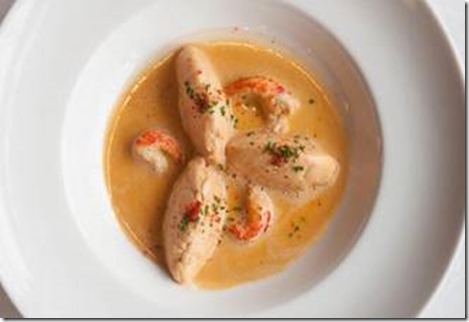 (*) Note: Quenelles are round or cylindrical dumplings made from very finely ground meat or fish, blended with cream, eggs, flavours and seasoning and simmered in stock. "Brochet" is French for Pike, a freshwater fish whose flesh is most suitable for the fine mincing (or pestle and mortaring) this dish requires. Otherwise it is not highly regarded.