Patés come in all shapes, sizes and flavours. They're versatile as a snack, a starter or as a buffet/party dish. Some, like my chicken liver recipe need only a frying pan. Others require a suitable utensil to cook them in. A proper "Terrine" is the best thing, and I advise getting one if you want to make a paté regularly. However, you may use a bread tin quite satisfactorily (dimensions: about 24 cms long x 9 cms wide x 6 cms deep).
I have three nice ones for you – one for the meat-eaters, one for the fish fanciers and one for the vegetarians. All are good with slices of toast, oat biscuits, or a baguette. Serve with some gherkins, pickled onions and olives and you've got a tasty meal. Spread on small squares of toast or savoury biscuit paté make a good hand-around party dish.
Fino Liver Paté
This is my take on the popular chicken liver paté, which I have given a taste lift by adding bacon, onion, mushrooms and garlic, with some Fino dry sherry. Rather superior in my view.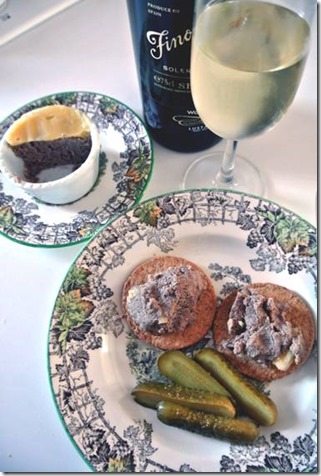 Ingredients — for 6-8 servings as a starter
250 g / 8 oz of chicken livers
1 medium onion (about 75 g, peeled), finely chopped
A good handful of button mushrooms, sliced (about 120 g)
3 – 4 rashers of smoked streaky bacon (about 60 g)
1 good clove of garlic peeled and very finely chopped
100 g butter
Pinch of fresh thyme, 1 coffee spoon dried ginger, a pinch of allspice, salt and pepper
2 tbsp of a good dry sherry ("FINO")
Patrick's Paté, oat biscuits, pickled cucumber and a glass of Fino – marvellous!
Method
1. Trim all fat and gristle away from the chicken livers. If the chicken hearts are attached, let them be, they will add to the flavour. Slice coarsely.
2. In a medium frying-pan, heat 30 grams of the butter until sizzling and add the onions, garlic, bacon, herbs, spices and mushrooms. Stir regularly and cook until beginning to turn brown. Remove and put into your food processor.
3. Put another 30 g of butter into the pan and fry the livers for around 5 minutes until cooked through ("pinky"), remove, and put into the food processor.
4. Put remaining butter and sherry, salt and pepper, into food
processor and whiz until smooth and creamy.
5. Spoon into a medium bowl or individual ramekins. Pour a little melted butter over the top to add a final rich touch.
6. Refrigerate for at least three hours.
Serve with "Fino", or a very dry white wine.
Fish Terrine
Ingredients
450 g / 1 lb of firm white fish fillet, skin removed (haddock, cod, red snapper, sea bass or a mix)
250 g / 8½ oz of unsalted butter (soft)
125 g / 4 oz of bread crumbs (home made) which you have moistened with two tbsp of cream
2 egg yolks, beaten
2 tbsp of finely chopped parsley
2 tbsp of fresh finely chopped dill or 1 tbsp of dried dill
2 salad onions, finely chopped
450 g / 1 lb of salmon fillet, which has been marinated for an hour or two in dry white wine, salt and a sprinkling of mace or allspice
Salt and pepper
Method
1. Marinade salmon
2. Heat the oven to 175°C / 350ºF
3. Chop the fish fillets into pieces and mince very finely,
two or three times if necessary. Put in a bowl.
4. Mix the softened unsalted butter into the fish.
5. In another bowl, put the cream-moistened bread crumbs and the two beaten egg yolks. Mix well.
6. Add the finely chopped parsley, the finely chopped salad onions, the dill, a little salt and pepper and mix well.
6. Add the fish mixture and beat everything together until it is lovely and light and quite fluffy.
7. Thoroughly butter the inside of a medium paté terrine and put a layer of the fish mixture on the bottom.
8. Then put a layer of the marinated salmon, and finally a layer of the white fish mixture. Cover the top with soft butter, dabbed well over.
9. Seal with aluminium foil and, if the terrine has a lid, put it on
the top.
10. Put the terrine in a large oven dish and pour boiling water into the oven dish until it is half way up the terrine.
11. Bake in a medium oven, 175 Centigrade, for about 2 hours.
Serve warm with hollandaise sauce or a tomato coulis. It may also be served cold, with mayonnaise.
Aubergine and Tahini Paté
Lovely smoky, garlicky, lemony flavours in this toasted aubergine paté
This is a great favourite throughout the Middle East and the Eastern Mediterranean. It is easy to make (though in restaurants all too often carelessly done — the slightly burnt flavour must come through). In Greek it is called Melitzanasalata, in Lebanon Br'tinjan bi Tahini and in Egypt Baba Ghanouch. Whatever it is called it makes a delicious starter with hot Arabic or Pitta bread, especially as part of an Hors d'Hoeuvres. Toasted pine seeds or flaked almonds make an exotic topping.
1. Put two medium aubergines under a hot grill, until one side is quite burnt (about 8 minutes). Turn over and do the other side.
2. Remove from grill, leave to cool a little, then cut in half and scoop all the cooked flesh out, including some near the skin which might be slightly burnt (a slightly burnt flavour adds to the effect).
3. In your food processor, put the aubergine flesh, two/three tbsp of tahini paste, some cloves of garlic, 1 tbsp lemon juice, salt and pepper and whiz until you have got a lovely smooth paste.
4. Put into a bowl, pat the top with a fork, dribble some olive oil round the edge and put a sprig of parsley in the middle.
Recipes as published in "Coastal Scene" newspaper, 16th. August 2013