As published in "Coastal Scene" newspaper and website: 8th. March 2013
There are many kinds of pastry, but for now I am concerned with just two: "flaky" and "short-crust". The first is fiddly, the second simple. Both make lovely tarts and pies.
Since they invented ready-made puff (flaky) pastry I have not attempted making my own. It is a laborious, time-consuming business that doesn't always work. But buy chilled or frozen ready-made and it works every time. Although you can find other makes, one brand, Jus-Rol, is pre-eminent. It makes all kinds of wonderful pastry dishes. You can also buy ready-made short-crust, but I find in this case, home-made is better. All you need is flour, fat and water – the fat may be butter, lard or a proprietary brand such as Cookeen or Trex, even oil.
Yonks ago Mary and I followed a Belgian chef as he moved from restaurant to restaurant in Kent. We just loved what Michel did in his small gas-cookered kitchen – what the food writers call "French country cooking". One evening we had as a starter what Michel was pleased to call "Feuilleté de Légumes" – an oblong piece of puff pastry sliced open and filled with chopped vegetables in a Béchamel sauce. Perfect! When he emerged from the kitchen later in the evening we asked Michel if he had made the pastry. "Non, non, non, non ", he said in his lovely accent "It was frozzen". I took the hint. My "Feuilletés" come on a fairly regular basis, filled with vegetables, or mushrooms, or sea-food. Easy-peasy – see below.
My wife makes the best short crust pastry I know. She was taught how to do it by her Sussex country grandmother, and one of the secrets is never measuring anything out. So grandma's short-crust recipe, written down as faithfully as possible below, is the one Mary uses.
Using Flaky Pastry
Take a 500g block of Puff Pastry and cut into six or eight oblong pieces (according to the size you want). Each one will roll out into about 10x8cms. Brush with milk and bake for 20 minutes in a hot oven (220?C / 200?C Circlotherm). For a Feuilleté dish cut each piece open and spoon in your filling. Put the top back on and serve.
Or, when you have rolled it out, make a dent in your oblong almost to the edge and fill with some cherry tomatoes. Grind a little salt and pepper and drizzle a little, olive oil over the tomatoes. Sprinkle on a delicate bouquet of chopped fresh herbs, too, if you like.
Recipe: Short-crust pastry
240 g plain flour
120 g butter
A dribble or two of water
1. Sift the flour into a bowl.
2. Cut the butter into small chunks and lightly but quickly rub into the flour until the mixture is like breadcrumbs.
3. Add a few drops of water and mix into flour/butter mixture until good stiff dough is formed.
4. Roll out to fit a 30cm diameter round pastry tin, which you have rubbed with a little butter.
5. Cut away surplus pastry and set aside
Baking "Blind"
A lot of pastry recipes call for a pre-baked pastry case, as in the recipe below, and this is called "Baking Blind". You roll out your pastry and fit it in to your pastry tin and then you pour in enough dried beans to fully cover the base. You can buy purpose-made "pastry beans" if you wish, or like my wife did in Cyprus for some years, some small pebbles gathered from the seashore (I suppose if you did this here you'd get fined two hundred and fifty quid)) The purpose is the same: to stop the pastry "lifting" and to keep the sides from falling in.
Mushroom, Onion and Cheese Flan
Ingredients for six servings or more as a starter or buffet dish
350g/12oz pre-cooked short-crust pastry, baked "blind" in a 20cm diameter pastry tin
30g/1oz butter
250g/9oz mushrooms, finely chopped
1 medium onion, peeled and finely chopped
2 large eggs and 1 egg yolk
30cl/10fl.oz thick whipping cream
Pinch of nutmeg, salt and pepper
Method
1 Heat the oven to 220?C / 425?F
2 In a non-stick frying pan, melt the butter and sweat the onion until transparent
3 Add mushrooms; continue frying gently until the juices have evaporated
4 In a bowl, beat the eggs and stir in the cream
5 Season
6 Spread the mushroom/onion mixture in the baked pastry case
7 Pour the cream/egg mixture over
8 Top with grated medium/hard cheese such as Cheddar
9 Bake in the oven for about 35 minutes or until the filling is firm.
Apricot Tart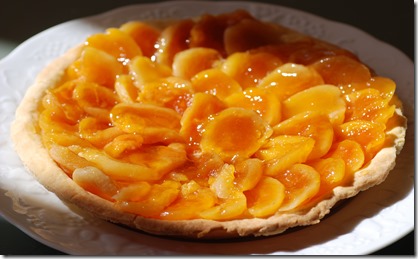 Unlike the English gentleman of the 19th century who always kept an apricot tart on his sideboard every day of the year, I make this about once a month. Actually, I assemble it, because it is a joint venture of my wife and me – she makes the pastry and the crème pâtissière, I do  the apricots and the glaze. It requires a loose-based pie tin of 25 cms diameter, to make a pastry case which is "baked blind".
Crème Pâtissière
60 cl milk
120 g caster sugar
60 g plain flour
1 level tbsp corn flour
2 large eggs, beaten
50 g unsalted butter
Warm the milk on a low heat.
In a bowl mix together sugar, corn-flour, the beaten eggs
Stir in the warm milk slowly and mix well.
Pour the mixture back into the saucepan and heat over a low heat until it starts to thicken, and comes just to boiling point.
Take the pan off the stove and stir the butter in well. Add a couple of drops of a good vanilla essence if you wish.
Cover the pan and leave it to cool.
The Topping
Take 36 – 40 dried apricots, put in a pan and pour boiling water over them. Cover and leave for an hour, when they should be quite tender. Remove from the water and slice in half (slice along the longest side to make two flat halves)
The Glaze: 3 tbsps apricot jam and one tsp of lemon juice.
Assembly
1. Spread the cooled Crème Pâtissière evenly in the pastry case.
2. From the outside edge lay the half slices of apricot, cut side upwards, slightly
overlapping them.
3. Continue in circles until you have covered the entire area of Crème Pâtissière.
4. Prepare the glaze by putting the apricot jam and lemon juice into a small pan
and heat, stirring until bubbling. Keep bubbling and stirring until a little of
the glaze put on to a cold plate doesn't run (but is not too stiff)
5. With a pastry brush, gently apply the glaze evenly across the top of the apricots.
6. Leave the tart to rest for half an hour and then enjoy, with cream or vanilla ice-cream.
Wine Selections….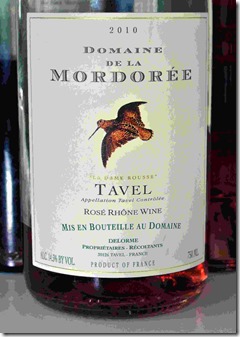 For the Mushroom Tart at lunch (or the Cherry Tomato dish), a rosé would go nicely. Dry for preference; a Tavel if you can find it (and don't mind paying £15.00 or so). Supermarkets have plenty of choice and their own-label pinkos are generally reliable. Around a Fiver and a little below, go for a Spanish Granacha. More bite? Then at a bit over the Fiver you can find good New World Syrah (Shiraz) rosés.
A small glass of dessert wine goes splendidly with my apricot tart –look no further than a 50cl bottle of Muscat de Baumes de Venise, which most wine shops and many supermarkets stock.