This issue of "Cyprus Gourmet"  was  published on Wednesday April 1st.  No fooling!
Many of my readers will remember John Wood from his days as general manager of the Le Meridien Hotel, Limassol. That was when he and I crossed paths quite frequently: wine tastings, the annual Beaujolais Nouveau bash (I thought Le Meridien's was one of the best on the island), gala dinners, exhibitions, conferences…. Oh, and lots more. Now he is one of my regular correspondents, sending me newsy snippets and ideas. He reports, proudly, of his daughter Samantha, resident in Dubai, who created and runs a very good food website. It's lively, creative and full of info. Try it at www.foodiva.net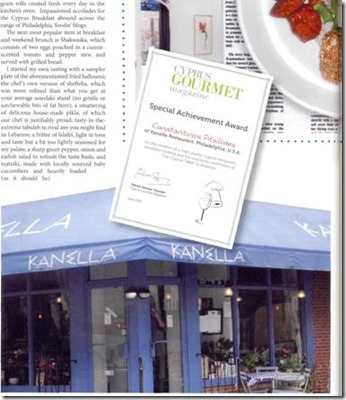 Where Cyprus Gourmet leads, others follow, it seems. In the September 2011 issue of our sadly short-lived Cyprus Gourmet Magazine (*), Matthew Stowell wrote about a thriving – and exciting – Cypriot restaurant in Philadelphia, U.S.A. called "Kanella".
Now, the BBC America website has done a rave write-up, by Giles Coren. Again, I have to thank John Wood for drawing this to my attention. It's worth looking it up, because the owner, Konstantinos Pitsillides, is a chef to be reckoned with. I quote Giles Coren:  "For here I had a traditional Easter sheep's head soup, in which a traditional avgolemano contained also spoon-size chunks of tongue, cheek and eyebrow, awesomely authentic and very faintly daunting. Great regional cooking is often a little bit scary, and I welcome it.
Then there were two grilled octopus tentacles on huge borlotti beans, a great fattoush salad, home made merguez sausages wrapped in filo pastry, three fresh, plump "manki" dumplings and the best fried pork chop I have ever had. Simple, perfect".
All too often a nation's food, when transplanted into another country, rests in a time-warp, in which the food stays exactly the same, year after year. I remember one such Cypriot restaurant, close to my old London office, which served exactly the same variations on the kebab-mezze theme every day for more than 20 years, until the owners sold up and retired. It was good, by the way, every day!
Here in Cyprus, there are so many "restaurateurs", who, if they could no longer open jars of tahini, and packets of lounza, halloumi and pitta bread, or if their barbecue broke down, would be hard put to actually cook anything. For this reason the gospel of Philadelphia's Mr. Pitsillides should be spread far and wide. Namely, that a national cuisine has to move on. And Kanela's cuisine itself is doing that: the dishes Giles Coren writes about in 2015 are noticeably different from those reviewed by Matthew Stowell in 2010.
I can only repeat what our review concluded with then: "Philadelphians are extremely lucky to be hosting Mr. Pitsillides and his culinary talents. I should like to launch be a campaign to lure him back to Limassol". But maybe we are too devoted to the tahini-lounza-halloumi-kebab syndrome for him to flourish here?
Enquire Within…
Q: "Patrick, how can I liven up a shrimp cocktail?"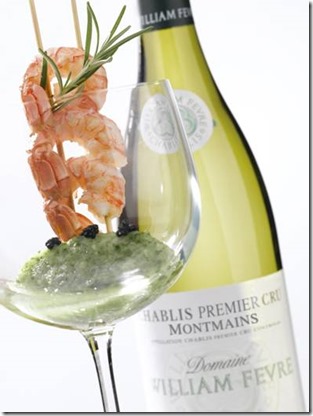 A: Simple! For each serving:
1. In a small bowl put 1 tablespoonful of mayonnaise.
2. Very finely chop a scant teaspoon of capers, 2 pitted black olives, a tiny sprig of parsley and a few chives or a piece of the green part of a salad onion.
3. Combine the mayo and the capers etc., and mix well, then put it into a large red wine glass.
4. Take two wooden kebab sticks and impale and impale three cooked king prawns on each.
5. Insert the loaded kebab stick into the glass, add a sprig of rosemary to the top and a few bits of chopped black olive to the top of the mayo mix.
6. Serve with a glass of chilled dry white wine. Since my photo was taken by William Fèvre, producers of very fine Grand Cru Chablis, preferably it should be that! Available for Cyprus shoppers (personal and on-line) at €31.00, from Oenoforos, Limassol.  In the UK it is fairly widely available at between £13.00 and £26.00 a bottle (quite a variation for the same wine!)
* Cyprus Gourmet Magazine was published "every few months" (like when we had enough advertising to cover the costs) from 2008 – 2011.  It was bloody good while it lasted and people loved it – it sold well, but Cypriots don't believe in spending money on advertising.  A typical conversation with a restaurant owner went something like: "Mr Patrick.  I give you and your wife nice dinner FREE and you write something nice about my restaurant. OK?"   But, no money for advertising.   Nevertheless, through the efforts of our little team, it did seem we would make a go of it… and then  Cyprus felt the chill wind of recession.  Budgets were slashed, and so was our income.  I have all eight issues, nicely book-bound.  I shall always treasure them.