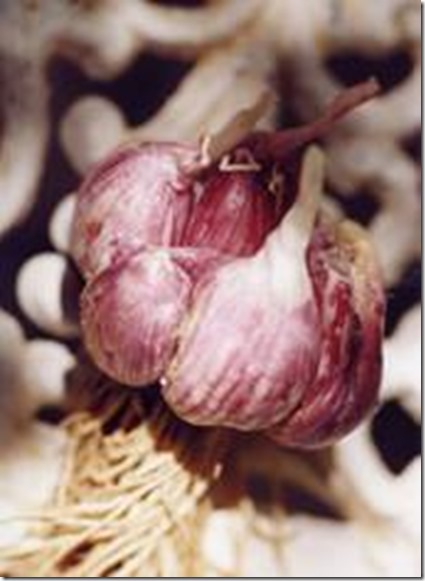 Plump cloves of garlic from my garden in Vouni village. These had been hanging about in my kitchen for a few months and were, in my opinion, as good as garlic gets. Earlier, we had used other cloves when they were fresh and green, imparting a delicious earthy flavour to soup and dressings. Garlic grows well in Cyprus, though several of the varieties grown here have large "cloves", with a slightly less concentrated flavour than the French. Buy the fresh local, if you can, use some "green" and hang the rest up to dry. Much of the imported garlic comes from China and often has a rather musty flavour.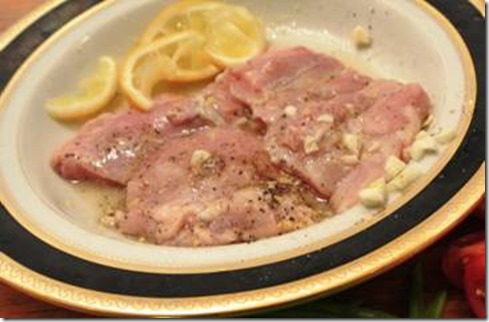 One of my favourite marinades: garlic, olive oil and lemon. It turns the mild flavoured chicken fillet into a plate of delight. After marinading for several hours, simply heat a non-stick pan to very hot and chuck the fillets into it. Let 'em sizzle for a couple of minutes and turn them over for two or three more on the other side. Just before serving throw the remaining juices in, stir round. Presto! Magnifique!
I like garlic very much and I use it in one form or another frequently. (This may be why we don't have many friends) "The Clove you love or hate" was something unknown to my mother and other English cooks of her generation. It was only when I went up to London to work and found little Italian and French cafés and restaurants in Soho that I first tasted it. I tentatively used it in cooking and ever since have not been without it in my kitchen. Countless recipes have come and gone in which we used it or ate it. Even so, it was only a few years ago that Mary and I were introduced to Roast Garlic, at restaurant in Jordan. "Squeeze them", the waiter said as he put a plate of four heads of garlic each before us. We did and this unctuous cream poured out. Scooped up with rolled-up slivers of flat Arabic bread, it was ambrosial.
Garlic is a species in the onion genus, Allium sativumgarlic. Its natural home is the between the Mediterranean and China, and has probably been a food ingredient worldwide for several thousand years. It was known to Ancient Egyptians, and for centuries has been used both as a food flavouring and as a traditional medicine. Its close relatives include the onion, shallot, leek, chive, and Allium chinense.
World production of garlic is quite a staggering statistic, especially if you hate garlic – it is 25 million Tonnes, of which 80% is grown in China, which is both largest consumer and producer.
Skordalia – Garlic Sauce
This is my version of an old Cyprus favourite. Cypriots love Skordalia with beetroot (both fresh and canned are very good flavour and value), but it is also splendid with grilled chicken and fried or grilled fish.
Ingredients
50g [1 coffee cup] of blanched, peeled almonds
8 cl white wine vinegar
Half a piece of Pitta bread or 1 slice white bread, toasted
1 or 2 large cloves of garlic (according to taste)
10 cl of Sunflower oil
Salt and ground black pepper
10 cl of water or a little more
Method
1. Put almonds into food processor and whiz until ground.
2. Crumble bread and add to almonds. Whiz again.
3. Dribble in the vinegar – whiz. Dribble in the oil – whiz. (By now you
should have a thick paste.)
4. Add salt and pepper – keep the whizzing going.
5. Slowly add the water until you get a lovely creamy, finger-licking good
mixture.
It also makes a delicious "Dip" – slivers of carrot, cucumber, celery, goujons offish on sticks, even potato flavoured crisps can be plonked in to fish out a spot of the noble garlic sauce.
Roasted Garlic
As a starter (I do recommend that you ensure all the diners like garlic ("garlic breath" can be termed "unsociable"!) this is the pinnacle of garlic-noshing.
For each person take two to four heads of garlic per person (according to the level of love for the clove!) Cut a slice off the top so as to expose a little of all the cloves).
                      
Slowly drizzle a couple teaspoons of olive oil over each exposed head, making sure it gets into every nook and cranny – use your fingers to rub it in if necessary. Them cover the bulb with aluminium foil. Bake at 200ºC /400°F for about half an hour, or until the cloves feel ooze creamily when pressed. Serve at once with hot Arabic or Pitta bread.
Roasted Asparagus and Green Garlic
                      
Serves 2 (main) or 4 (starter)
This is a simple dish for a few weeks hence, when springtime brings early asparagus and green garlic. The tarragon adds a further level of flavour.
INGREDIENTS
1tbsp extra virgin olive oil 1 bunch fresh asparagus, trimmed 1 head of green garlic, thinly sliced and tossed to separate 2 tsp dried tarragon Salt and black pepper to taste 60g / 2 oz of flaked or coarsely grated Parmesan or other hard cheese
METHOD
1. Preheat oven to 200C/400F.
2. Cover a baking tray with aluminium foil, rub a bit of the oil over the foil, and scatter the shreds of green garlic over the tray.
3. Arrange asparagus spears in single layer on the garlic, season with herb and spices, drizzle over remaining oil.
4. Place near the top of the oven for 10 minutes or until crisp-tender.
Increase heat to 250C/425F, scatter parmesan over asparagus and return the tray to the oven until cheese is m