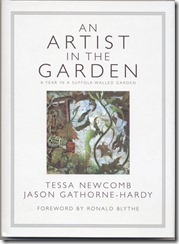 No matter if you're Suffolk coast born and bred, an occasional visitor, a part-time resident, or like me a Patrick-come-lately to this lovely part of the world, I have a book before me that everyone should have. Buy one as a gift and I promise you will either keep that one for yourself or buy a second one.
"An Artist in the Garden" subtitled A Year in a Suffolk Walled Garden, published this year by Full Circle Editions is a beautifully designed and printed hard-back, priced at £25.00 that makes a nonsense of the slightest thought that books might be replaced by Kindles, I-pads or tablets various. It is more than a colourful, well written and evocatively illustrated book, it is a delightful possession, a pleasure to pick up from a side table to riffle through whenever you want a breath of our countryside. Its pages can both inspire and inform the gardener and the history lover. It is a small mine of information for the generalist country lover and it has more than 50 seasonal recipes that are all worth trying – see one example below.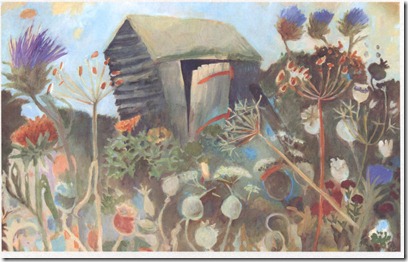 Books these days, especially those concerning themselves with "leisure" seem to be compiled by an army of contributors, editors, designers and publishers and often the credits at front or back are as long as those for a film. There's teamwork at the heart of An Artist in the Garden, but it's a small one of complementary creative people devoted to the task. Suffolk artist Tessa Newcomb conjures up time and place, bringing alive the changing moods and seasons through clever vignettes. Jason Gaythorne-Hardy contrives to produce a text that both flows happily and imparts a not inconsiderable amount of knowledge.
There are others who have contributed, among them the author's mother Lady Cranbrook, who, to quote the book's dust jacket is "The current chatelaine of Glemham House; President of the Aldeburgh Food & Drink Festival and tireless campaigner for locally-produced food and the countryside. Caroline and her family have kept this two acre kitchen garden in full working order- a garden that has sustained up to 40 people continuously for almost two centuries".
Full Circle have done full justice to the artist's and the writer's work. It is a lovely thing to have and a worthy addition to the burgeoning shelf of their publications. For full details visit www.fullcircle-editions.co.uk
Where to buy "An Artist in the Garden"
You can, of course, go on line and buy this book at a reduced price, as you clinically can millions of others.  You can also buy it direct from the publishers, which as they are a small group is in a good cause.   However, I am one of those people who love bookshops, and the delights of browsing and chatting with the invariably interesting people who run them.   We are exceptionally fortunate in having close at hand a superb specimen of its kind.

Aldeburgh Bookshop, at 42 the High Street

is more than a treasure trove, an Aladdin's Cave or a gem…  it is an institution.  I almost used the word beloved of those unbriefed commentators who "did" the Jubilee River Pageant for BBC Television:  icon.   But it's, alive and lively as well as comfy and browsy.   Beats Amazon any day.  Go!

telephone 01728 452389  johnandmary@aldeburghbookshop.co.uk   www.aldeburghbookshop.co.uk
Recipe from "An Artist in the Garden"
This recipe, contributed by Claire Bruce-Clayton, is one of four for the month of February. The other three are: Caldo Verde, a simple and robust Portuguese soup; Wood Pigeon Sausage Rolls; and Baked Apples.
Leek & Potato Gratin
This is one of those satisfying, heart -warming dishes which is perfect for supper on a cold night or to return to after a brisk winter walk. The following recipe will feed six hungry people.
6 large main crop potatoes
4 or 5 large leeks
A good wedge of Stilton
2 generous handfuls of shelled walnuts
150g of butter
1 mug of breadcrumbs
Peel the potatoes, slice thickly and boil for eight to ten minutes, so that they are tender, but still holding their shape. Drain them.
While the potatoes are cooking, wash, slice and sauté the leeks with butter and seasoning until tender.
Butter a baking dish, cover the bottom with a layer of potato slices, then a layer of leeks, walnuts and some crumbled blue cheese.
Repeat the layers, lightly seasoning each of them. Finish with the cheese and scatter breadcrumbs over the top.
Cook in a medium (180C) oven for 20-30 minutes until the cheese is melted and bubbling.
I love the crunch of the walnuts in this dish, but if you wish you can add a few chopped and sautéed rashers of streaky bacon instead.