The Anchovy
There may well be more anchovies in the world than any other living species. It is a small silver fish which is found in vast, vast numbers in the warmer areas of seas and oceans around the world. In the Pacific Ocean, off the coast of Peru there are such huge shoals that the catch is counted in millions of tonnes. From this immense harvest, fish meal for animal food is made. Nearer to home, it's immensely popular all around the Mediterranean. There are large stocks off Turkey's Black Sea Coast, where it is called 'Hamsi'; and such is the love of the locals for their anchovies, they, too, bear this name.
An anchovy's maximum length is about 20 cms (8") and it is often served fresh; fried rather in the manner of sardines. It is also salted and dried and both manifestations are to be found around the Mediterranean. But it is best known and most widely distributed as salted fillets in oil and canned or bottled. The largest producer is Morocco, followed by Spain, Portugal and Greece. In my opinion the best are packed in olive oil, but preference is personal and I frequently use the Spanish 'Chameau' brand; the fillets of which are quite chewy and un-crumbly (they cook well, too).
Most recipes call for the canned or bottled variety, but if you have access to fresh, go for them!   A great guide to the anchovy and all other regional fish and seafood is in the superb book "Mediterranean Seafood" by Alan Davidson (£11.69 from Amazon UK, and sometimes to be found in local books stores) Anyway it is always in print and as well as being a mine of information about the denizens of the deep it contains a lot of wonderful recipes. The drawing illustrating this note is from this book.
There are many ways to use anchovy fillets in your food. No Salade Niçoise is complete without a generous striping of the top with them. They are a salty, fish component part of Italian Anti-Pasto, and, in this pasta recipe they combine with the other ingredients to produce a superbly satisfying taste.
Spaghetti alla Puttanesca – Spaghetti in a Chilli and Anchovy Sauce
There are all kinds of stories as to the origins of this dish. None dates earlier than the 1950s. One proposal is that late one night a café owner concocted it when almost out of ingredients, his hungry customers said, in effect, "bring us any old sort of whoreish rubbish", and this dish resulted. The most popular notion is that it was created in the red light district of Rome (or Naples according to source) by ladies of easy virtue who required something that was tasty and quick to cook between 'engagements'. Puttanesca stems from 'Puttana', which is Italian for prostitute. Maybe there is a simpler solution – it is just the male idea of the ideal woman: "hot, spicy, tasty, lingering"?
Who cares? This is a fabulous pasta sauce, which is to be found in very few Italian cook books. As with some other pasta sauce, there are variations to be found which include green peppers and basil. But I like this one best. It is one of relatively few in the recipe library which uses anchovies, which disappear in the cooking but impart a super fishy flavour. Which reminds me of a woman of my acquaintance, who likes her food. She read about Spaghetti Puttanesca, with its anchovies, fancied it and when she saw it on an Italian restaurant's menu, she ordered it. "Delicious!", she pronounced when the waiter asked if she was enjoying it, "But where are the anchovies?". The guy was very good and quietly explained they were in there, but totally integrated into the sauce.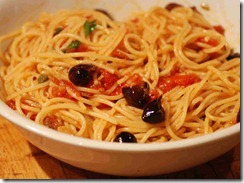 Ingredients for Four Servings
350 g / 12 oz spaghetti
6 tbsp olive oil
One 2.5 cm / 1" of fresh red chilli, de-seeded and finely chopped or a small sprinkle of  dried red pepper flakes.
Three salted anchovies, boned, rinsed and chopped, or  four canned anchovy fillets, drained and chopped.
2 garlic cloves peeled and finely chopped.
500 g / 1 lb 1 oz of fresh ripe tomatoes, peeled and seeds removed.
100 g / 3½ oz of large black olives, Kalamata for preference, pits removed
1 tbsp capers, rinsed.
2 good sprigs of flat-leaf parsley, well chopped.
Salt and pepper
Method
In a large pot heat a generous 3 litres of water to boiling and add two teaspoons of salt.
Put in the spaghetti and cook in a rolling boil until just cooked through, but still with a bit of bite.
As the spaghetti is cooking, take a large non-stick frying pan, heat the oil and then put in the anchovies and garlic and stir-fry for a minute or so, mashing the anchovy fillets with a plastic spatula.
Add the tomatoes, olives and capers and fry gently for five minutes, stirring regularly.
When the spaghetti is cooked, drain it and turn into the sauce, season to taste, adding the parsley – stir well and after a minute or two, serve.
Whether you add Parmesan cheese to this or not if your affair. In Naples they don't and I must say we enjoyed it without.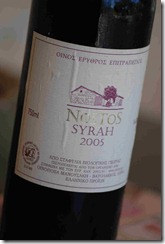 As to wine, despite the anchovian notes on the taste, I went for red, and a lovely, slightly oaky and generously fruity Shiraz the 2005 Nostos Syrah from Oinon Pnevmata, €18.80. Made from organically grown grapes – and very well, too.
**** VFM 8/10 Alcohol by volume is quite high (14.4%) but it doesn't come over as heavy at all.