This featured appeared in January 2008
Thespina – A Great Old Lady
Some readers may have made the trek to my home village of Vouni to lunch or dine at "I Orea Ellas" ("The Real Greek"), hidden away in the centre of the village.   Replete from Phaedra's mezze-with-a-difference or with one of her special dishes of the day under their belt, as they leave the restaurant, they will hardly spare a glance across the narrow cobbled street at an unpretentious gateway which opens into the small yard of a tiny, typical village house. Just now and then the lady of the house opens her gate and, if she knows who is calling, her face lights up in a radiant smile.
Thespina is 90 and lives alone with just a small paraffin fire to keep her warm in the cold hillside winters. She shops for her few wants at the village Co-Op and cooks her modest meals herself. In 1991 she unknowingly changed my and my wife's lives. Then, a lively 74 and still tending her vineyards, not too long widowed, she felt she could no longer keep her husband's big old donkey. She mentioned this to her son Takis, a school master in Lemesos, who had a word with the Mukhtar. "Go and ask the Inglesos if they would like a donkey", he said. Takis did and persuaded my wife and me to have the animal and put it in the field behind our house, where I built a stable. We had been settled in Cyprus for less than a year.
For some months we walked Basil as we called the donkey in the  afternoons. And then one day we came back from Lemesos to find a second one dumped in the field. Soon a third stray animal was added and in another year six more. And so Mary and I spent the next 14 years looking after the elderly unwanted and sick donkeys of Cyprus, something from which we only retired in August 2007. When we retired, 390 had come through our gates. Thespina always seemed amazed at the process she had started.
When I saw her a few weeks ago it was to talk not about donkeys but food in "the old days". I went expecting to acquire a traditional recipe or two, but Thespina soon put me straight. There was little time for cooking she told me – every day except part of Sunday was spent in the fields. Her husband was a farmer, with vineyards, olive and carob trees, wheat and barley. Naturally they grew fruit and vegetables as well and the food they ate was nearly all produced by them.
Rising at 5.00 a.m., or earlier, they would make hot soup from whatever was available – potatoes, pour-gouri, rice, louvana, tomatoes, 'greens' picked wild from the countryside. Then, thus fortified, with their donkeys laden with tools and implements they would go to the fields, where they would work until late afternoon. At mid-day they would stop for lunch – bread, home-made halloumi, olives, tomatoes, grapes (in season) or dried fruit and Zhouzhouko. Come September, grapes were harvested and wine was made in the large terra cotta vessels. Some wine was drunk by the men during the lunch break in the fields, some was distilled into Zivania and some used to marinade minced pork to make Louikanika.   Many families kept a pig which was slaughtered at Christmas time, when fresh meat, roasted in the communal ovens or turned on a spit over a fire graced the tables. Offal and other parts of the pig were preserved by drying, curing or immersing in oil or fat. Thespina's Christmas speciality was Koupepia using fresh minced pork.
Once a month, perhaps, there would be a chicken. If there was meat, then the 'casserole' would contain that, with potatoes and vegetables. Most cooking was accomplished in large pots placed on top of a small oil burning heater. Later, when gas canisters became available gas hobs replaced them. Bread, Easter and other seasonal cakes or pastries were taken to a communal oven. Water had to be carried from a well some distance away (another use for donkeys). Thespina agreed that life was hard. But is it better, now? I asked.
"No it isn't", she responded firmly. "Then there was community – of family, friends and villagers. Now it is hurry, hurry, hurry". Although she has a set in her upstairs bedroom, she has no time for TV, which she regards as a curse of family life. The values it has brought have not created happiness, she adds.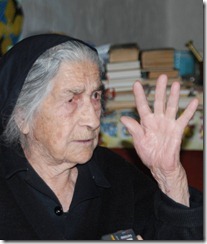 Thespina has a fund of stories of her long life, throughout which she has lived in Vouni. Married in 1939, she had two sons and two daughters. Her first son was a freedom fighter and, as such, he was caught, tried and hanged by the British. He was just 17. Now her remaining son and a daughter live in Lemesos. The other daughter married a man from Kyrenia and they settled in Germany after losing their home in the Turkish invasion of 1974.
"We had Turkish people in Vouni", she said and went on to tell a story of a miracle involving the icon of St. Prodromos at the local Church, which persuaded some Turks to become Christians. "Some of their descendants still live here", she said. Those who didn't convert to Christianity moved to lands they owned further down the hillsides, founding the village of Kato Kivides.
Turning back to food, Thespina admitted her preferences are to cook pastries and cakes, of which her favourite is Kati Meri – and I can testify to the excellence of this. "Next time you come, when I shall tell you more stories about the old times, I shall make it for you".
She proudly took me round her little house, with basically one room downstairs with bathroom, and a sitting area and 'best' bedroom upstairs. Everything was as clean as it could be, as was the little yard outside with its sink and one cold water tap, where she washes her plates and pots.
"I don't eat a lot of meat ", Thespina said. She was making lunch for herself, some pasta cooked in water and milk flavoured with a chicken stock cube, which she would have with some bread, cheese and a tomato. In shopping at the Vouni Co-Op I have often noticed the range of pasta available and assume that many of the older people are like Thespina in their cooking habits.
After we had concluded our chat, she escorted me to her gate bestowing her radiant smile as I turned into the cobbled street and waved until I reached the corner. A lovely lady, a remnant of Cyprus's by-gone days, when life was regulated by the seasons and the related fasts and feasts of the Church, and when relaxation largely meant chatting to your family and friends.
I walked up the street and pondered. I had spent more than an hour with a serene and charming lady who had lived a long life with its full share of both tragedy and happiness. Are we modern folk, with all our trappings of comfort, wealth and success, better off?