Inspired by my recent purchase of a big book of French recipes called "SIMPLISSIME", I have been (figuratively speaking) wearing my big French Toque on a daily basis. Aspects of France – and the French – may annoy us, but it has to be generally agreed that they are very good at the cooking. But don't just take my word for it. Many writers have lavished praise upon it, for example…
"France … is a land of milk and honey, the best milk and the most perfumed honey, where all the good things of the earth overflow and are cooked to perfection". A quotation from a collection of essays titled "Camera Obscura" by WILLIAM BOLITHO (1891–1930), a South African journalist, writer and biographer.
Apart from being a military man, Lt. Col. Nathaniel Newnham-Davies, (pictured above right), could justifiably lay claim to being the first proper food writer and restaurant reviewer of modern times. In 1903, he published The Gourmet's Guide to Europe, which, not surprisingly, expressed his love for the food of France…
"When the Channel has been crossed you are in the country of good soups, of good fowl, of good vegetables, of good sweets, of good wine…
The British beef stands against all the world as the meat noblest for the spit, though the French ox which has worked its time in the fields gives the best material for the soup-pot; and though the Welsh lamb and the English sheep are the perfection of mutton young and mutton old, the lamb nurtured on milk till the hour of its death, and the sheep reared on the salt-marshes of the north, make splendid contribution to the Paris kitchens. Veal is practically an unknown meat in London; and the calf which has been fed on milk and yolk of egg, and which has flesh as soft as a kiss and as white as snow, is only to be found in the Parisian restaurants. Most of the good restaurants in London import all their winged creatures, except game, from France, and the Surrey fowl and the Aylesbury duck, the representatives of Great Britain, make no great show against the champions of Gaul, though the Norfolk turkey holds his own."
Looking through SIMPLISSIME the other day, I came across a recipe for "Spaghetti Carbonara". A generation ago, this would have been unthinkable! If you found pasta in a restaurant in France, it was almost certainly have been badly cooked. The French kitchen then was closed to just about every foreign influence. Now it's all changed as my recipe this week demonstrates…. A dish from a French book using coconut milk!
COOKING MADE EASY – this week's Recipe
My pictures show one is already popular in our household and will so is very suitable for dinner parties.
Chicken with Tomatoes, Coconut and Lemongrass
INGREDIENTS for four servings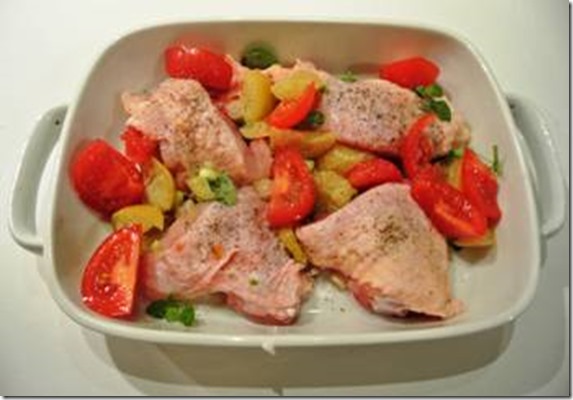 4 medium-sized chicken legs or 4 chicken pieces
250 grams of peeled and seeded tomatoes
2 stems of lemongrass
4 preserved lemons, each chopped into about 8 pieces
3 – 4 sprigs of fresh basil
1 litre of coconut milk
Salt and pepper
METHOD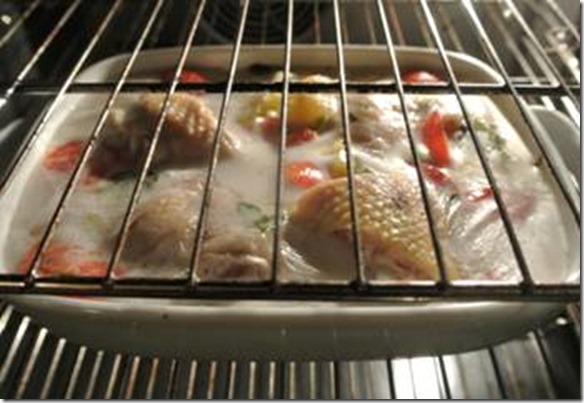 1.     Heat the oven to 170ºC

2.     Cut each chicken leg or piece into two
3.     Put all ingredients into an oven-proof dish, distributing evenly
4.     Bake in centre of oven for about one hour, until chicken is tenderly  
        through
5.     Give it a stir now and then
5.     Dish up and serve with boiled or steamed rice and sliced green beans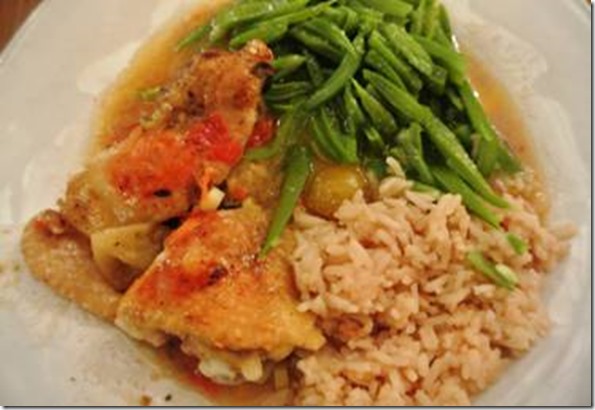 Appetising, tasty and good for you!