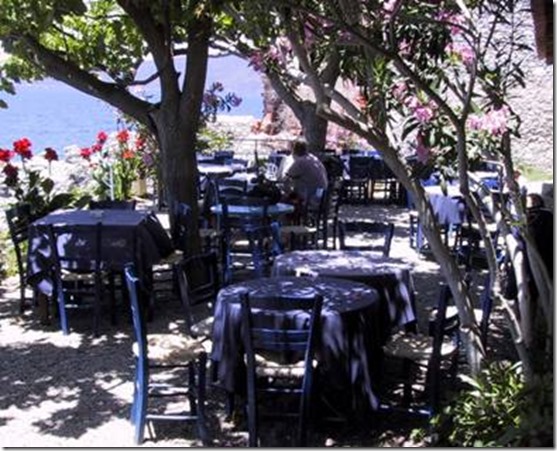 As the temperature rises, so does the urge to sit at a shaded café table, overlooking blue, blue sea and contemplating a cool glass of chilled Xynisteri, whilst considering the menu. Or, if you want the wine to wait for the food, a non-alcoholic refresher. I have just the thing.
HONEY DEW LEMONADE

Ingredients for about 8 medium glasses
Zest of two lemons
25 cls of fresh lemon juice
185 g) caster sugar
1 honeydew or sweet melon about 1250 grams in weight, rind and seeds removed and cut into small pieces.
50 cl soda water
Method
1. In a small saucepan combine the lemon zest, juice and sugar and bring to the boil.
2. Stir from time to time for about five minutes.
3. When you have a nice syrup, drain this off into a bowl and let it cool.
4. In your food processor whizz the melon pieces until you have a fine purée. If you want this finer still, push it through a sieve.
5. In a large jug, combine the syrup and the melon purée, stir it will, cover and refrigerate.
6. When you want to serve add the soda water and some ice. Pour into glasses and garnish each one with a slice of lemon and a couple of mint leaves.
Some Summer Lunch Proposals
I start with a dish that is light and flavoursome, can be cooked well before a meal, and which makes an excellent summer starter or part of a mezedes.
Mushrooms Niçoise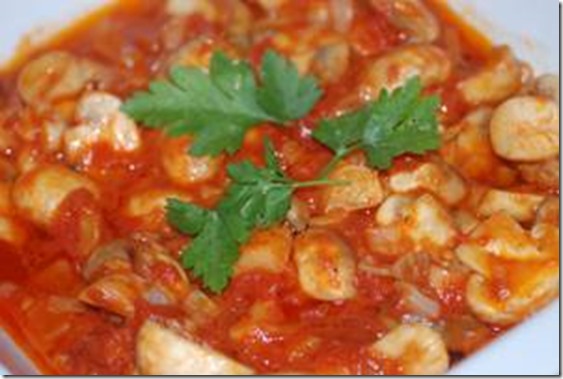 Ingredients for 4 servings
450 g small button mushrooms, wiped clean and cut in
halves
2 tbsp extra virgin olive oil
1 large onion, peeled and quite finely chopped
1 large garlic clove, peeled and finely chopped
2 large ripe tomatoes, peeled, de-seeded and chopped
1 medium wine glass of white wine
15 cl water
2 tbsp lemon juice
A few good pinches of fresh tarragon if you have it,
otherwise parsley, chopped.
Method
1. In a sturdy non-stick frying pan, heat the oil and
fry the onion until transparent
2. Add the garlic and mushrooms, stir-fry for a minute
or two.
3. Put in the tomatoes and cook until all the juice has
boiled away.
4. Pour in the lemon juice, water and wine. Stir and cook until almost all the juices have evaporated.
5. Season and stir in the tarragon or parsley.
6. Serve cold.
Summery Shrimp Salad
Now another buffet dish which uses frozen medium-large shrimp (you get 20+ to the kilo) and is delicious.
Ingredients
250 g of uncooked frozen shrimp (ice washed off and de-frosted in
a bowl of cold water for a few minutes)
500 g of broccoli florets
500 g of vermicelli or other thin pasta
6 tbsp extra virgin olive oil
1 garlic clove, peeled and crushed
2 canned or bottled anchovy fillets, washed and chopped
Some pinches of chilli pepper
Salt and pepper to taste
Method
1. Boil some water in a large frying pan or skillet
2. Put in the shrimp and cook for 5 – 7 minutes (until pink and
Cooked through)
3. Rinse with cold water, drain, put on a plate and sprinkle with a little salt and pepper. Discard water from pan.
4. In a large pot, heat plenty of water, add some salt and cook the pasta until AL DENTE, drain and set aside.
5. Heat 4 tbsp of the olive oil in the dried frying pan
and stir fry the garlic and anchovy, adding a pinch or two of chilli pepper. A minute or two should suffice. Do not remove from the pan, but remove from flame.
6. Meanwhile, boil the broccoli florets in a little water until they are ALMOST cooked through.
7. Slice the shrimp lengthways into two halves.
8. Put the pan with the oil, garlic and anchovy back on the flame and stir in the shrimp, then the pasta and finally the broccoli florets. Check the seasoning.
9. Pour over the remaining olive oil, stir well but gently and serve.
You could accompany this with a salad that not only looks
different, it IS…
Carrot, radish and spinach salad
You don't mix this, so simply arrange the ingredients in
rows upon a serving platter.
Ingredients
2 medium sized carrots, topped, tailed, peeled and coarsely
grated.
4 medium-large radishes, peeled to leave only the white
part, grated.
1 bunch spinach, carefully washed, patted dry, stalks and
choggy bits removed, then very thinly sliced.
Method
1. Arrange the carrots, radishes and spinach in an artistic fashion on a platter.
2. Serve separately from a good French dressing of: 3 tbsp lemon juice; 3 tbsp white wine vinegar; 2 tbsp
Dijon (or similar) mustard; 4 tbsp extra virgin olive oil, or sunflower oil if you prefer a lighter flavour.
Summer Pudding
Very, very English. A mix of red currants, raspberries and black currants – or summer berries and fruits of your choice (or what you can find!) Frozen berry mixes are available and these work very well.
Ingredients for 6 – 8 servings
1 kilo of mixed frozen summer fruit, de-frosted
200 g caster sugar
1 strip of lemon rind
10 slices of day-old white bread, crusts removed.
Method
1. Put the sugar into a medium pan and heat until it has
dissolved.
2. Add the fruit and lemon rind and gently simmer until cooked through.
3. Remove pan from heat and take out lemon rind.
4. Cut a circle of bread to fit the bottom of a large pudding basic.
5. Line all the inside of the basic with bread leaving no spaces.
6. Reserving about a cupful of the fruit liquid, pour all the fruit and juice into the bread-lined bowl.
7. Complete by covering the fruit completely with bread.
8. Put a lid or plate on top which fits inside the basin and which can press down the pudding. Put weight on top to assist this.
9. Put pudding in fridge overnight.
10. When ready, invert the pudding on to a serving dish. If there are any bits of bread in to which the fruit juice has not percolated, spoon some over from the cup of juice you set aside.
11. Serve with whipped cream.
SUMMER WINES…
This is the time to become a Pinko – drink a well chilled rosé. Raise a glass of a good Greek, or support local winemakers. From the days many years ago when I used to drink Pink Lady, I've always had room for a glass or two of a Cyprus pink. Forward Paphians Theodoros Fikardos with your eminently quaffable Iocasti and Marios Kolios with your Cornetto!