When you come to think of it, a remarkable number of cookery words are foreign in origin. Take "omelette" for example; no-one gives a thought, when ordering one or cooking one, that it is a French word, so long has it been around. But, say "Frittata" and immediately you're in foreign territory. It is, in fact, one of two Italian words for omelette, but to a cook in England it denotes a specific type – the Unfolded Omelette. All you do is to fry a selection of vegetables, bits of ham, bacon, chicken or whatever for a few minutes stirring occasionally and then pour in some beaten eggs, mix a little and cook through and serve. You don't fold it over. Here's a nice one…
Ingredients for Four Servings as a Starter or two Mains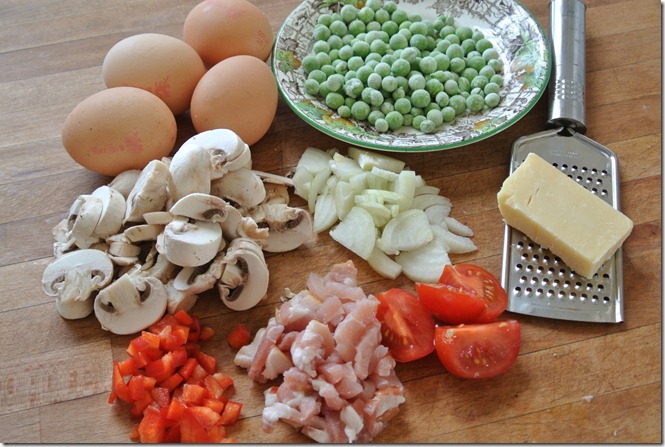 4 large free-range eggs
2 rashers of English smoked back bacon, coarsely chopped (if you have some Lardons, a small handful of these will do nicely)
8 button mushrooms, sliced
1 piece of a sweet red pepper (about an eighth) sliced and chopped
One small-medium onion, peeled and thinly sliced
1 small tomato cut into eight
3 tbsps. frozen peas
Salt and pepper
3 tbsps. Cheddar cheese
3 tbsps. oil for frying
Method
1. Heat the oil in a medium sized heavy non-stick frying pan.
2. Put in the sliced onion and the bacon bits, and stir fry on low to medium heat until the edges are beginning to brown.
3. Add the red pepper and continue stir-frying for a minute or two.
4. Throw in the mushrooms, stir in and carry on frying until they are cooked through.
5. Meanwhile, break the eggs into a bowl and whisk quickly until mixed and bubbles are forming.
6. Grate about 3 tbsps. of cheese, set aside.
7. Put your grill on to High.
8. Back to the pan – stir in the tomato pieces and the peas and carry on cooking until peas are soft and warmed through.
9. Pour the beaten eggs over and gently mix. After a minute more or so, take a plastic spatula and lift the edges in three to four places and let the egg run into the space. Use the corner of the spatula to make "holes" in the omelette in the middle and around, letting the liquid egg run in.
10. When the mixture looks to be cooking through but still quite moist on the top, take off the stove, sprinkle the grated cheesed over and put under the hot grill.
11. When the cheese is bubbling, remove the pan from the oven, slice and serve quickly, on warmed plates.
12. There you have it: FRITTATA. You can see endless variations of "fillings" – pieces of chicken, or shrimps, slices of smoked salmon or other fish, asparagus and many other vegetables.
Accompaniments:
A crisp and green vegetable, I think. Snow Peas, perhaps, or broccoli, cut into florets and steamed for 3 – 4 minutes, with a smidgeon of butter brushed over them. Plus a fresh baguette or wholemeal bread.
Wine Choice: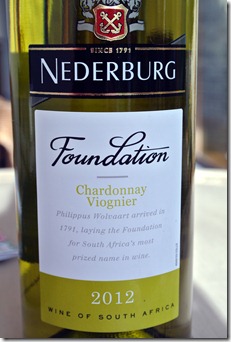 Eggs by themselves aren't much of a match for wine, but the bacon, cheese and other ingredients form a blend that can be well matched. Whilst I am basically a red wine man and would have a glass of a light fruity Spaniard, many people will prefer white. For them I suggest South African blend of the ubiquitous Chardonnay and the lesser known (but lovely) Viognier (Pronounced Vee-on-ye-eh) from South Africa. At around £7.00 it's cheap enough not to dent the wallet and pricey enough to get some good wine into the bottle. This blend is crisp and bright, with cheerful fruit on the taste buds and enough body and bite to complement the egg flavour. If all you want is two three glasses from the bottle, just screw the cap back on and it will keep in the fridge or a cool place for two or three days.
As published in  my weekly column  in "COASTAL SCENE", issue dated 15th February 2013