SuffolkEater likes Lincoln, and the place to eat and stay is the Castle Hotel, he says. He talked to the owners, enjoyed the ambience, the comfort of the rooms and the food.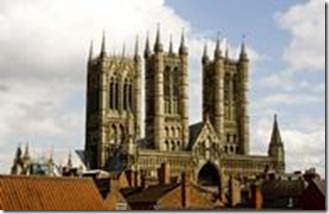 Lincoln is a city of around 86,000 souls, dominated by its magnificent cathedral on an escarpment known as "Lincoln Cliff",  above the commercial, industrial and residential areas on the plain below. The City is divided by the River Witham and the two sides are named "Downhill" and "Uphill". The Cathedral's dominance tends to overshadow the many attractions the city has.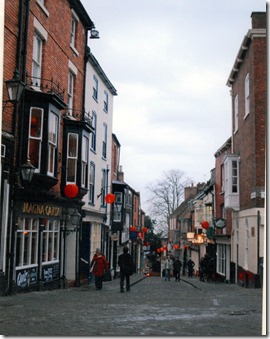 To the south of the cathedral, the little old streets of timber-framed and red brick buildings, tumble down the slope (One such thoroughfare is simply called "Steep Hill") into the town centre, with its businesses, shops, marina and waterways, with, further on, the foundries and industrial sector. In two world wars these plants made guns, tanks, armaments and munitions – functioning today as part of the Siemens empire.
Most visitors start their peregrinations around Lincoln at the Cathedral, and the logical and in my view best thing to do, therefore, is to stay at the Castle Hotel – from whose rooms you can see the great church, as well as the walls of the castle – which only recently was taken into new ownership, revitalised and refurbished, re-born you might say. It is now a very comfortable watering hole – with very well appointed bedrooms and a restaurant to which anyone with any sense from miles around hasten themselves to on a regular basis.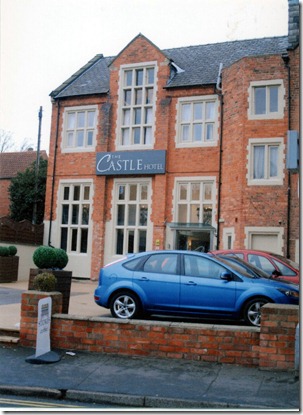 This delicious revitalised instance of the hotelier's and caterer's art is the brain-child of Paul and Saera Catlow. Neither of them had a hotel or restaurant background, so in these recession-charged times it might seem to be a bit of a gamble. Paul had run several businesses in different areas. He was a partner and shareholder in what had become the largest independent Media agency outside of London, where he and four other directors initially grew the business from nothing into a business which employed over 200 staff with a turnover in excess of £200m.
Saera was in the same sector working for some of the largest publishers and broadcasters on the sales side, which is how they met. Paul's firm would purchase space and airtime on behalf of clients and Saera was responsible for negotiating the deals with the agency.
Then, says Paul: "We decided on a change of direction and escaped to the country after selling my shareholding to my partners. Having spent a lot of time in hotels and restaurants (advertising is notorious for hospitality) we both knew what was good and what we considered to be good service, good food and the right environment.  This helped enormously but it certainly doesn't qualify you certain success on the other side of the fence"
"We saw the Castle hotel and whilst it was very tired and run down it was in an amazing location between the magnificent Cathedral and historic Castle walls.  We purchased the hotel in July 2010 and ran the hotel and restaurant as it was for six months whilst we planned for the major refurbishment work which commenced in January 2011. The hotel was closed for four months whilst the work was carried out. The refurbishment included some major structural work to create the new bar area and front entrance, and the restaurant and all the rooms were completely refurbished, too".
"We worked with a renowned Interior design company on every aspect of the hotel and attended site each day to oversee the work. The hotel re-opened at the end of March 2011 and we gave the restaurant its own brand and name, Reform.  Our plan was always to establish it as a destination restaurant and not just a hotel dining room for guests. We knew we needed to bring in a top chef to do so; our first target was multi award winning Mark Cheseldine who was the head chef at a very successful restaurant in Newark called Cafe Bleu. Mark joined us in December and created a huge amount of publicity locally and regionally"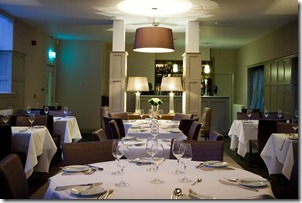 "Its been 15 months since we re-opened and both the hotel and restaurant go from strength to strength. The hotel is virtually full most nights and Reform is a growing success with both hotel guests and local residents; 80% of our restaurant business comes from the local market which is exactly what we wanted to achieve. We are also extremely proud to have been voted 'Best restaurant in Lincolnshire 2011/2012" by Tastes of Lincolnshire and Lincolnshire Life magazine. We were actually assessed in October 2011, so we had only been open as Reform for just six months and we were up against some very successful and established restaurants across the entire county so it was an achievement we are extremely proud of".
"In terms of the future both Saera and I continue to be directly involved with both the hotel and restaurant to ensure our proposition and service ethic is delivered. The restaurant continues to evolve and get busier each week which is based on regular repeat business which is the best type of recognition you can achieve".
REVIEW
ACCOMMODATION
18 Rooms of varying sizes, but all of undoubtedly high quality in accommodation and amenity. Prices start at around £100 a night per room. A lot of thought has gone into making the guest comfortable even in the smaller rooms in which the cat you could swing would be a fairly small one. All too often a hotel room may look attractive, but where are the chairs to nestle down in with a book or magazine? Here, no problem. Chairs are as cosy as the rooms themselves. And the larger ones offer plenty of spreading opportunities – for example letting your waistline out after three courses of Marc Heseldine's exceptional cooking.
Verdict: The Catlows have done very well indeed with the building they acquired. Comfort rules.
AMENITY
Again, space is a premium, but the lobby lounge is a comfortable and friendly place to sit and enjoy the passing scene. There is a pleasant bar (the young Australian barman when we were there was working his way through Uni and was a good Mine Host). If you are saving yourself for three Heseldine courses in the evening, the snacks here are good, too (he created them).
Service is typical of our age – mostly provided by youngsters who know their business and offer informality and friendliness as they go about their tasks. A touch of the "There you go's" never hurt anybody. Our bags were taken graciously without our asking (a rare occurrence in 5 star hotels these days!) to and from our room.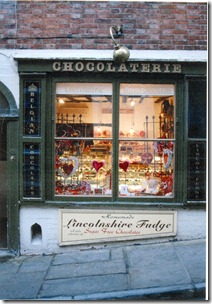 Verdict: Cheers for comfort, cheerfulness and readiness to help. And what a location! Just step outside and there you are, the streets, the shops, the castle and the Cathedral you came for.
Left….  one temptation amongst many close at hand is this gorgeous chocolatier, five minutes from the hotel, just down Steep Hill from the  Cathedral and Castle Square
THE "REFORM" RESTAURANT AT THE CASTLE HOTEL
The Reform is Mark's Heseldine's bailiwick, and he has established it at the top of the Lincolnshire dining-out tree. With every justification – his cooking is assured, consistent, innovative and above all it doesn't go over the top. The sample menu below tells you all you need to know. As much produce as possible is sourced locally and when it gets into the kitchen it is inventively and caringly turned into plates of good food.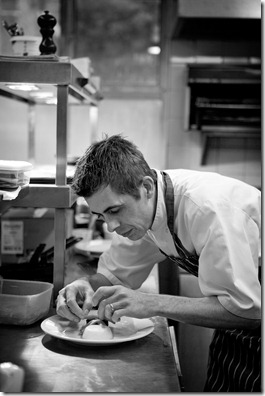 From the dishes we tried on two evenings, these were stand-outs from universally good plates: A starter of Treacle Cured Salmon combined caramelly deepness with tartness and the oil of the salmon;A main dish of fall-off-the-bone succulent Duck Leg Confit with a small baked suet pudding filled with a mince of rabbit and vegetables was simply divine and stuffed chicken breast took an ordinary sounding dish some notches higher. Mark's desserts don't fall off one iota, either (see pictures below). Chocolate Pudding, Almond and Brandy Tart and Baked Apricot Cheesecake all scored highly. Only a very good looking but rather bland vegetarian main dish, Leek Mousse failed to ring bells.
Service is prompt, efficient and helpful, mostly young, with the owner often helping out on busy nights. At breakfast a lady of mature years looked after us in a charming manner – the breakfast array was impressive and the individually cooked items a good stoke up for a day's march around Lincoln.
Six white two rosé and six red wines are available by the glass. The list is about 30% French and the remainder spread between other European and New World Wines. Three southern French are the house wines at a reasonable £15.95 a bottle. The list doesn't contain anything frightfully expensive, and is well chosen to match Mr Heseldine's cooking.
SUMMARY
Ratings – out of *****
Food: ****½ Service: **** Ambience: ***½ Value-for-money: ****
Summary:
Meal for two with wine from £80.00. Outstanding cooking – well worth a detour.
The Reform at The Castle Hotel, Westgate Lincoln. Booking essential. Telephone: 01522 538801 Car Parking. Disabled access.   Email: info@castlehotel.net    www.castlehotel.net
Eastward-Ho! "Recommended Roster".
Sample Table d'Hôte Dinner Menu at £28.95 per person
Starters
Creamed Fennel Veloute – bPaWermesan, Onion Seed, Potato Croquette Seared Smoked Salmon – Sweet-corn Blini, Foie Gras Cream, Asparagus Stilton Mousse – Port & Celery, Candied Walnut & Apple Pressed Terrine of Butter Poached Chicken – Merguez Sausage, Shitake Mushrooms with Chickpea, Smoked Paprika & Lime Puree with Lovage Oil
Mains
Confit of 'Red Hill Farm' Pork – Jerusalem Artichoke Risotto, Sage Onion Rings Pan-Fried Rib-eye Steak – Etuvée of Asparagus, Leeks, Celery, Honey Foie Gras Cromesqui & Duck Fat Chips Spiced Roast Salmon – Quinoa Pilaf, Fennel & Onion Bhaji, Coriander Warm Spinach, Peppadew Sweet Pepper & Potato Tarte – Canelloni of Goat Cheese, Piperade
Desserts
Chilled Lemon Tea Cream – LIncolnshire Plum Bread Dark Chocolate & Hazlenut Delice – Salt Caramel Ice Cream Caramelised Banana Tart Tatin – Nougat Glace Selection of Cheeses – Red Onion Chutney, Celery, Grapes