This is a great and perennial favourite dessert at the InterContinental at Aphrodite Hills – an unusual and delicious cheesecake.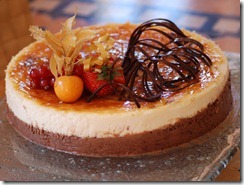 Ingredients for 6 Servings
875 g cream cheese
200 g icing sugar
4 large eggs
200 g 70% dark chocolate melted
125 g icing sugar
Method
Preheat the oven to 210°C.
In one mixing bowl, mix the cream cheese with sugar well, with a spoon.
Slowly add the eggs one by one and mix well for several minutes.
Melt the chocolate in a bowl which is held over a pan of slowly boiling water (do not let the bowl touch the boiling water
When the chocolate is melted, take the bowl and mix in little by little the icing sugar.
Line the bottom of a 24 cms diameter round baking tin (NOT one with a loose base) with aluminium foil
First spoon the chocolate mixture into the tin.
When it has settled gently spoon the white mixture over.
Put the baking tin into an oven pan and pour warm water around it, so that it comes half way up the baking tin.
Bake in the centre of the pre-heated oven for 30 minutes.
Remove from the oven and allow to cool.
Refrigerate for 4 – 6 hours, before carefully removing the cheesecake from the tin onto a serving dish. Decorate the top to your taste.