Cooking Japanese at home…YAKITORI
People do make Sushi at home – especially those who don't trust restaurants to use the freshest ingredients. It is an absorbing process, and it is very well described in an excellent little volume called "The Book of Sushi". (See picture)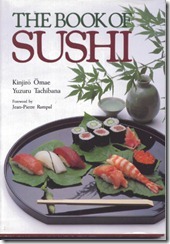 I bought my copy from Moufflon some time ago and it is also available from Amazon, where I found this excellent reader review:
The text is clear – very readable – and the author's love for the history, tradition and eating of sushi shines through. Tips on what to order don't feel like prescriptions so much as suggestions; I especially appreciated the explanation of which types of fish are good during different parts of the year. The book is crammed with practical information like this – Omae points out that maki rolls should be eaten first, not because of some obscure protocol, but because the seaweed-paper wrapper may not hold up as moisture soaks into it. And it may sound obvious in retrospect, but I'd never actually realized that you're not supposed to dip the rice part of nigiri-zushi into the soy sauce; rather, you hold it 'upside down' and just wet the fish.
This book will make you want to go out and eat more sushi, and if you're a thoughtful person like me, all that good information will probably enhance the experience. 5 stars!
As for more conventional dishes, I am now talking about chicken kebabs, but the Japanese flavourings and the chicken livers make this a tasty introduction to this interesting cuisine. My old colleague, Keinosuke used to say: "This derricious with beer".
Ingredients for 4 Servings
2 large or 3 medium-sized chicken breasts
400 g (14 oz) chicken livers
White part of three medium sized leeks
50 ml (2 fl oz) sunflower or peanut oil
100 ml (4 fl oz)  Japanese ("Kikkoman") soy sauce
1½ tbsp sugar
1 clove garlic, mashed
1 tbsp grated fresh ginger root
1½ tbsp sake (or dry sherry)
Red chilli pepper powder
Method
Cut the chicken and liver into bite-sized pieces, and cut the leeks into 2 cm (1") pieces.
Mix together the salad oil, soy sauce, sugar, garlic, ginger, and sake and marinate the chicken and liver in this mixture for two hours.
Preheat a grill. Thread on skewers alternate pieces of chicken, leeks and livers.
Grill for 5 minutes, turn and grill for 5 minutes more or until a few charred spots appear, basting with the soy sauce mixture.
When cooked, serve immediately sprinkled lightly with chilli pepper, with rice and a salad.