Recipe – by Matthew Stowell      Originally posted September 2009
As the name indicates, this is a Cypriot version of the classic Italian dish. When I was a cook in Boston, Eggplant Parmesan was one of my favourite dishes to make and, of course, enjoy at the table with a glass of Chianti or, before it went astronomical, Brunello di Montalcino. The other day, I mentioned missing this dish to my Limassol-born wife, Olga, and a few minutes later she disappeared into the kitchen. Not long at all afterwards she called that supper was ready. She had whipped up the version below from memory — her mother used to make it for her brood of twelve children. The first bite confirmed it would forever be a favourite.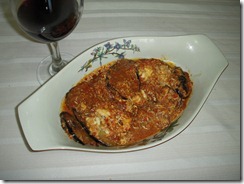 Ingredients for 4 Servings
7 – 8 small aubergines, peeled lengthwise
1 jar (250 grams) of tomato sauce (home-made if you have it!)
1 large tomato, peeled and chopped
1 large onion, peeled and grated
4 cloves of garlic, peeled and minced
400g / 15 oz of feta, crumbled
60 g / 2 oz / ½ cup of dried Anari cheese, grated
Salt and pepper to taste (easy on the salt as the feta is already salty)
Method
Cut the peeled aubergines ¼ to ½ inch thick (10 mm)slices (wheels), then spread them out on a cutting board and sprinkle salt and pepper on both sides.
Fry them in olive or vegetable oil in a skillet until golden, then set on paper towels to absorb the oil (both sides).
In a separate pan, heat a little olive oil and sauté the garlic and onion together.
As soon as the onions turn gold, add tomato sauce, grated tomato, salt and pepper.
Bring to a bubble for a few minutes then simmer.
When sauce starts to thicken, add the Anari, mix it in and turn off the fire.
In a casserole, make layers of eggplant, sauce, and crumbled feta.
Make 2 or 3 layers, then a final layer of sauce.
Bake in 200°C / 400?F oven for approximately 40 minutes.
Check it, and when tomato sauce gets absorbed, you know it's ready.
Village-style corn bread does a fine job of sopping up the sauce and a Maratheftiko or Shiraz or, in particular, Ayios Onoufrios completes the ensemble perfectly.