They say the simplest dishes are often the best. And in many countries the food of the peasants is the best: fresh ingredients grown near the dwelling, easy preparation and speedy cooking. What could be better?
Within the walls of Nicosia, not in the tourist section, you can still find little cafés where Mama cooks and Papa serves (or vice versa), in which you can find four, five, six pots on the stove, each one containing a traditional Cyprus dish and now scorned by most. They should be preserved, because they are great and helped by lovers of vegetable dishes and diet or cholesterol conscious people, they are staging a come back. This is my version of one of them.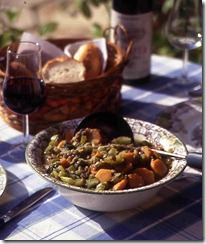 Ingredients
450 grams of "green" lentils
1 largish onion, peeled and finely chopped
2 medium carrots, peeled and coarsely chopped
2-3 sticks of celery, thinly sliced
2 cloves garlic, peeled and chopped
50 cl chicken or vegetable stock (a cube will do)
Method
Wash lentils in a sieve, then put them in a pot and cover them with water. Bring to boil and cook.
When tender, drain and set aside.
In a good-sized stewpan, stir-fry the vegetables in olive oil for 5 minutes. Put in a little stock, cover and simmer until tender.
Add lentils and remainder of stock, stir and simmer for a few minutes and then serve.

Very nice as a main dish with fresh bread and salad or as an accompaniment to roast or grilled meat or fish.   A nice glass of a dry rosé and a light red will be very acceptable.
If you are a vegetarian and have not made your own vegetable stock, try this…
Basically, we are talking about equal weights, say 250 grams, each of onions, carrots and celery, plus other vegetables you have to hand—a leaf or two of cabbage, a small head of fennel, a chopped leek, a tomato if you want some colour, plus some parsley, a garlic clove, some coriander seeds, a bay leaf and a pinch or two of fresh herbs, such as thyme, rosemary and sage.
Add all these to a litre and a half of water, with salt and pepper, bring to the boil and simmer for around 45 minutes. Cool and strain the liquid. This will give you a pleasing, natural vegetable stock, for vegetarian soups, sauces, rice and pasta. It freezes well in small containers. Richer vegetable stocks may be made by frying the ingredients in a tablespoon or two of olive oil and using some mushrooms and a potato as well as the various vegetables listed above. If you don't want to make your own, you can find various brands of vegetable stock cubes and pastes, which I find very good, and they add oomph to pilaffs and sauces.