This article was published in 1993, since when the number of vineyards in Cyprus has declined greatly. This is due to three main reasons: firstly, the unsuitability of the predominant native Cypriot grape, the Mavro, for the making of good quality red wine. Secondly, the move to the towns of many vineyard owner;, and, thirdly the poor financial return for grapes sold as a cash crop.
However, the move towards making good quality bottled wine in the hill wineries has meant planting new vineyards, or re-planting of old ones with either re-discovered Cypriot grape varieties of style and substance or international varieties like Chardonnay, Sauvignon Blanc and Semillon (white), and Cabernet Sauvignon, Shiraz, Mataro and Grenache (red). So, you can still see new plantings – some of these are made without ceremony by the new young winery owners, but others are privately owned and you might well come across an occasion like this…
A PLANTING HAS BEEN ARRANGED
If you are driving about in the hills at this time of year you may be lucky enough to see a group of villagers planting a new vineyard. You should stop and watch and the chances are you will be invited to join in.
The vineyard most probably will not be a new one. It is likely that the old vines were grubbed out two or three years ago, and by law, the plot has been lying fallow. Now it has been ploughed and weeded and rows have been marked out for new vines. It is quite a ritual. It involves teams of four people.
First of all a hole about 30 cms (12 inches) deep has to be made for the vine cutting. This is done by a home-made "Y"-shaped wooden implement, the bottom is capped with a pointed metal piece, and the two arms are held by the hole digger. He or she puts a foot in the centre and drives down the point. As he makes the hole he shouts "NERO" ("Water"). (Picture 2) A lady or gent then comes with a bucket and pours water into the hole. In turn, she or he, shouts "AMBELHI" ("Vine"). A third person then brings a vine cutting and puts into the watered hole.  A fourth comes along with a spade, fills in the hole and pats the soil down firmly.
The start will have been an early one, probably between 7.00 and 7.30 a.m., because there may have been six hundred or more vines to plant. They will almost certainly be what the Cypriots call "foreign varieties". That is to say they will not be the indigenous grapes like Mavro (for red wine) or Xynisteri (white), but Cabernet Sauvignon, Mataro, Grenache or another red grape, or Chardonnay or Riesling (white). These varieties will have been approved by the Vine Products Commission, the government's regulatory body, and provided by another government agency, the Viticultural and Vinicultural department in Limassol.
By 9.00 a.m. probably half the work will have been done by the 16 – 20 people present, who will be family and friends. Time for a snack of fresh bread, halloumi cheese, tomatoes, cucumbers and olives. The men will have a draft of the local eau-de-vie, "Zivania", which is distilled by many families in the villages. Of a cold morning, it is extremely warming.
The two cries: "NERO" and "AMBELHI" are far more than a request for water and a vine to put in the freshly-made hole. They have powerful religious overtones. "Nero" is an exhortation to God to provide the water, in the form of rain, to nourish the vine throughout its life. "Ambelhi" is a plea to make the vine strong and fruitful, bringing income and prosperity to its owner.
As the cries rend the air, there is cheerful banter, and the sound of happy children running about, but after some hundreds of vines have been planted, the women will return to the house of the vineyard owner to prepare lunch. At around mid-day, the menfolk, tired, but pleased with their work, will go home to wash and change. At around 1.00 everyone assembles for the meal, and it will be a magnificent spread, with many of the dishes that comprise the famous Cyprus "Mezze".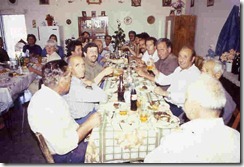 Curiously, not many of the villagers will drink wine, often preferring beer and Cyprus brandy ("Koniaki"), of which every one will have his favourite brand. Wine is made in the villages, but much of it is distilled into Zivania, or used for marinating spicy sausages. For many decades the villages' grapes have been sold as a cash crop to the big wineries in Limassol and Paphos. Only now, when more villages have modern commercial wine-making plants are the local tavernas serving, and selling bottled wine.
The vineyard owner has already had no income from his field for at least two years, and now he has it newly planted, he will have to work three more before he gets any grapes at all, and five before the vineyard is cropping well. In those years he has cause to pray for water, and for the health of his vines.
At the lunch a noted resident, Maria, and woman-beyond-reproach of the village church, sang and recited traditional poetry – throughout the planting she had been one of the women distributing the vine cuttings. Maria died in 2004 after an amazing life of work in and around the village. In the 12 years we knew her many was the time she brought the "Holy Bread" for the Church to bake in our oven. We helped her make her "Zivania" in an illicit still behind our house and bring in her grapes at harvest time. A lovely lady.