Well-travelled and experienced trencherman, Francis Geldart, who is resident in the foothills of the Troodos, Cyprus, from time to time wrote for me about pleasures of the table at local eating places.  But he loves far-eastern food and he is prepared to travel some distance – well beyond Limassol, for instance – to get it. Burma is now a regular destination and he reports on a recent meal.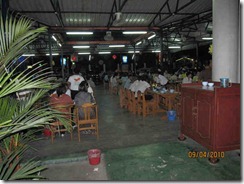 There is a lot more to an enjoyable meal than just what's on the plate. The place, service, atmosphere, company and appetite, all play vital roles. I was making my third visit to Burma, or let's call it Myanmar, which has after all been the country's official name since 1989. We had just completed a mammoth one-day 750 km drive from Mandalay to Yangon – nothing romantic about The Road to Mandalay these days, it's mostly a four lane super highway. My driver, who, by this third visit, has also become guide, minder, and good friend, asked what I would like to eat.  Chinese, Indian or Barbecue were suggested. I decided on the latter, dismissing memories of Aussie barbies of overcooked steak and rather nasty sausages (aptly known as snags). Anyway, I was famished – anything edible would do!
The Bar-B-Q restaurant was not impressive, looking more like a warehouse. The tables and chairs were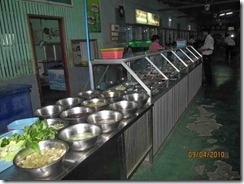 basic – nevertheless, the huge room was full of chatter and smiling faces, whilst the delicious aroma of cooking food emanated from a smoke and flame filled corner, which bode well for a  satisfying end to my hunger.
The system for selecting the food to be cooked was simple. Skewers of different meats, fish, prawns, tofu and a huge variety of baby veggies are displayed on a counter. We helped ourselves, putting our chosen items in a plastic basket. A final selection of any additions we wanted for the stir-fried noodles completed our meal.  The plastic basket of ingredients was then handed over to the chefs.
Back at our table, we sipped fresh lime sodas and waited for the food to arrive. My driver, whose family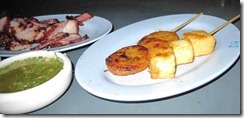 came from Bengal in colonial days, is super company and we chatted about our trip, his family, and so forth, whilst the cooks did their thing. Discreetly, he made sure a waiter brought a bowl of my favourite sauce (soy sauce, rice vinegar, fish sauce, garlic, ginger, chillies and coriander). Then came a procession of delights. Plate after plate of tasty, tender delicacies, all enhanced by my sauce concoction. It was a very satisfying meal in every way; a credit to all concerned, particularly those labouring away in the smoke and flame filled corner. They got the cooking just right.
I asked the waiter about the staff. 80 in total, he told me, working in two shifts. Two teams, in other words, two bosses, two sets of cooks, cleaners, waiters, security, etc… Why so many? He grinned. "We start early, finish late, people like it here". Having enjoyed the food, I can't say I was surprised.
The cost of a meal for two was around US$12.00. If you're planning a visit to Mayanmar, ask for Shwe Li Barbecue, there are three branches in Yangon.