Of the meals I remember most clearly, it is simple ones that I think of most fondly. The first "Steak Frites" I had in Paris. Barbouni, just landed from a fishing boat in Lebanon. The kebab "Mixtures" (lamb pieces, shish kebab, minced lamb skewers) prepared by the lady proprietor of Ttokos Kebab house, London. BBQ'd fresh squid by the harbour in Paphos. Spaghetti just with butter, olive oil and parmesan cheese in a street café in Rome. A sumptuous fresh beef burger in SoHo, New York. One memory leads to another. And thence to books….the stuff of travel for the elderly!
In moments when household obligations are done – or temporarily ignored – Mary and I are often to be found with our noses in a book. We are not academic readers – so our reading matter is not tomes of Latin or Ancient Greek verse, either in their original languages or in English. Her choice leans towards biography and English poets; mine towards travel, art and matters culinary. Christmas brought us not only books, but that wonderful gift – The Book Token. A few days ago, armed with several of them we adjourned to a fine bookshop not far from us – I write about two of our acquisitions.
Although France was the first country outside the UK whose food I tried (and fell in love with) and I have cooked many French favourites over the years, a good big book of simple every day recipes always commands my attention. This one is no exception.

Cover price is St£40.00, but on-line offers include a number costing much less than that. It is a big, hard-cover book (25cms x 20 cms) of more than 360 pages. Each recipe is comfortably spread over two pages, making it easier to follow the instructions as you cook. This is French Bistro cooking at its best – the sort that's difficult to find these days, even in peoples' homes.

I want to try them all – slow roasted lamb shoulder, kidneys with mustard sauce, Blanquette de Veau, the new UK Bistro favourite "Pavé Rump Steak", Coq au Vin with Prunes, and lots more.
Despite his Italian name, Edward Ardizzone (1900 – 1979) was British born and bred. A marvellous illustrator, his work graced numerous books, book jackets, magazines and art-works. In World War II, in common with many other artists he was "Conscripted" to work as a war artist. Given a uniform, a "tin hat" (steel helmet) and status as an officer, he was sent to several areas of conflict, to draw and paint fighting troops, action spots, and the panoply of war equipment.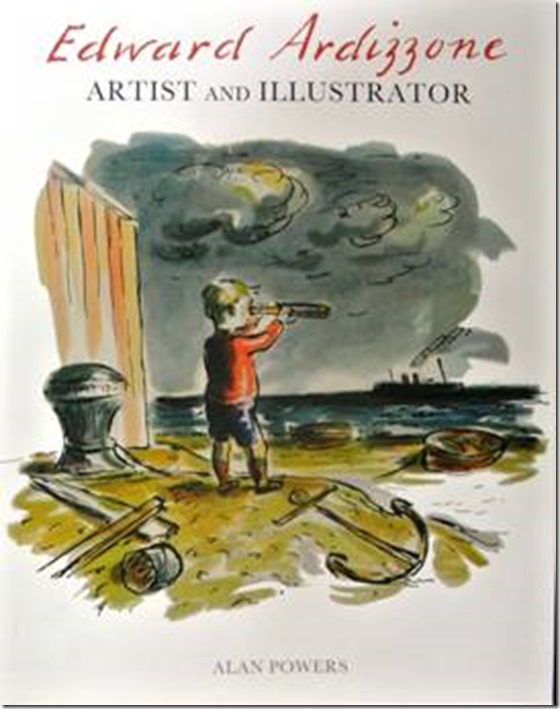 One story he told was of arriving "for dinner" at a control point near front-line positions in Egypt's Western Desert, to be greeted by the British officer in charge with "Ah, ah. ARDY – ZONEY. Thought you were one of those Eye-ties (Italians)" En route to the battle-front Mr Ardizzone had managed to acquire a straw-covered bottle of Chianti, which made his host's attitude much more amenable when he produced it.
The picture below has graced the wall near my writing table for many years. To one or two non-imbibers of alcohol to whom I have pointed it out, it is not regarded as amusing. I adore it. An added bonus to the drawing, of course, is the addition of Omar Khayyam's most famous quatrain as a caption. It is signed by the artist, "DIZ" – short for Ardizzone.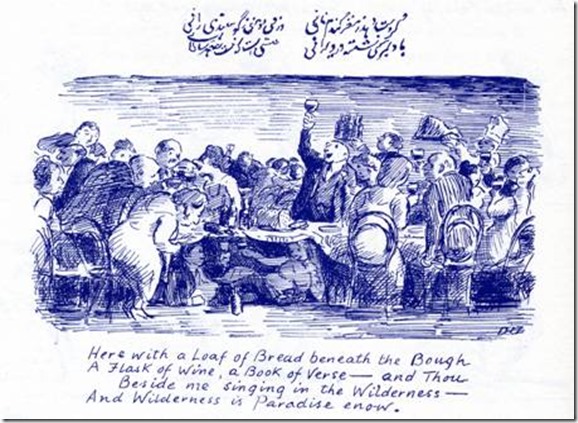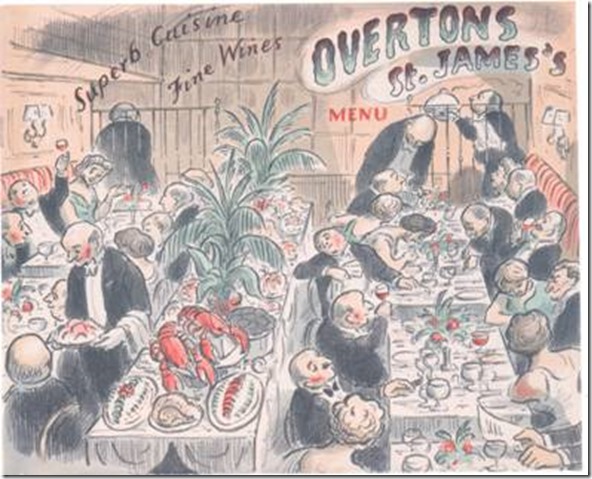 OVERTONS! A name to conjure up juicy grilled sole, splendid steaks and chops and excellent wines. Edward Ardizzone perfectly depicted the atmosphere of this venerable old restaurant in the heart of London's St. James's Street. As you can see from the dinner jackets, it is dinner time.
In the 1960s my little basement office was on the other side of Piccadilly, and one of the publishers I worked for was The ECONOMIST Magazine, whose offices were just up the road from Overton's and a few steps from a score or more of other wonderful eating places. I loved a number of them, especially as I had an expense account. Overtons is now more, so I can't say that dining there today would cost you at least an arm and a leg – then, in the 1960s, well, just an arm! The premises, in St James Street is still, however, a restaurant bearing a famous name: Boulestin. It's very pretty as my picture shows.