THE MEZE TABLE
The sight of a meze table fully set is an inspiring one. "How on earth have they done all that?" you ask yourself; but if you look, on closer inspection a lot of the little dishes have come out of jars, cans, packets and the freezer. And you can produce a wonderful table as a buffet, hors d'oeuvres or simply for people to pick and choose. The suggestions I give below are far from comprehensive but they give an indication of what can be done. To this list you can also add small salad dishes, several of which are ideal for the meze table, particularly Tabbouleh and Fattoush. Produce a selection from this little lot and wait for the "Ooohs" and "Aaahs".
THE COLD TABLE
Cheesy, fishy, creamy or yogurty dips for tasting on crisps, tortillas, strips of carrot or cucumber.
Pieces of canned asparagus rolled in a slice of ham.
Small cheese biscuits spread with Scandinavian Cods' Roe paste
(e.g Kavli "Kaviar", topped with a slice of gherkin or olive.
Dishes of green and black olives
Hiromeri, Parma ham or similar and melon
The salad table at Kouiyouka Water Mill, Paphos district. I spy taramasalata, talatouri. Hummus, tahinisalata and salads of mixed beans, courgettes, mushrooms, mixed peppers, tomatoes and beetroot
THE HOT TABLE
Pork chipolata sausages, simply baked in a hot oven for around 20 minutes, cut in half and speared with cocktail sticks.
Canned smoked oysters, wrapped in a bacon rasher and grilled.
Grilled loukanika, or other spiced sausage, sliced and speared with cocktail sticks.
Grilled halloumi and lounza slices. Must be rushed from the grill or frying pan straight to the waiting diners; otherwise, the cheese goes stiff and leathery and the lounza cold.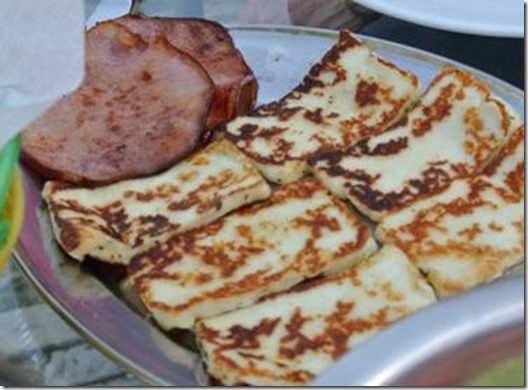 Frozen mini vol-aux-vents, baked and filled with anything suspended in a white/cheese sauce, such as fried chopped mushrooms, tiny pieces of cooked chicken, bolognese sauce, chopped asparagus, prawns or chopped crab sticks.
Goujons of fried fish, such as frozen red mullet fillets, defrosted, sliced into strips, dipped in flour, then beaten egg and fried in hot oil. These
can be prepared beforehand and warmed.
Large defrosted prawns, quickly turned in very hot olive oil, garlic and a squirt of Tabasco
Little kalamares fried in egg and flour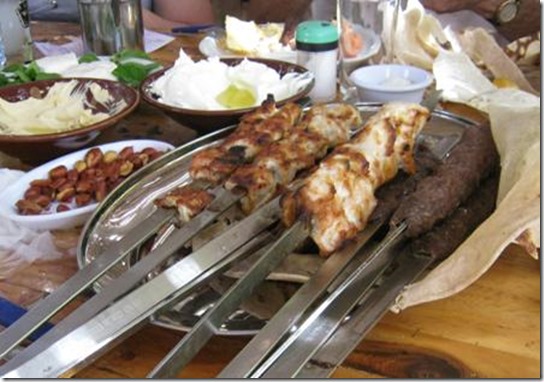 Brochettes (kebab sticks) of marinated chicken pieces. By the side of those pictured here are kebabs of herbed and spiced minced lamb (herbs: fresh mint and parsley. Spices: cinnamon and cumin.
READING ABOUT MEZE – and COOKING IT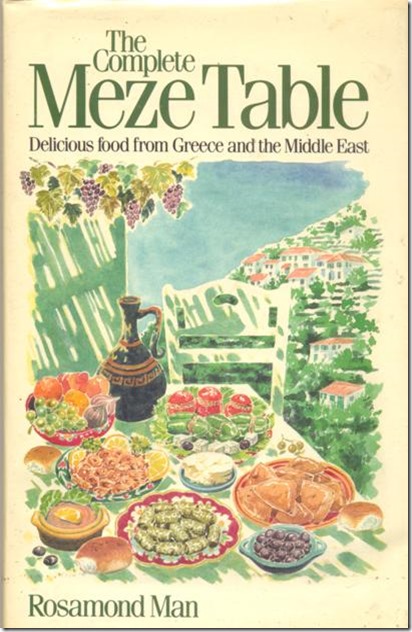 I have had this book for 30 years and I go back to it more than any other book about Middle Eastern cooking I have on my shelves. The recipes are totally authentic, easy-to-follow and in my experience never fail. A few copies are available on-line and, if you, dear reader, follow my advice and buy one, I am sure you will not regret it.
A MEZE TABLE AS IT SHOULD BE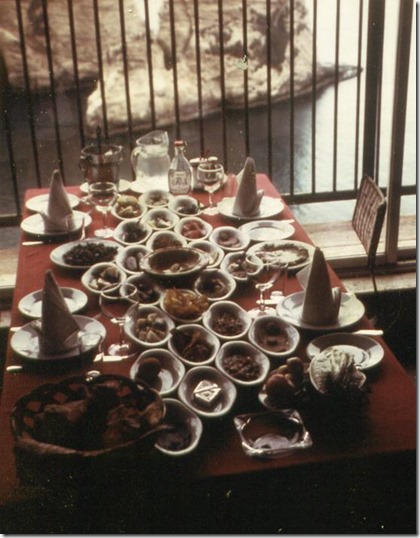 I took this picture some years ago at the famous Grotto aux Pigeons restaurant in Beirut. The proprietor apologised for the fact that his meze that day contained "only" 75 little dishes. "Eh, bien ("Well….")he said, "There IS a war on". There was, too – civil war, which fortunately was a few kilometres from where we were eating. Here were all the classic dips, kidneys in hot chilli sauce, pieces of sheep's testicles delicious!), pickled and fried fish, snippets of lobster ("Egyptian") beetroot, tiny cucumbers, kibbeh, tiny kebabs, chopped salads, artichokes, and lots more. It was wonderful, but it didn't seem right to be enjoying such a meal when a bitter war was raging nearby.