"Compliments to the Chef"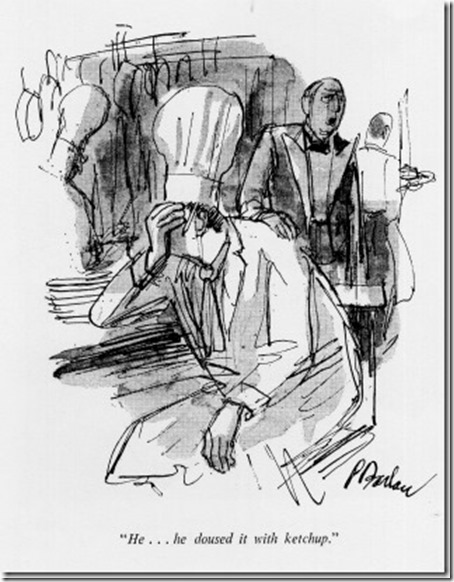 This cartoon is a from a 1970s issue of the much-missed magazine of humour and good writing, "PUNCH"    For several years, in the 1960s I had the pleasure (mostly) of working as its publicity and promotions consultant. 
Sometimes, the chef comes out of his kitchen, generally when last orders for main courses have been completed, to say "Hello" to his customers. A custom I like, because it bespeaks confidence on his part. Sometimes his tour of the restaurant is cursory, his simple comment being "Everything alright?" "Yes, thank you", we generally say, or some-such word as "Wonderful". On other occasions he stops with 'regulars' who tell him what a good fellow he is. The best chefs talk to ALL the customers, and listen to any comments including bullshit (or genuine) praise, and criticisms.
From my own dining experience you are most likely to see the chef in these circumstances: (a) When he/she owns the place and does the cooking; (b) When the place is up-market/expensive or a hotel (where restaurants are often dreary places and anything out of the ordinary helps brighten up the occasion) (c) The guy is not 100% confident about the cuisine and thinks "the personal touch" will help create happy customers.
All too often customers are so besotted at the mere fact that the man who has cooked the meal for which they are paying fifty Pounds a head has deigned to come out of his den to hold court with them, so all they can mutter is how great it was. When they get home, of course, the wife says: "HUH! And you said how tough the steak was and that the sauce was crap!"
Mind you, there's one restaurant not far from where I'm writing this where, IF the chef stops by your table he'll chin-wag for ages – a case of where he talks as well as he cooks.
Recently, staying at a 3-star tourist hotel in Scotland, we enjoyed our dinner main course of Braised Beef in Red Wine and when the chef did his rounds we told him so. He then described the six hours it had taken from trimming and cutting the meat to bringing it slow-cooked out of the oven. The next morning, outside the hotel I encountered a large van with a famous catering firm's name on the side. The delivery man told me his firm provided ALL the food served in the hotel, including the braised steak.
I don't mind ready-cooked meals. And you find them all over the place, especially when travelling. I remember one day when I looked at the dish before me. It was baked macaroni, better known to Greeks and Cypriots as Macaronia Pasticcio. The sauce was fluffy, the pasta properly cooked and the minced meat very tasty. Now this is a dish I often avoid. At its best it's wonderful. But in the hands of fifty per cent of the taverna cooks it's a heavy, dry, indigestion-creating disaster.
Where was I? I was 10,000 metres in the air, sky or whatever. Up there, on a Cyprus Airways Airbus 320 bound for Stansted. By the side of my tray was a little bottle of Island Vines red (I had at least two) I was content.
I am not a snob about flying or eating airlines' food. 95% of my air journeys have been in economy class (I figure the back of the aeroplane with the peasant like me in it, with luck, lands at the same time as the front), and of the other times, up-front with the alcoholics, eating roast New Zealand lamb washed down by Chateau Margaux at midnight wasn't worth paying six times the economy class fare.
I have maybe pushed a tray away untouched three times in several thousand flights (Sudan Airways springs to mind), and the grub at the back has nearly always been OK. Mary and I once flew to Stockholm from London in the front row of Economy. we got a cold lunch. The chap in front, back row of Business Class, got a hot meal. "My word", I said to Mary, "that smells good". "Yes", came a voice from the seat in front, "But it's not worth a hundred and fifty Pounds".
An oriental flavour…
JAHAR'S LAMB — DONE TO A TURN
The oral tradition is strong throughout the Mediterranean region, where distances are considerable and life has been essentially rural. Nowhere is this more noticeable than in Arab countries — where apocryphal stories have been passed from village to village and father to son for centuries. Many are cautionary, some are philosophical and many are amusing and concern what we might term "the clever village simpleton". None are more worth telling than those of' one such figure-of-fun, Jahar", or "Joha". This one is Palestinian.
Jahar was invited to dine at the desert tent of Sheikh Abdallah and sat cross-legged on a large carpet on the ground. A huge oval platter was brought forth. Upon it a whole sheep, stuffed with boned chickens, themselves stuffed with smaller birds, which in turn were stuffed with minced lamb and pine-nuts. The sheep was surrounded by huge mounds of steaming rice, into which fat and meat juices were freely running.
The guests took Arabic bread in their right hands (ONLY in their right hands) and scooped slivers of meat, rice and juices and quickly transferred the delicious food to their mouths. But Jahar had noticed that the ground was sloping away from him and the desirable melted fat and juices were seeping into the rice on the opposite side from him. He pondered upon this for a minute or two and then announced:
"I was attacked by three robbers on my way here this night".
"O Jahar", the Sheikh asked with concern, "What happened? Are you alright?"
"O Master", replied Jahar, "Allah, to whom all praise and thanks, protected me. I spurred my donkey and ran at the biggest robber. I jumped off and hit him with my stick, whereupon the other two ran away. Then I grabbed him by the shoulder and turned him around and away…. just as I turn this platter". And with that he gave the huge dish a mighty heave, so that the juicy rice came round to face him. With a smile of triumph he took bread and mouthfuls of meat, rice, fat and juice.
You may not be in the mood for whole stuffed sheep, but you may like a lovely succulent rice dish that originated in Turkey. It can use cooked lamb, if you like and is therefore good for using up "left-overs", but you may prefer fresh meat, I do. It is called:
SULEIMAN'S PILAFF
Ingredients for 6 servings
450 grams long-grain rice
1 litre light meat or chicken stock
450 grams of lamb, diced
2 good sized onions and 2 cloves garlic, peeled and finely sliced
450 grams of ripe tomatoes, peeled and chopped
1 coffee cup of pine-nuts or sliced peeled almonds grilled brown
60 grams currants or sultanas
5-6 tablespoons rendered lamb fat, "dripping" or olive oil
1 scant teaspoon ground cinnamon and 2 pinches ground cumin
Salt and pepper to taste
Method
1. In a heavy saucepan with lid, heat 4 tablespoons of fat or oil, tip in the rice and stir well until rice has a coating of fat.
2. Pour in the stock, cover and bring to boil. Turn down heat and
put lid on. After 15-20 minutes the rice should be cooked and liquid absorbed. In a large frying pan, heat remainder of fat/oil and fry onions until beginning to turn golden.
3. Add all the other ingredients and gently fry for 5-8 minutes.
4. Combine the meat mixture and the rice in a large warmed
serving bowl and serve with yogurt and salad.
And what can one do with rice, when there's no meat about? Vegetarian pilaffs can be delicious — these for instance:
VEGETABLE PILAFF
1. Onions, very, very thinly sliced, fried in a very little oil, very
slowly, until they are going brown and crisp; add some flaked
almonds and thinly sliced mushrooms, stir and fry for another
five minutes or so.
2. Mix in the rice and serve.
3. Just as the rice is cooked, stir in frozen peas, sweet corn and
very finely sliced red pepper and leave for 5-10 minutes. Very pretty.
SULEIMAN'S PILAFF WITHOUT THE MEAT
1. Slice and fry an onion and several cloves of garlic. Stirring
regularly.
2. When they are cooked through and theedges are stsrting to
Brown, add a sliced green pepper, some mushrooms and a handful of sultanas, and fry for 5 more minutes.
. 3. Then stir in 3-4 chopped tomatoes.
4. Cook on medium heat for around 10 minutes, adding salt,
pepper, powdered cumin and cinnamon to taste. Stir now
and then.
5. Serve on a bed of rice, with accompaniments of your choice: a hot and spicy chutney, some stir-fried chopped green vegetables or tiny cauliflower florets.