A few thoughts of Old England
Last weekend was quietly celebratory, because it covered my birthday and that of my daughter, who, along with her brother, spent a couple of days with us. I will not tell you my age, because you may remark that I am well past my Sell By date. My daughter will not, either, because she is female. This said, we all had a good time. Apart from one meal "out", we ate at home. The meal out was Sunday lunch and we took it at a Restaurant/Pub in a lovely waterside setting, which also is home to a famous concert hall. In 1968, this lovely timber-framed 800-seater hall was converted from an old industrial building in which cereal grain (barley, wheat, maize, rice) was processed into malt by soaking it in water, allowing it to sprout and then drying it to stop further growth. The malt was and is used in brewing beer, whisky and in the making of certain foods.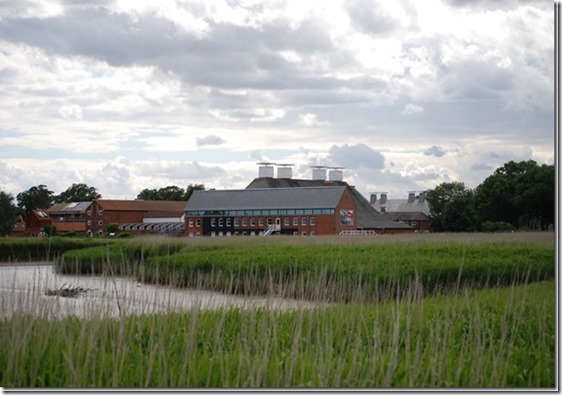 The Maltings complex at Snape, Suffolk, on England's east coast. Barley and other grains were gathered from local farms and the process of conversion into malt took place here. It was then put into barrels and loaded on to sea-going sailing barges, which sailed southwards down the coast and into the Thames estuary and thence to London to the breweries and food producers whose buildings lined the river. The former "cooling towers" of the Maltings have been retained and may be seen in my picture.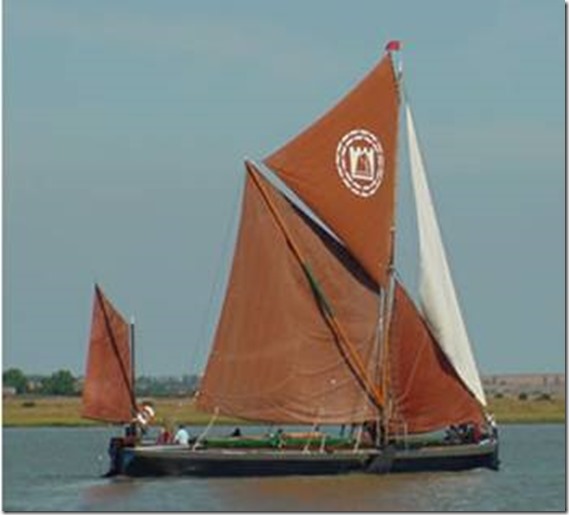 This is the last Thames barge ever built (in 1931) – Just imagine sailing more than one and sixty kilometers, in all weathers, in the North Sea, fully loaded with malt! And returning with coal and other supplies. The barge, now privately owned, takes cargoes of tourists for a pleasure trip of an hour or two or half a day from its home port of Faversham in the county of Kent. It is 23 metres long, and just over 4 metres wide, and about 23 metres to the top of the sail.
It is not surprising the site was named The Maltings and today it has world-wide fame for its concerts (of many musical types) and other musical, artistic and cultural events. It is also home to excellent fashion, furnishing, decorative and artistic galleries and shops, a café and, in a separate building, a restaurant/pub called "The Plough and Sail". This latter had a chequered career of managers and chefs until four years ago when it was taken over by young twin brothers Alex and Oliver Burnside. They have made a great success of it. The food is good and it is consistent.
My daughter's and my celebratory lunch was "The Roast Beef of Old England", with Yorkshire pudding, which is a great favourite of mine. It is a simple egg/flour/milk and water blend, ideally cooked around a joint of beef cooked in the oven. Restaurants however find this almost impossible to do and serve individual puddings cooked in a small round mould. However, a good compromise had been reached, because chef had cooked the pudding in beef dripping and not oil.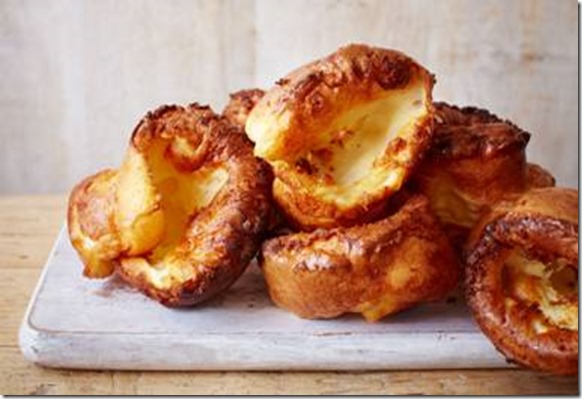 Individual Yorkshire Puddings (known to Americans as "Pop-overs"), as made in the Tesco kitchens. Lovely and crispy outsides and fluffy batter inside!
English Yorkshire Pudding
When wheat flour started to be commonly used for making cakes and puddings, in the 1730s, cooks in Northern England found a way to use the fat that dropped from a spit-roasting meat joint into a tray beneath. They used this "dripping pan" to cook a batter pudding as the meat cooked. And so it became known as "The Yorkshire Pudding", It was a boon to the poor household, because it added extra substance to a meat meal and eked out small quantities. Indeed, for some years it was served before the meat and vegetables, to fill hungry bellies.
Ingredients for a Pudding for four
3 heaped tbsp plain flour 1 cup of one part milk and three parts water)
1 egg Salt and ground black pepper
Method
1. In your food processor whiz (or whisk/beat in a bowl) flour, salt and pepper and egg.
2. Dribble in milk and whizz/beat until you have a quite thin batter with bubbles on the top.
3. Cover and set aside for 45 minutes.
4. When ready to cook, beat again to form the bubbles and pour into roasting tray, under or round the meat,or on its own. 45 minutes in fairly hot oven (about 220ºC/425ºF)
"TOAD IN THE HOLE"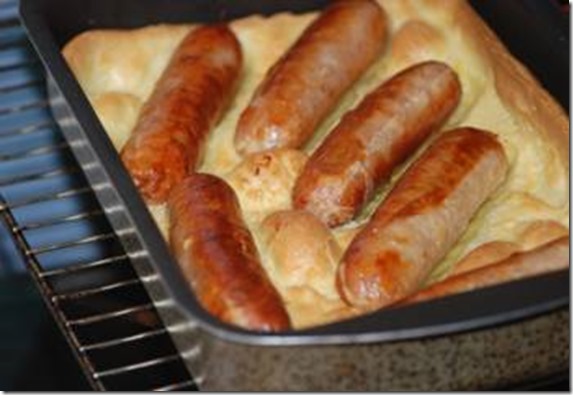 Doesn't sound very appetising does it? It means English pork sausages ("Snack" brand are prefect for this task) put into a Yorkshire pudding mix and baked in the oven for 45 – 50 minutes. It's a tasty, filling dish (you'll need a good meat gravy to serve with it).
When I was in my teens, my mother was away a lot and I used to cook for my father. Yorkshire – or Batter – pudding mix was in frequent use. Apart from sausages cooked in batter to can use small fresh baby mushrooms, onions and other vegetables in your "Pud".
Add a table spoon or so of sugar to the batter mix, pour into your oiled baking tin, sprinkle chopped apples, or cherries other fruit in pieces and bake as a delicious dessert. Serve with a spoonful or two of cream.