"Vietnam" is a word that excites very different emotions in people of different ages. For the young and adventurous it can mean a back-packing holiday with a difference. For the well-off it may mean comfortable hotels and touring a large country enjoying lush scenery and varied human activity; from a train window on the "Reunification Express", which travels the 1726 kilometres from Hanoi (capital of the former communist North Vietnam) to Saigon (old capital of the American-supported South Vietnamese regime, now called Ho Chi Min City). For most of us older folk it evokes memories of the terrible war between North and South from 1965 to 1974, a culmination of literally two thousand years of invasion and occupation. The last of the colonisers, who left in 1954, were the French, who didn't do a lot for the country, but who did give some assistance to the development and scope of the Vietnamese kitchen.
Happily for us, today Vietnamese food is gaining ground in the hearts and minds of Westerners, through books, newspaper and magazine articles and TV food shows, as well as a restaurant or two here and there.
I have eaten Vietnamese food on several occasions. I remember the first very well. I was on an assignment in what was then, the French colony of the Ivory Coast, in West Africa, I sampled wonderful food cooked by a Vietnamese lady at an open air restaurant overlooking the lagoon at Abidjan. Later, deep in England's south-east county of Kent, we found another lady from Vietnam who would make gorgeous meals for you to eat at home. Which brings me to Moon Waters, of Pissouri and a report by Francis Geldart, friend of this page, a veteran far-eastern traveller and devotee of good food.
VIETNAMESE DELIGHTS IN PISSOURI
Pissouri has a fair offering of restaurants, but is not a place where one would expect to experience truly exquisite Vietnamese food. However, the Vineleaf Taverna is currently putting on a series of Vietnamese evenings with food provided by a Vietnamese lady from Hanoi called Moon and her British husband Brian.
My wife and I went along to give it a try. We were in a party of five, four nationalities all well travelled, three knowing Vietnam and its food quite well. The restaurant was fully booked , indicative of how Moon has captured the imagination and taste buds of locals and expats alike!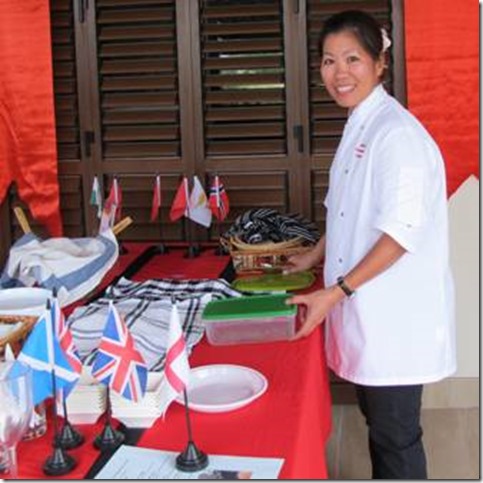 In her introduction to the meal, Moon glowed with enthusiasm for Vietnamese food in general, and understandably, her creations in particular. The best way to show the calibre of the food and cooking is to provide and illustrated menu of the Meal at the Vineleaf Taverna
Above:  Ga Boc Sa Nuong – chicken mince on lemon grass stems
Above: Nem cuon tom – Summer rolls with prawns
Above: Nem ran gion – Hot crispy spring rolls
Above: Bun Bo Nam Bo – Stir-fried beef with rice noodles
There is no need to use food reviewers' words to critique each dish, suffice to say they were all delicious!
The cost of the food was 17 euros per person. The Vineleaf kept the drinks prices at a reasonable level, too. Our bill for drinks worked out at 8 euros per head, covering two bottles of Vasilikon and copious quantities of water, fizzy and flat. The total, great value at 25 euros per person. Try to get the same quality of food and wine in London, Paris or Geneva, and reckon on double at the very least! Vive l' ile de Chypre!
Moon has an academic background spanning nearly ten years spent in Hanoi and Cambridge. Her lead subjects were International Relations and English. Her real passion is, however, cooking; so four years ago, she and husband Brian launched their catering business based in Pissouri. Apart from Vietnamese evenings at various tavernas, they provide home catering based on individual customer needs for parties of between twelve and forty people. The cost is from 17 euros per person depending on dish selection.
Moon and Brian make a great team. Brian looks after promotion, logistics and all administrative matters, leaving Moon free to concentrate 100% on providing excellent (and very varied) dishes. The business is going very well, but they are clear that expansion must never be at the expense of quality. "We want to keep the business small and beautiful, just like Moon", says Brian.
Francis Geldart
Contacts: Moon and Brian Waters Tel: 97867524/99935494 Facebook: Moon's Vietnamese Kitchen
Email: moonsvietkitchen@gmail.com Website: www.moonsvietnamesekitchen.com