Regular readers will know that I love my food. I enjoy very many kinds of it. This is not to say I am a glutton. I am fortunate in that my disposition is to eat in moderation. As for preferences, I lean very much eastwards – to the Levant to start with, and then to Arabia, Iran and on to India and the Far East. So a large tome that I bought the other day, from an on-line bookstore "The Food of Asia" had me trawling for goodies familiar as well as new tastes to try. I have adapted two of them Because of the medical advice not to eat red meat too many times a week, I don't cook beef very often, but these caught my eye and I just had to try them.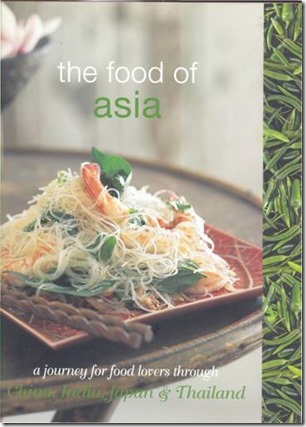 One recipe took me back more than 55 years to a very traditional (and quite ordinary!) Cantonese eating house just off London's Charing Cross Road. It was called "The Universal Chinese Restaurant". There I first encountered heavily battered lumps of pork fat (with a little bit of lean attached) deep fried and then swamped with a bright red sugary vinegary goo of "Sweet-Sour Sauce".
There, too, they did some good beef stir fries, of which my favourite was, and still is, beef with oyster sauce. A bottle of this sauce is always in my food cupboard.
BEEF WITH OYSTER SAUCE
Ingredients for four servings
300 g (11 oz) rump or sirloin steak,
1 tsp sugar
1 tbsp dark soy sauce
2 tsp Shaoxing (or other) rice wine
2 tsp corn-flour (corn-starch)
10-12 button mushrooms
Oil for deep-frying
4 slices fresh ginger root
1 spring onion (scallion), cut into short lengths
75 g (21/2 oz) snow-peas (mangetout), ends trimmed
1 small carrot, thinly sliced
½ teaspoon salt
2-3 tablespoons meat stock
2 tablespoons oyster sauce
Method
1. Cut beef across the grain into thin bite-size slices.
2. Combine with half the sugar, the soy sauce, rice wine, corn-flour and two tablespoons water.
3. Marinate in the fridge for several hours, or overnight.
4. Slice each mushroom into three.
5. Fill a wok with enough oil to deep fry ingredients.
6. Heat the oil to 180°C (350°F), or until a piece of bread fries golden brown in 15 seconds when dropped in the oil.
7. Cook the beef for 45-50 seconds, stirring to separate the pieces, and remove as soon as the colour changes. Drain well in a colander. Pour the oil from the wok, leaving two tablespoons.
8. Reheat the reserved oil over high heat until starting to smoke and stir-fry the ginger and spring onion for 1 minute.
9. Add the snow peas, mushrooms and carrot and stir-fry for 1 minute, then add the salt, stock and remaining sugar. Stir-fry for 1 minute. Toss with the beef and oyster sauce.
10. Serve with boiled or steamed rice or noodles.
11. A jolly, young fruity red wine will go well with this. If in a Francophone mood, Fleurie would do nicely.
FRIED BEEF KERALA
In central London there must be as many Indian restaurants or Curry Houses as there are Chinese and some serve very subtly flavoured food. I don't like "manufactured" Curry Powder very much – it doesn't always agree with me, and Indian friends have often told me it is not to be found in Indian homes. Following spicy recipes can so frequently introduce you to unexpected but enjoyable flavours, and this recipe does just that.
Ingredients for four servings
Oil for deep-frying
1 medium potato, peeled and cut into small cubes
500 g (1 lb 2 oz) rump steak, fat removed and thinly sliced
3 garlic cloves, crushed
1 tsp ground black pepper
1 tbsp ginger juice (see below)
2 tbsp oil, extra 2 onions, sliced in rings
60 ml (2 fl oz/¼ cup) beef stock
2 tablespoons tomato paste (purée)
½ tablespoon soy sauce
1 teaspoon chilli powder
3 tablespoons lemon juice 3 tomatoes, chopped
90 g (3 oz/½ cup) fresh or frozen peas'
Sprig or two of parsley or coriander
Method
1. Fill a deep, heavy-based saucepan one-third full with oil and heat to 180°C (350°F); it is hot enough when a cube of bread browns in it in 15 seconds.
2. Deep-fry potato cubes until golden brown. Remoce and drain on paper towels.
3. Put the steak in a bowl, add the garlic, pepper and ginger juice and toss well.
4. Heat the oil and fry the beef quickly in batches over high heat. Keep each batch warm as you remove it. Reduce the heat, fry the onion until golden, then remove.
5. Put stock, tomato paste, soy sauce, chilli powder and lemon juice in pan. Cook over medium heat until reduced.
6. Add fried onion, cook 3 minutes, add chopped tomato and peas, then stir well and cook for 1 minute.
7. Finally, add beef and potato. Toss well until heated through. Garnish with chopped parsley or coriander.
I don't think wine will go well with this dish, so quite frankly my choice will be a big glass of lightly chilled KEO beer.
GINGER JUICE
To make about 60 ml (¼ cup), you will need 200 g (7 oz) young fresh ginger.
Grate the ginger as finely as you can, collecting any juice. Combine the ginger with an equal volume of cold water and place it in a piece of muslin, twist the top hard and squeeze out as much juice as possible. Alternatively, push the ginger through a juicer, then combine with an equal quantity of cold water. Use as an ingredient