These two books have been around for some years (both can be found in both new and good used condition on the Internet – but I bought mine from Moufflon Bookshop in Nicosia in the 1990s) They combine recipes, anecdote and commentary to an excellent degree. I love them both, browse them regularly and have cooked many of the recipes.
This recipe, adapted from "From the Lands of Figs and Olives"is introduced thus: 'In the Arab kitchen, chickpeas rule supreme. An Arab poet once wrote:
"You can talk of your many vegetables from Morocco to Cathay,
And talk of all the tasty foods the kitchen smells betray,
But if you've never tasted chick­peas, you've nothing else to say,
For this delicious legume rules supreme from Cairo to Bombay."'
Chicken with Chickpeas
Ingredients for 6 Servings
4 tablespoons butter 1 can chickpeas (19 oz or 540 ml), with its juice
1 chicken, 3 to 5 Ibs, trimmed of fat and cut into small serving pieces 1½ cups water
2 medium onions, chopped 3 tablespoons tomato paste
4 cloves garlic, crushed ½ teaspoon allspice
¼ cup finely chopped fresh coriander or parsley ¼ teaspoon chilli powder
Salt and pepper to taste
Method
1. In a saucepan, sauté the chicken pieces in the butter over medium heat until they turn golden brown.
2. Turn them over several times to ensure that they brown evenly.
3. Remove the chicken pieces from the saucepan and set aside.
4. Then stir-fry the onions until they begin to brown.
5. Add the garlic and coriander leaves; stir-fry for another 3 minutes.
6. Stir in the remaining ingredients, including the chicken pieces, and bring to a boil.
7. Then cover and simmer over medium heat for 30 minutes or until the chicken is cooked through.
****************************************
Mezze
On a visit to Lebanon, I took lunch at a friend's restaurant in Beirut, famous for its "Maza". It was during troubled times, ans he apologized for the number of dishes served. "Usually", he said, "I put 125 dishes on the table, but because of supply problems, I am sorry, I can only present 75". Nevertheless it was a lovely sight. Like this section of a Lebanese Mezze Table…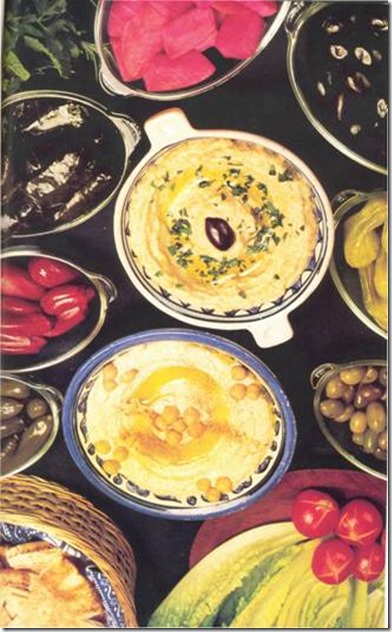 Some Lebanese/Palestinian Maza (Mezze) dishes from "From the Lands of Figs and Olives"; clockwise from the front: turnip pickles, black olives, pickled peppers, green olives, Arabic bread, cucumber pickles, pickled eggplants, stuffed grape leaves. In the centre: chickpea purée (Hummus) and eggplant purée (Melitzanasalata)
Chicken à la King
Adapted from "The Tenth Muse"
Ingredients for 6 Servings
1 chicken weighing about 2 kilos / 4-lb., cut into 12 pieces
5 tablespoons butter
2 tablespoons flour
375 ml /l½cups milk
125 ml /½ cup cream
125 g /4-oz. pimientos (from a jar), diced
1 teaspoon salt
1 green pepper, thinly sliced
450g / 1 Ib. fresh mushrooms, finely sliced but not shredded
Method
1. Place chicken pieces in saucepan. Add one slice of onion and one piece of celery for flavour. Some people prefer to brown the chicken pieces in a little butter as a first step – the choice is yours.
2. Salt to taste.
3. Cover with water and cook slowly until done.
4. Drain and retain soup for other pur­poses.
5. Separate meat from bones and skin, and cut meat with
scis­sors in pieces as long as possible and 15mm / ½ inch
wide.
6. Melt butter in pan without browning.
7. Sauté the green pepper and mushrooms for about 10 minutes over low heat. Then sift flour over them and toss lightly in pan in order to distribute flour evenly.
8. Add milk, cream and salt, and cook until it bubbles. If you prefer a thicker sauce use more flour.
9. Add chicken and cook for 10 minutes.
10. Just before serving add the pim­ientos and reheat.
EATING OUT IN  CYPRUS IN JUNE
"This is a Lovely Way to Spend an Evening".
Only oldies like myself will remember this first line of a popular song from the 1940s. But, confronted with the terrace of Limassol's "La Maision Fleurie" for dinner, I confess these words come to mind (you can lunch here, too, by the way). A well-considered menu of French
pleasures, with ingredients freshly imported from La Belle France, awaits, together with well spaced, properly laid tables and a welcome from Le Patron, Yiannis. Yes, we are at Limassol's "La Maison Fleurie"
(Left) Ready to guide you through his menu and recommend an accompanying wine, is La Maison's Fleurie's patron, Yiannis Ioannou. (Right) Reservation is recommended for a seat on the terrace. La Maison Fleurie, 18 Christaki Kranou Street, Germasogeia Municipality, Limassol 4041. Telephone: 025-320680 Open every day from 11 a.m. to 11p.m.
*******************************
JUNE Recipe from "La Maison Fleurie'"
Grilled Salmon with mustard, wine and herbs
Yiannis responded to my request for a recipe typifying his cuisine with this very tasteful dish.
Ingredients:

      1 tsp minced garlic
½ tsp salt
      1 tsp freshly ground black pepper
      2 tbsp olive oil
      2 tbsp fresh lemon juice
      6 salmon fillets
      2 tbsp butter
      1 tbsp flour
     ½ tsp paprika
      ½ cup milk
      2 tbsp mustard
      ¼ cup dry white wine
      1 tsp chopped fresh basil leaves
      1 tsp chopped fresh rosemary leaves
3 tbsp water
Method
1. Heat your grill to 130ºC / 250ºF
In a small bowl, combine garlic, salt, ½ tsp. pepper, the oil, and lemon juice.
Brush mixture over salmon, then cook, turning once, until cooked the way you like (about 6 minutes in all)
In a small saucepan, melt butter over medium heat.
Stir in flour and cook until starting to brown. Whisk in remaining ½ tsp. pepper, the paprika, milk, mustard, wine, and 3 tbsp. water.
Heat until it simmers, then spoon over salmon and sprinkle with herbs.