Jonny Nicolson, The Bell at Sax's ebullient and enterprising chef-proprietor seems to add and more strings to his culinary bow as the weeks go by. Among a variety of events and occasions he has organised in his tenure is a themed monthly lunch. To date, among others, we have sampled Lebanese, Greek, French and Swiss menus.
The February theme was Swedish.
Diners love Jonny because of his very straightforward and honest approach. "My first time cooking Swedish recipes", he said. What he produced was two excellent courses of authentic Swedish grub – a good choice for a wintry day.
Under the title "Swanky Swedish", Jonny's starter was a selection ("Smorgasbord") of: Pickled Herring, Aquavit Gravlax (home cured salmon), Jansson's Temptation (recipe below), and Crayfish topped with dill.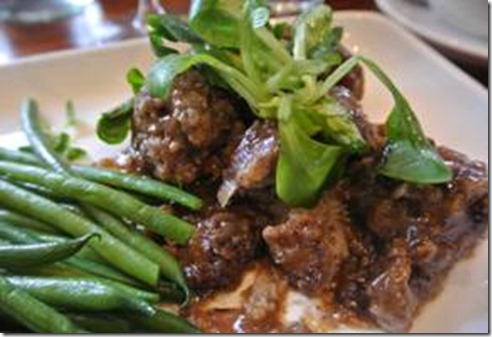 The main course was meatballs made from fallow deer meat, pictured above, supplied by Benacre Estate, Southwold, with a traditional Swedish Lingonberry sauce, and green beans. Something different, well cooked and presented, and good value. As usual for Jonny's monthly lunches, the price was £17.50 per head, including coffee.
The dining room has a capacity for such events of about 28 people seated at two long tables and the Swedish lunch, like most others, drew a "Full House"notice.
Jansson's Temptation    ("Janssons frestelse")
This is a delicious dish, which seems to have originated in the 1940s. Today it is a corner stone of the Swedish kitchen. It makes an excellent starter, on its own, or with a little Gravad lax and salmon or shrimps. It is rich, so if you are cooking it as a starter, I suggest not to make a main dish which includes cream.
Ingredients for 4 – 6 Servings
6 to 8 medium sized potatoes (a generous kilo)
2 medium sized onions
2 to 3 tablespoons of butter
1 to 2 cans of Swedish anchovy fillets ("Ansjovis" – see picture and Note below)
25 to 30 cl light cream
Salt (use carefully!) and pepper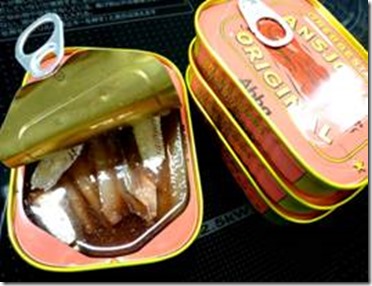 Abba Foods photo
Method
1. Peel the potatoes, and cut them into thin sticks.
2. Slice the onions and then sauté them lightly in some of the butter.
3. Drain the anchovies, keeping the liquid and cut in pieces.
4. Put the potatoes, onion and anchovies in layers in buttered baking dish.
5. The first and last layer should be potatoes.
6. Dot the top with some of the butter.
7. Pour over some of the liquid from the anchovies and half of the cream.
8. Bake in a 200°C oven for about 20 minutes.
9. Pour the remaining cream over and bake for another 30 minutes or till the potatoes are tender.
10. Serve as a first course or supper dish.
This is a rich dish, so if you are cooking it as a starter, I suggest not to make a main dish which includes cream.
Note: Swedish ansjovis are Sprats pickled in vinegar, salt, pepper and spices. Do not use French, Portuguese or Spanish anchovies. If you can't get ansjovis, a satisfactory result can be achieved by using thinly sliced pickled herring and proceeding as above.