There's a lot to be said for a good tart or pie.
Among the pies and pastries that arrive on our table, one of my favourites is rabbit pie. Having enjoyed this delicacy in several countries, I can assure you that the Cyprus rabbit is as good as any. Being "tame", it doesn't have the gamey flavour of a wild rabbit or hare, but the meat is plentiful and delicious. Rabbit portions can be served in many ways. Start by dismembering the animal, into five or six parts, according to size. Your butcher will certainly do this, but this can sometimes be a bit haphazard resulting in lopsided portions, so you may prefer doing it yourself. You want to end up with two back legs; the saddle, which may be cut into two pieces, or four if it is large rabbit; and the chest and front legs (which is not a very meaty part). You will be left with some ribs and other odd bones, which can be set aside, along with the liver (very tasty on its own), the head, kidneys and heart, which may be cooked with a casserole or used for stock. Use what you want and freeze the rest. If you want a tender rabbit, buy a small young one. The big ones can be tough, needing longer cooking, but make an excellent casserole.
Patroclos' Rabbit Pie
My recipe uses the front leg/chest portion.
Ingredients (for four portions)
1 340 g pack of "Jus-Rol" puff pastry
1 rabbit portion (as above)
2 thick slices of Lounza
Eight medium sized mushrooms
1 medium-large onion
2 cloves garlic
Several sprigs of fresh sage
Salt and pepper
2 tsps corn flour (corn starch) and a little water
1 pie dish (oblong about 20×25 cms for preference)
Method
1. In a medium saucepan put the rabbit joint and cover with water and a chicken stock cube, or use home-made chicken stock.
2. Bring to boil, cover and simmer gently for about two hours.
3. De-frost pastry (one hour)
4. Pre-heat oven to 220ºC
5. When the rabbit meat is cooked, remove from pan and let cool, reserve stock.
6. With a sharp knife remove rabbit meat from the bones.
7. In your food processor, whizz the lounza, mushrooms, onion, garlic and sage for a few seconds (or coarsely mince) Remove and set aside.
8. Now, briefly whizz the rabbit meat or coarsely mince.
9. In a non-stick frying pan, melt a good dab of butter (or 2 tbsps of oil) and fry the lounza/onion mixture until it is almost cooked through.
10. Add the rabbit meat, turn heat down low and cook for a few minutes stirring regularly.
11. Heat the stock until bubbling.
12. Mix the corn flour and water and swirl into the hot stock to thicken. Taste for flavour and season if necessary.
13. Spoon about a cupful of stock into the rabbit mixture and simmer.
14. Roll out the pastry in two pieces, one slightly larger than the other.
15. Put the larger piece of pastry in the base of the pie dish. Trim.
16. Spoon in the rabbit mixture and cover with the other piece of pastry..
17. Brush with beaten egg, or milk, and bake in the oven for about 25 minutes, or until the pastry has risen and is golden brown.
I find this pie is always enjoyed, making a change from pies made with chunks of meat. The thickened stock makes a good sauce. I put a spot of Muscat in it and a little more salt and pepper and reduce it by about a third.
What better than MASH to go with the pie and gravy? Root vegetables mashed with potato, perhaps. Or, some swede, a turnip, a carrot or two or celeriac – any one, or a couple of these make great mash.
Don't Run Out of Puff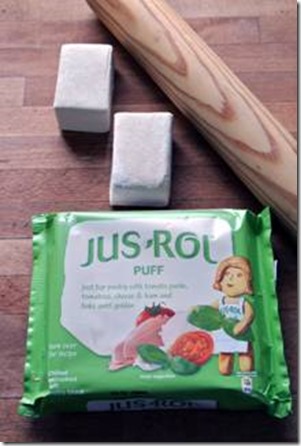 Turn a spot of Pastry dough into a super snack lunch
A 375 gram packet of fresh puff pastry can be cut into six good portions. If there are less than six to serve, what you don't use can be frozen. Fresh, it keeps for at least ten days in the fridge. It's a useful and inexpensive way to make a meal. All you need to do us roll out each piece of pastry to an oblong about 12cms x 7cms, brush with beaten egg or milk (for a golden, glossy top) and bake for 20 minutes or so in your oven heated to 200ºC / 180ºC Circlotherm.
For a jolly lunch try this mushroom sauce. Confuse everyone by giving the dish its French name (there's posh for you)
Feuilleté de Champignons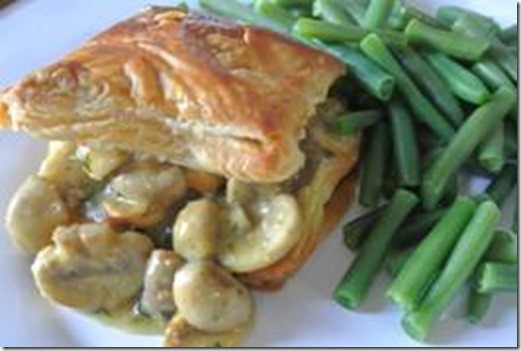 Ingredients for four servings
4 cups (or good handfuls) of fresh button mushrooms, each one cut in half
1 walnut sized knob of butter and one tbsp olive oil
125ml white wine
1 flat tsp sugar
Salt and Pepper
A couple of sprigs of chopped parsley
1 des-spn flour
Method
1. Pre-cook your four pieces of puff pastry and keep warm.
2. On high heat melt the butter in the oil until, it's sizzling and beginning to brown.
3. Throw ion the mushrooms and fry quickly (about 2 – 3 minutes)
4. Before they start to throw their juice, lower the heat and sprinkle over the flour.
5. Season and stir.
6. Pour over the wine and stir gently until you have a good sauce of not runny or thick texture.
7. Cook gently for 2 – 3 minutes.
8. Open up each pastry, put on plates and spoon the mushroom sauce over the bottom.
9. Put the "lid" on and serve. Fresh green beans are a good accompaniment.
WINE MATCH
I think this dish is best with a fairly astringent dry white wine – a little more than a simply Xynisteri varietal. Perhaps one with a good slug of Semillon added. Yaskouris of Pachna's white works well, too
COOK'S TIP: if you use recipes that have been created in America or Australia you may find the measurements are given in "Cups" or fractions of them. It's a nuisance having to convert them to grams or pounds and ounces, and there is a simpler method – buy a set of measuring cups like mine. The four give you quarter, half, three-quarter and one cup measures. Widely available in supermarkets and kitchen retailers.