EDITOR WANTED?
To quote its own blurbs, "Parikiaki" is 'the leading Greek Cypriot newspaper published in London which serves the Greek and Greek Cypriot communities in excess of 300,000 people'. This month it ran a story about a Greek Cypriot couple who recently opened a restaurant featuring Cyprus cooking in a town called Chandler in the State of Arizona, U.S.A. I extract a couple of paragraphs, for your interest, and have marked in bold a couple of fascinating errors. Bear in mind this is published in London! It surprises me to see the fairly common error encountered on Cyprus menus – "Lamp" instead of "Lamb" – in this context.
"Penélope Acosta-Komitis and Christodulos Komitis are experienced restaurateurs, who wanted to have a restaurant that offered both authentic-Mediterranean dishes and a lively ambiance… Patrons can enjoy cocktails at the bar and patio area, and when their table is ready they can dine on fine dishes, from a plethora of menu options like shrimp and eggplant with spicy marinara sauce, grilled lamp pita and flank steak.
"Our food is pretty much Mediterranean with a modern twist to it," Penélope said. All dishes on the menu are authentic to Christodulos' home county of Cyprus; a small island in the Eastern Mediterranean Sea".               Thanks to John Wood for sending me this item.
Are you Cheating on Yourself?
We all know them. It's usually a man. He proudly tells of "how much he drank last night/at the weekend/at a party or whatever". He does this as if it is an achievement to get legless. One in my ken is of a certain age, so he has to have a medical check-up every now and then. Firstly, for some days before his appointment with the doctor he doesn't drink in the belief that his blood pressure will be lower at the check-up. And then when the medic asks him how much he drinks he greatly understates his intake. This man is intelligent. He knows he is probably shortening his life, but more important that he stands a good chance of scrambling his brains and becoming an old burden to family or carers. One wonders why on earth he tries to deceive; himself and others.
More and more evidence is accruing that a regular moderate intake of alcohol does you no harm and in some cases actually does you good. Red wine has many good reports, a number concluding that it can actually reduce the risk of lung cancer. It is already known as an inhibitor of prostate cancer, heart disease and blood pressure, provided it is taken in reasonable quantities. And these would seem to be between 2 and 4 glasses a day, according to your body-weight. So for a couple, a pleasant bottle of wine with the evening meal is probably actually assisting your health.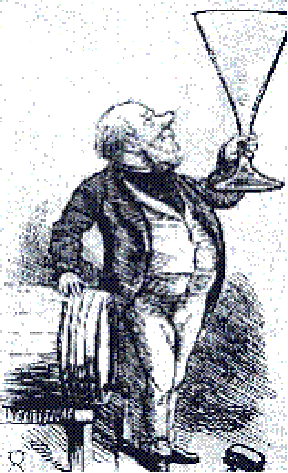 Just the one glass…. is good for you
If you adhere to a regular half bottle, it's OK; what you have to avoid is not drinking for six days and then taking three and a half bottles on board.
***************************************************************************
BOOK REVIEW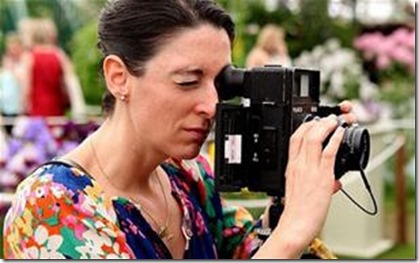 Mary McCartney is the photographer daughter of Beatle Sir Paul, born in 1969, whose mother Linda wrote about vegetarian cookery in addition to her work as a photographer and musician. She's followed in her parental footsteps with a cook book aimed at young people who want to learn or expand their cooking abilities. Robert Skinner reviews it.
'At my Table' by Mary McCartney
Published May 2015 by Chatto & Windus.
Hardback, Price St£20.00
Inspirational for the Aspirational
This is Mary McCartney's second cookbook, the first being Food, published in 2012. At My Table continues in much the same vein: easy-to-make family-oriented recipes…that just happen to be meatless.
As the daughter of the late Linda McCartney: professional photographer and celebrity vegetarian, it is not surprising that the photography is Mary's own and the recipes are vegetarian. At my Table looks to be muchly a solo effort – no Team Nigella here. I like this approach; it's refreshing and doesn't feel forced or artificial and a feeling that the author knows what she's talking about.
Of course the McCartney identity looms large here – three generations, so far for whom meat and fish asre eschewed. As a long-time vegetarian myself, I admit that to curiosity about what a superstar vegetarian family prepare for themselves and their friends. Mary's dad's Margarita recipe makes an appearance here in the Mexican Food chapter and one can almost see Macca giving this inclusion his famous 'thumbs up' salute, and mine as well.
This is a good entry-level book for the new or intending vegetarian, much along the lines of Simon Rimmer's The Accidental Vegetarian. American, Middle Eastern, Parties and Feasts get their own sections. The recipes are light, fun and uncomplicated. I have tried several, including : Falafels and Lentils and Rice. Both turned out well, with ingredients that most vegetarians would have to hand. I thought the recommended seasoning was a tad heavy, but this is personal anyway, and one can adjust to one's own taste.
The chapter devoted to sandwiches is excellent and reminiscent of the wonderful Pret a Manger book. And when McCartney pitches to the younger market she gets it spot on, take the recipe for Cream Cheese and Banana for example.
So, here is a nicely turned out, non-heavyweight cookbook, if want to try some veggie recipes for yourself or friends, or to inspire you to eat less meat. It's a suitable gift, too, for a young, aspiring vegetarian cook.
A carnivore friend of mine on leafing through this book declared it definitely one that they'd like in their collection. A big (Macca) 'thumbs up' it is then.
******************************************************************************
This Week's Recipe… a delicious vegetarian starter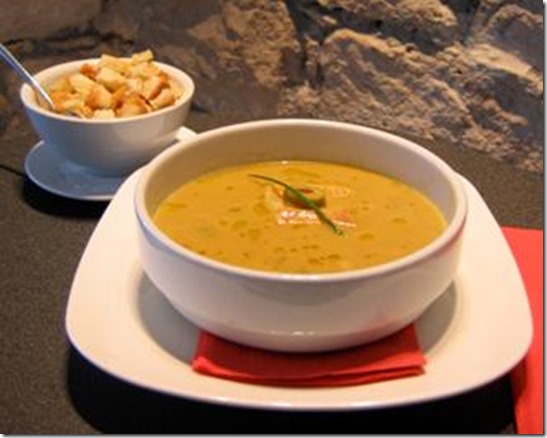 CURRY PUMPKIN SOUP
Recipe from Ousia Restaurant/lounge, Limassol
1 kg. Pumpkin
3 large potatoes
1 medium onion
2 tbsp. oil
1 clove garlic
2 tbsp red curry paste (or more or less to your taste)
400 ml can coconut milk
2 cups water
1 cup frozen peas
Salt and pepper to taste
Cream to serve
Method
1. Cut pumpkin and potatoes into small pieces. 
2. Heat oil, add onion and garlic, cook until soft.
3. Stir in curry paste, cook for 1 minute.
4. Add pumpkin and potatoes stir until coated with paste, add coconut milk and water. 
5. Bring to boil, simmer for about 15 minutes.
6. Stir in peas and cook until all vegetables are soft. 
7. Blend until smooth, return to pan and add cream to taste.