An invitation to a tasting of some good red Burgundies serves to remind me, at least, that as far as food and wine are concerned, no-one beats the French. Thousands upon thousands of us still make the pilgrimage every year to that lovely country to sample its wares. And they are as good as ever.
Imagine: a summer morning in rural France, leaving a small hotel after fresh Croissants, bread rolls and huge breakfast cups of coffee, and then meandering through the countryside until thoughts of lunch enter the frame.
A village hoves into sight and there a grocery, with a small but varied range of terrines and pâtés. A picnic lunch is the decision. "A little of that one….oooh, and a little of that one", and out we go with a dollop of smooth and a fine piece of coarse terrine, some gherkins, olives and flask of local wine. Then, some fresh tomatoes and cucumbers and several baguettes, all to be taken lazily under tall gently breeze-stirred plane trees on a tow-path by a canal. Memorable, indeed.
If not picnic-minded, there are still to be found the small auberges and other eating places where a simple, but superb meal may be had. A meal like one described by Elizabeth David in her wonderful book of articles, essays and recipes "An Omelette and a Glass of Wine" (*)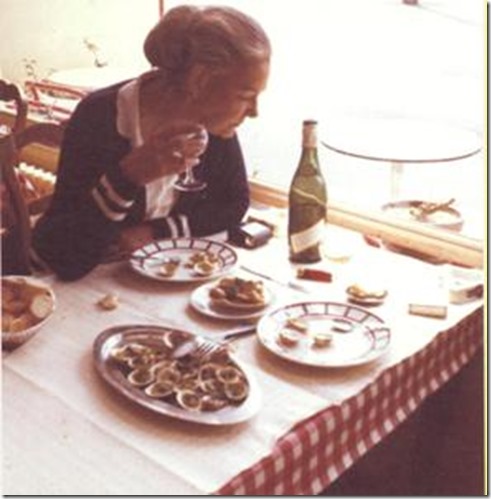 Elizabeth David takes some lunch, à,seul, in France. What is she eating? Not snails, or mussels – I think her choice is Palourdes Farcies; stuffed clams. She could well be in Brittany where this dish is often to be found. A splendid way to start a meal, with a bottle of Muscadet.                                         Photograph from "At Elizabeth David's Table – Her very best everyday recipes".
She partook of it in Nyons, Provence. It comprised: .a tomato salad with chopped onions, the little black olives of the Nyons district and home-made pâté… each item on its own separate dish, and left on the tables so the diners could help themselves.
The second course was a gratin of courgettes and rice. And then a daube of beef, with says Mrs David, "an unthickened but short sauce of wine and tomato purée, beautifully scented with bay-leaf and thyme". Like the other courses the pot was left on the table, inviting further helpings.
The dessert was a dish of jam, as often it can be in France. A special, home-made jam, of course. This one was made "of green melons, fresh tasting, not too sweet, a hint of lemons in the background".
Now what could make a better meal than this? Simple, honest, good food; unadorned by side dishes of salad or vegetables – but everything you could want is in it. Mrs David assumes that, if you are reading her, you have an affinity with cooking and so gives no recipes, just guidance, viz:
The gratin of courgettes is not difficult to do.
2-3 medium sized courgettes, sliced and fried gently in butter until they have given up their wateriness. A cup of cooked rice. About a half litre of béchamel sauce. and some cheese.
Whizz the cooked courgettes very quickly in your food processor, or mash them with a fork or push through a sieve. Put the coarse purée into a bowl and mix the cooked rice and the béchamel sauce well in. Turn in to an oven dish, grate some cheddar and Parmesan over the top and brown in a hot oven or under the grill. This is a lovely starter.
Mrs David gives no recipe at all for Boeuf en Daube, but the one she ate in Nyons must have been very similar to this very traditional Provençal recipe, which I commend to you.
Boeuf en Daube – Ingredients for 6-8 servings
1 generous kilo of braising steak, cut into cubes (*)
225 g fatty bacon, or bacon fat.
4 tbsp olive oil
4 medium onions, peeled and quartered
1 whole onion studded with cloves (around 8)
2 large carrots, peeled and cut into Julienne strips
1 small can of tomato purée
5 cloves of garlic
Bouquet Garni (or 3 bay leaves and several chopped sprigs of fresh thyme)
Some orange rind (from half an orange)
Half litre of good thick stock (**)
Salt and peppercorns
Red Wine
(*) If you can, ask the butcher for different cuts of stewing steak, which will give a more varied flavour.
(**) The original recipe calls for a split calf's foot to provide a natural thickening for the sauce. A good chicken or mixed meat stock will provide a good alternative.
Method
1. Heat the oil in a large heavy pot, which has a close-fitting lid.
2. Stir in the onions, carrot, tomato purée, orange rind, Bouquet Garni, the peppercorns and a little salt and cook for a few minutes stirring frequently.
3. Add the stock and stir.
4. Now add the meat, stir and pour over enough red wine to cover.
5. Bring to the boil, then turn the heat down very low, cover tightly and simmer very gently for about six hours.
6. Add more red wine to the pot if the sauce is becoming dry. You may prefer, as I do, to transfer the pot to the oven and cook it there on a low temperature (around 150-175°C) until the meat is cooked well through.
This dish may be cooked in advance, because it re-heats beautifully.
If you have not made anything to precede this daube, then some simple starch of one sort or another can accompany: some boiled new potatoes, pasta or some very fresh bread. And if you must have a vegetable, my choice is some little barely cooked florets of broccoli.
In the glass by the side? A Pays d'Oc Merlot would do nicely, or one of my favourite local reds, Ayios Onoufrios.
There is not a great tradition of puddings in France, but there are many very good recipes for mousse. I particularly like this one, which you can make at home with some good fresh oranges and some orange liqueur.
Ingredients
The juice of five oranges
1 teaspoon of finely grated orange rind
150 g caster sugar
6 egg yolks
1 tbsp "Filfar" orange liqueur
4 egg whites
Method
1. Prepare a good-sized pan of simmering water and set a bowl over it. If you have a double-boiler use that.
2. Put the sugar into a bowl and add the orange juice and rind
3. Whisk well until you have a paste
4. Whisk in the egg yolks one at a time
5. Turn the mixture into the bowl in the pan, or your double-boiler
6. Stir continuously until the mixture thickens
7. Remove from the heat and stir in the orange liqueur. Set aside, to cool
8. Now whisk the egg whites until stiff and then fold them slowly into the orange mixture.
9. Spoon into small ramekins and keep chilled until ready to serve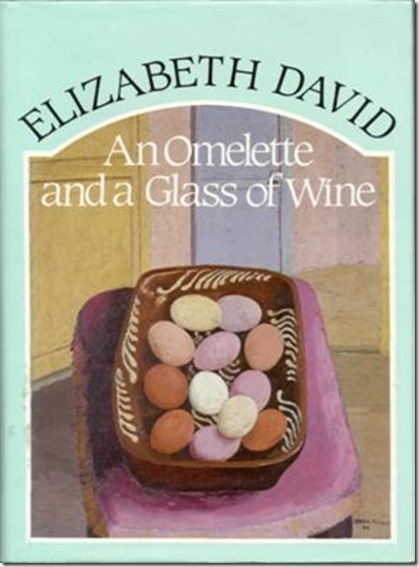 NOTE: "An Omelette and a Glass of Wine" has recently been re-issued, and despite the articles having been written between 40 and 60 years ago, they are virtually all relevant to today. And those that don't seem to be still make excellent reading.