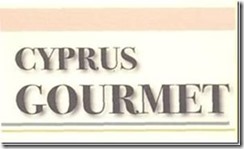 Issue dated 28th. January 2015    As published in Financial Mirror, Nicosia 
In 2002, Janet Bureau, a food loving friend who is also a cook of some considerable skill, resident near Limassol invited us to an al fresco lunch of Lebanese food cooked by a young friend of hers. This included traditional favourites like Kibbeh, Fattoush, Tabouleh and Mahshi (see Note). The cook, of a very international background was Elena, whose Lebanese husband Bassam was not (then) involved with the food, which was pretty good. The intention of the lunch was to showcase Elena's intended "cook-a-meal-for-your-party-or-function" business. Opened in 2003, this slowly took off in the next few years, to the point where Bassam gave up his day job and the foodie business, based on the couple's home and gardens in Droushia, has blossomed. The food is of a consistently high standard.
Unlike their counterparts in Britain, the USA and other countries, most people who run restaurants, hotels, food and wine companies in Cyprus do not think that articles in newspapers, magazines and other media help their business (Maybe this has something to do with there being an economic crises in Cyprus?). Elena and Bassam do not agree, and I and other journalists hear regularly from them. Their latest bulletin shows their enormous energy, creativity and enterprise.
"We're looking forward to a year filled with great food, wonderful nights at Orexi's Home Base in Droushia. Plus: Cookery Workshops; Foraging trips looking for all sorts of wild greens; expeditions to goat farms to watch halloumi being made and lots more….
We couldn't do it without our band of loyal and passionate gastronomes so thank you for your continued support. Please let us know if there's anything you'd like us to improve here at 'Orexi' – constructive criticism is always welcome! We're willing to take on board suggestions for new foods, recipes and gourmet ideas – if there's something you'd like to eat: we'll cook it; if there's a recipe you'd like to learn we'll hold a cooking class to accommodate you.
If you'd like to eat with 'Orexi' but don't fancy the journey up to the hills then we can come to you… Remember, we're finely tuned outside caterers with 12 years of weddings and parties behind us; we can provide you with an intimate dinner party, a casual barbecue or a mouth-watering lunch for any occasion for as little as 25euro per person!
We'll be at the Farmer's Market at the Herb Garden in Pano Akhourdhalia on Sunday 1st February, the menu is attached so please let us know if you'd like a specific food item reserved – we sell out pretty fast! And as you know it's impossible to bring down the whole contents of the 'Orexi' Pantry so if there's a particular preserve, chutney or liqueur you need to stock up on, give us a shout so we can bring it with us"
Contact Bassam and Elena at Orexi:
www.orexicyprus.com www.orexiweddings.com Tel 00 357 99887293
From the Orexi Oven – February 2015
Fatayer – savoury pastries filled with Swiss Chard and Lebanese herbs
Lahme-bil-Ajeen – lamb, chilli and fresh tomato pastries
Kolokotes – spicy pumpkin, sultana and cumin pastries
Loubi Me'eli – bean, potato and ginger fritters (gluten-free)
Eliopitta – Olive Bread with Black Olives, Onions and Fresh Coriander
Onion Bhajis – enough said! (Gluten-Free)
All of the above: €1.00 per piece or half a dozen for €5.00
Florentine Nests – Organic Spinach, Gorgonzola and Free-range egg in a potato nest (Gluten-free) €1.50 each
Focaccia – our own home-made Italian bread topped with choice of:
Oven-roasted Tomato and Oregano, or Rosemary and Garlic Stilton and Caramelised Onions Akamas Halloumi and Organic Mint Parmesan and Poppy-seed Linseed and Provolone
Organic Bread made with our own home-fed culture! Rye Sour or Wheat Sourdough: Ranging from €2.00 to €6.00, depending on size. Artichoke and Gruyere Quiche (gluten-free): €9.00 Gorgonzola and Swiss Chard Quiche (gluten-free): €9.00 Cheddar, Onion and Cream Tart (small): €4.00
Kibbeh: seen in this photo, of part of Elena's Mezze Table, are meat balls made from a casing of pounded lamb meat mixed finely with pounded bulgar wheat, stuffed with a mixture of cooked minced lamb and onion with mint, cinnamon and other fklavourings. The Kibbeh are baked in butter in the oven. They can be quite small (made by ladies with slim little fingers!) to quite substantial.
Tabbouleh (front right in the photo): a very finely chopped salad of cucumber, parsley, mint, tomarto (optional), salad onions, Bulgar Wheat, olive oil, lemon jioce, salt and pepper.
Hummus (front left): a blended purée of chick peas, garlic, tahini, oil, lemon juice, salt and pepper.
Moutabal (at the back of photo); purée of cooked aubergine, seared over flame or griddled, tahini, oil, garlic, salt and pepper.
Crushed green Lebanese olives, marinated with garlic.
"Mahshi" is Arab word for "Stuffed" – "Yemistes". Their method of rolling up a mixture of spiced lamb and rice in leaves of several sorts – cabbage, lettuce, spinach, fresh and brined vine leaves, or in hollowed out courgettes, potatoes, tomatoes, aubergines and squash – is my personal favourite.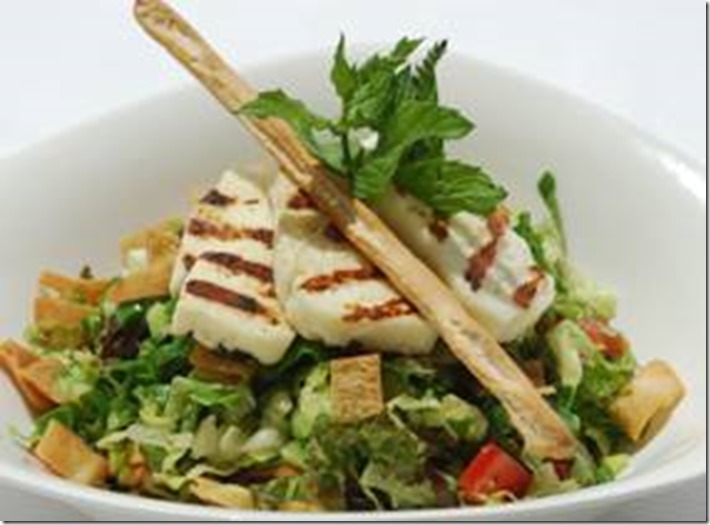 Fattoush, pictured with grilled Halloumi: a salad of quite well sliced/chopped lettuce (sometimes with slivers of cannage included), tomato, cucumber, salad onions, dressing and slivers of toasted or fried Arab bread.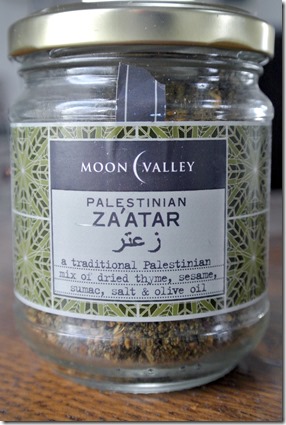 Fattoush is often served with grilled chicken which has been marinated in oil and a mixture of dried thyme, sesame seeds, sumac, salt and olive oil called Za'atar". So simple, so delicious. It is now available quite widely and worth searching for. It can be bought on-line, too.
DON'T BE SHY……
Send me your news! To be published in Cyprus Gourmet, here and on-line. FREE! FREE! FREE! Email: editor@eastward-ho.com