When I was a kid, they called them "Baby Marrows". They were new fangled things and my mother avoided them, as most people did, preferring the full grown variety, measuring something like 35 – 40 cms in length. They were peeled, cut down the middle, seeds removed, cut in chunks and boiled. Yes, boiled, and the result was tasteless and sloshy. Put me off the things for years. People who didn't know what to do with them sometimes made jam with big marrows.
In the Mediterranean areas, where they know better, the cooks picked 'em young and fried them in olive oil – much tastier. Now and then, though, a little fella would escape the grower's gaze and end up whopping. The trick then was to start by frying a large sliced onion and some garlic and then cut the marrow into chunks, seeds and all, and turn that in the frying onions for a few minutes. Next step add plenty of chopped tomatoes, salt and pepper, stir well and then cook with lid on for 15 – 20 minutes. Very tasty with grilled meat or fried fish.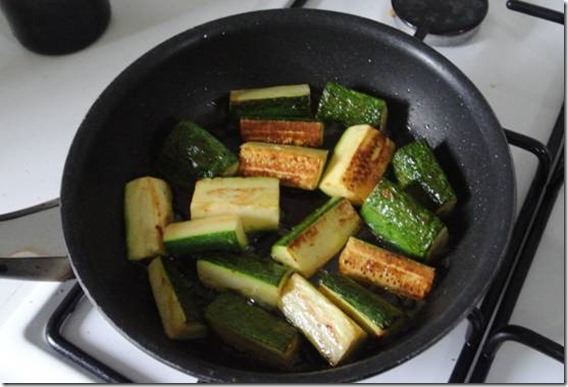 But it's the little chaps that provide some splendid recipes. Whether you call them Courgettes, as the French do or Zucchini which is their Italian name, they're a versatile vegetable for the cook. At their simplest, cut into triangular chunks and turned in a little butter or olive oil, as above.
Courgettes in batter with tomato sauce
Delicious vegetarian lunch, or side dish for dinner. Take one modest courgette per person and proceed as follows…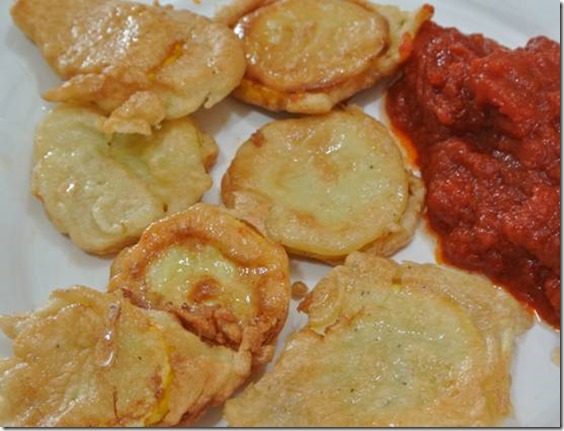 1) Slice courgettes into thinnish rings (about 1 cm thick)
2) Roll each piece in flour
3) Dip them into a batter (see below)
4) Fry quite slowly in plenty of oil in frying pan or wok until each piece is quite crisply golden.
5) Serve at once!
Batter Recipe
In a bowl put 2 tbsp plain flour and add one egg, a cup of water and several pinches of salt and some pepper.
Beat well until you have quite a runny mixture, with some bubbles. Cover in refrigerate for 30 minutes.
Beat again. Use.
Tomato Sauce
This basic tomato sauce can be used for all kinds of dishes. It freezes well. It can be made in any quantity in the proportion of 1 onion to 4 tomatoes. These quantities will make enough to be going on with…
2 onions, peeled and finely chopped
6-8 large ripe tomatoes, coarsely chopped
3-4 good cloves garlic, peeled and finely chopped
Sprig of thyme and several bay leaves
Salt and pepper
A little chilli pepper if you want a hot touch
4-5 tbsp olive oil
Method
1. In a large heavy pot, heat the oil and fry onions and garlic until transparent.
2. Add herbs and the tomatoes.
3. Cover, stir well and cook on low heat for 15-20 minutes, stirring from time to time.
4. Add seasonings. Simmer for 15 minutes.
If you want a thick sauce, remove the lid and simmer away liquid— watch out for burning, though! You can play about with the ingredients to your heart's content: more tomatoes, less onion, more garlic, fresh herbs like basil, yummy! For a tomato coulis, remove mixture from pan and rub through a sieve or a Mouli. Chuck into your food processor if you don't mind the pips. You can skin and de-seed the tomatoes before cooking if the seeds get into your teeth.
Courgettes Persillées.
I learnt this little recipe in 1973 from a highly eccentric French-Algerian chef-proprietor who ran a wonderful Auberge in deepest Cambridgeshire in east England. It never fails.
For each person you need one moderately sized courgette; one sprig parsley and half a clove of garlic, plus salt and pepper.
Grate the courgettes coarsely and put in a colander and squeeze water out.   Chop parsley and garlic finely.  Mix all together and season.  Stir fry briskly in olive oil for not more than two minutes.
Finally, a Cypriot recipe: 
Courgette Keftedes
Ingredients for 20 – 25 pieces
1 kg /2.2 lb of courgettes, grated semi-fine
4 good sprigs of parsley, finely chopped
4 sprigs of fresh, finely chopped basil
2 medium onions, peeled and very finely chopped or grated
6-8 cloves garlic, peeled and finely chopped
2 eggs, beaten
250g / 9 oz Kefalotiri or other quite hard cheese (Cheddar in UK)
Salt and freshly ground pepper
1 – 1½ cups dried breadcrumbs
Flour
Oil for frying
Method
1. Put the grated courgettes in a colander, sprinkle with salt and let stand for an hour so that they release their liquid.
2. Squeeze the courgettes, a little at a time, to get them as dry as possible.
3. Mix everything except the breadcrumbs together.
4. Slowly add the breadcrumbs. Mix well, until you have a nice firm mixture.
5. Form into balls about 3-4 cm in diameter, roll in flour and deep fry in hot oil until lightly browned and crisp on the outside.