For almost 20 years I wrote for newspapers and magazines in Cyprus, as well as publishing two cook books.  In the past five of those years, in conjunction  with publisher Masis der Parthogh I started the "Cyprus Gourmet" organisation, which had a weekly page in the Cyprus Financial Mirror, its own website and a glossy magazine.  The recession curtailed all of this, but following my recent visit, a modest re-start has now been made with the weekly newspaper feature, which is reproduced here with extra pictures.   This is number 5.
I Raise My Hat (and my Glass) to the Ladies. 
I am a great admirer of the fair sex, for many more than the obvious reasons. I am certainly happy to be called a feminist. This week, then, I salute two remarkable and talented women.
The wonderful thing about the re-birth of Cyprus Gourmet is that old friends and former contributors are getting in touch and sending in items. The delightful South African lady Serena Smith, on one of her regular visits to Cyprus, who contributed a number of varied perspectives of the Cyprus scene from 2009 to 2011, sent me an Email which started: "When we landed at Paphos last week, we picked up a copy of Financial Mirror, and there to our surprise was Cyprus Gourmet…" Blessed soul that she is she went one better by writing a piece about a very good venture for home grown tourists and visitors alike to enjoy.
Wish you were here… by Serena Smith
The biggest compliment I have ever been paid as hostess was when a Greek friend called me 'the Maria Callas of the kitchen'. By mixing his metaphors, he made me swell with pride. Now, mixing the realm of art, and the more basic art of eating well, has taken on new meaning in Cyprus with the inauguration this week of Art-En-Route, a website designed to lure tourists and locals on their way to lunch into the studios of working artists in the lovely Cypriot countryside.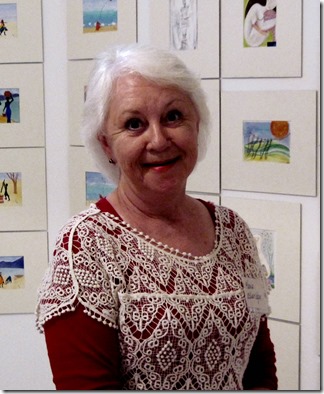 Last Thursday (8th May), Maria Etheridge (pictured left) and 19 of her fellow artists collectively launched www.art-en-route-cyprus.com at Zante restaurant outside Limassol. The brief for the introductory exhibition was to come up with 10.5 x 15 cm post-card-sized art works in any medium, for a uniform selling price of 30 euro apiece.
The result was a riot of colour, themes and media, ranging from minute pencil drawings and mini-mosaics to designs in wool, silk and quilt, as well as oil on glass. 'Wish you were here to see the flowers' reads one beautiful creation in softest wool, next to another artist's crisp pencil sketch of a Cypriot harvest scene beckoning with 'Wish you were here to tour the wine routes'.  One of the mini-artworks is this one…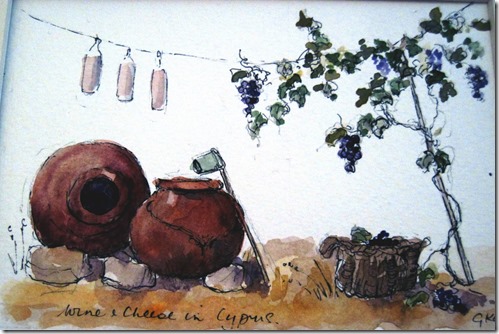 "Cyprus Cheese and Wine" by Gilly Keef – a noted water-colourist and long time resident of Anogyra, whose delicate works have graced many homes in Cyprus and elsewhere, including mine.
Zante restaurant took the general idea of 'small is beautiful' into their tasty morsels on opening night.
Enterprising restaurateurs may do well to check out the website for opportunities to piggy-back on to the artists in their area who created a very imaginative and useful website complete with GPS coordinates. Otherwise they can contact the organiser, Maria, on Saxons@cytanet.com.cy.
Building your next trip to a tavern around an artist's studio is a novel way of selling Cyprus as a tourist destination to both the locals and the incoming hordes from abroad. Well done, artists! I prize nothing more in my distant home than two paintings bought from artists at their studios in the days when we still had Open Studios. Together with the art work goes the memory of the whole situation: the drive there, the artist herself, her work place. Mixing the art of travel, that of the kitchen and art itself is an unbeatable proposition.
A Truly Amazing Couple      
Regular readers of my "old" columns will remember Elena and Bassam who run Orexi Catering, based at  Drousia in the Paphos district.    The words "wonderful Lebanese food" sum up their cooking, but there is much more to it than that. Battling through Big C, Elena not only runs the business with ever more gusto, but raises substantial sums for charity too.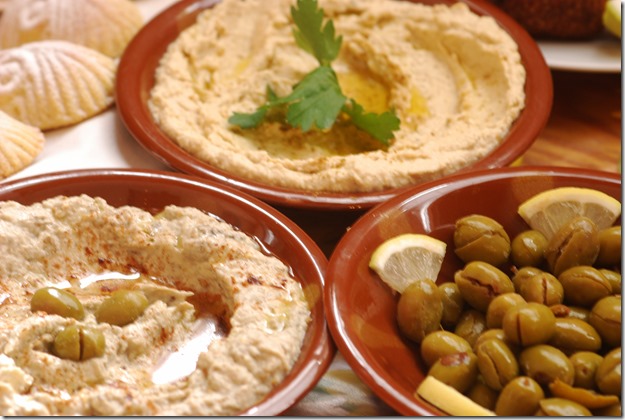 A small selection of Elena and Bassam's super Lebanese food: Smokey Aubergine Dip ("Melitzanasalata" in Greek; "Baba Ghanouche" in  Arabic); Hummus and Crushed olives.
I am happy to quote from her latest Email: Last week she says "We had more than 60 hardy folk in the Orexi Secret Garden enjoying Bassam's freshly baked flat-bread with all range of scrumptious toppings. And we managed to raise just over 1000 Euros for the Cancer Charities of Paphos – thank you to all who attended, put up with the downpour and helped make it such an enjoyable and worthy event".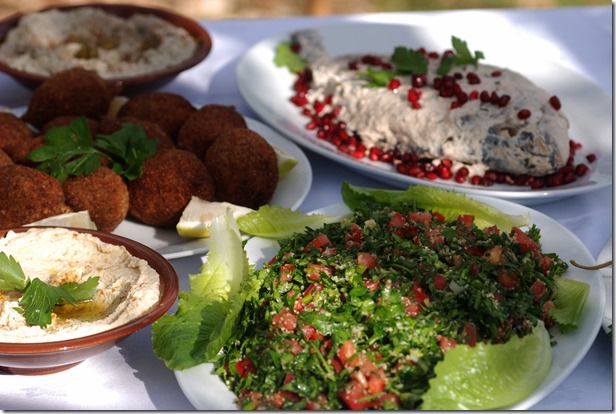 Part of Elena's Lebanese Mezze Table: bottom right is the finely chopped salad called "Tabbouleh", above which is a sea-bass with a Tahhina based sauce, whilst to the left are the gorgeous lamb and onion stuffed meatballs with a casing of pounded lamb and Bulgar wheat flavoured with cumin  and cinammon.
Visit to Dairy Farm
This Saturday (17th May) Elena and Bassam have organised a visit to a working local farm just outside Drousia. Elena writes: "Come and watch Koulla's enormous flock of goats being milked and then see how she makes Cyprus' most famous foodie product. Halloumi – and you'll get the chance to try some too".
Programme
9 a.m. Meet at Orexi HQ in Drousia, for coffee, tea and a bit of home-baked breakfast
10 a.m. We'll drive you down to the farm for a morning of rural gourmet delight
1 p.m. Return to the Orexi Gardens for a freshly cooked lunch and a glass of wine. The menu is: Kofte-bil-Sunniyeh: lamb and herb patties baked with potatoes and fresh tomatoes.
Vegetarian Moussaka: aubergine layered with bulgur wheat and feta, topped with a creamy béchamel sauce
Organic Broad beans sautéed with garlic and fresh coriander
Green Salad with a honey and mustard dressing
Hummus – Bassam's special recipe Middle Eastern dip!
At just 30 Euros for the day, including all food and beverages, per person this just has to be outstanding value!
For readers in Cyprus: To book a place or for information about Orexi, contact Elena at bandedoghman@ctyanet.com.cy     To read more about this foodie enterprise go to: www.orexicyprus.com