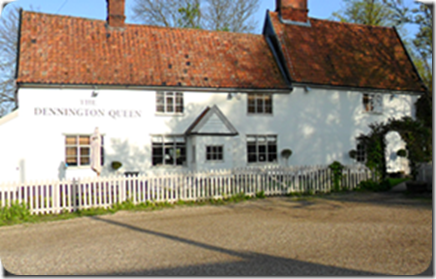 Encouraged by the favourable entry in the 2014 Good Food Guide, we went to dinner at the Dennington Queen on Easter Monday. An ample car park, in front of an attractive well painted, attractively illuminated period building, led in to a clean, spacious, pretty and comfortable bar and dining area. Just two other tables were occupied, but the staff were in good form, welcoming, friendly and attentive.
The menu offers pub grub like ham, eggs and chips, fish and chips and grills, but also includes some interesting proposals. Six starters including: a soup of the day (mushroom, garlic and basil on our visit); slow roasted Cajun pork belly, pineapple & cucumber salsa; and marinated feta cheese, sun dried tomato & haricot bean salad, herb croutons. After this you may choose from seven main courses, four desserts and cheese.
Two of us took starters: smoked fish arancini with whole-grain mustard cream sauce, and faggots in a red onion gravy. Arancini is an Italian dish of scoops of savoury risotto formed into balls, coated with egg and bread crumbs and deep-fried. A nice idea – enjoyable without dazzling the tastebuds. It came with a small salad of greens heavily laden with coriander. The faggots, usually served 'dry' were declared of good flavour and they and the gravy were happily supped up.
We paired off for mains, two having ham, two fried duck eggs and chunky chips and two slow baked lamb. Ham pronounced "OK", but not of the freshest and with rather a lot of fat. Chunky chips, good but not exceptional. On the other side of the table: two plates of slow roasted lamb on a bed of sloshy ratatouille with three new potatoes. The top of the lamb looked dry and cooked up. But it flaked well, and doused with some of the ratatouille tasted moderately Mediterranean. The whole dish, however, looked unappetising and tired.
One gooey chocolate mousse and cheese and biscuits completed the meal. The latter were the freshest and best part of the meal, four (small) pieces of English and French cheeses in excellent condition.
Around the table we drank: two pints of bitter, a bottle and a glass of gentle but quite fruity San Giovese rosé (£15.95) and sparkling water. Good coffee to finish. Bill including tip: £125.00.
Summary: Meal for two with wine £60.00 up. Open every day.
Verdict: Delightful building, very pleasing atmosphere, food on this showing, underwhelming. Value-for-money: if the food had been better it would be good.
The Dennington Queen, the Square, Dennington, Suffolk. IP13 8AB Telephone 01728 638421 www.thedenningtonqueen.co.uk
"SuffolkEater" is a four-headed, four-stomached reviewing body, who choose a restaurant, partake of different items on the menu, pay for the meal, depart and write about the experience. The foursome are experienced eaters-in and diners out, and unknown as reviewers to the places they