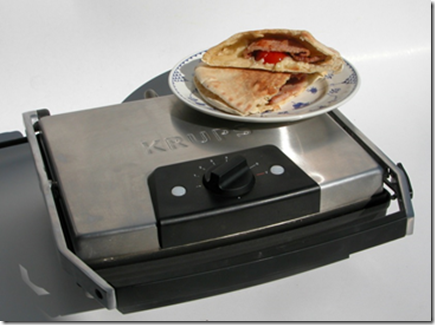 Toasties at Trinity's
They used to be called toasted sandwich makers, but since we went all Continental they're now "Panini Makers" (the two halves open wider than on an old toasted sandwich maker). You get this eponymous oblong roll, cut it open and stuff some cheese and ham inside. You then put the roll on to the plate of the machine and close the lid. The machine then squashes the roll rather nicely whilst melting the cheese and griddling the roll in pretty stripes on both sides. It also does toasted sandwiches. You can do all this at home, of course, if you've got space and cash for a Panini maker, or you can go to Trinity's in Market Square where for £4.75, you can get a sizzling hot one, with a varied choice of fillings, served with crisps.
(Left) centrally placed with parking nearby Trinit's at No. 14 is a handy place for a coffee, snack or light meal.   (Righ)  Tony Basil and Charmaine Crossman
On the Trinity's menu, too, is an array of all-day breakfast dishes from the Full English at £5.95 to slices of toast or plate of porridge. Chef Toby Basil does a dish of the day, too, as well as soups, baps, sandwiches, tea-cakes, home-made flapjacks and so forth. Friendly service from Charmaine Crossman. Good place to rendezvous in.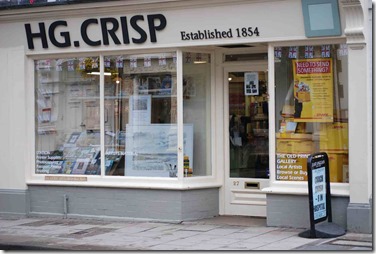 H. G. Crisp    From the newest kid on the block to the oldest. H G Crisp has been a family business since 1854. First the Brightleys, then from 1868 the Crisps until 2007 when it was bought by the Whites. Irene White, who spends most days at this Sax landmark, showed me round the venerable building, which started life selling brandy, working its way on to printing. It's a veritable treasure trove.
Pictured above…. a building with quite a bit of history houses a 'treasure trove'.   Above left: Irene White, Crisp's "C.E.O"; Right: the gallery which displays regular art exhibitions.  Below left: new and second hand prints and engravings share the first floor with the art gallery.   The Crisp's team:  Gerry Whiting, Irene White and Kyle Rayner.
Irene is proud of her team, clearly regarding all of them as indispensable. 'Chris Butcher, our Number One Delivery Person…. Gerry (Geraldine) Whiting, Kyle Rayner and Saturday girl Katie, Darren and Chris Butcher, newspapers….. not forgetting 'the lady who "does" for the premises, and has done for 21 years, Mrs. Ling….'
Crisps is one of those unique High Street shops that never seems to change, but is always up with the times. It's a marvellous emporium of books for all ages, toys, gifts, artists' materials and lots more, with an upstairs library and exhibition room, which regularly holds shows by local artists. 'We don't charge artists for the space. If they sell anything we take a commission', Irene says, adding with a smile: 'Sometimes this isn't a lot'.
'Since we took over in 2007', Irene told me, 'We have tried to keep up the Crisps' tradition. We go the extra mile, if we have to… sometimes further. But it's enjoyable and often entertaining'. This is clear from the pride and pleasure with which she talked about Crisps. She did say that a large volume of local gossip comes over the counter, but discreetly wouldn't vouchsafe any titbits to he writer!
Patrick Skinner, April 2013