Pottering Around
I wander along our High Street on most days and often wonder why there are so few people about. I find it rather a dull looking street; perhaps it still feels it should have the A12 traffic passing through it. This is a pity because there are some good shops run some by interesting people.
With two hot-shot supermarkets just 50 metres away, High Street businesses have had to fight hard firstly to survive, then to be secure and then to succeed. Two such are next door to each other – one sells flowers, the other meat. But their recipe is the same: personal service, hard work (lots of this), "products" that are exclusive, and localised sourcing.
Kevin Stannard, a family man of 44, was born on a dairy farm at Reydon. At 16, his first job was as a trainee butcher. After nine years he moved to the local water company, but eventually felt a yearning to be a butcher once more. A chat with his friend Stephen Pitcher, the then butcher in the High Street led to his taking over the business nine years ago. Hard work has paid off, with a loyal network of customers both private and "trade" and a catering company that does hog roasts, large barbecues, weddings and special functions
"We have spent many years finding the best local meat producers, and I think we have succeeded. They are farmers who put the welfare of their animals first. I think this shows in the quality. Then, we mature our meat, hanging beef for 28 days, lamb and pig for eight, which helps the flavour and texture".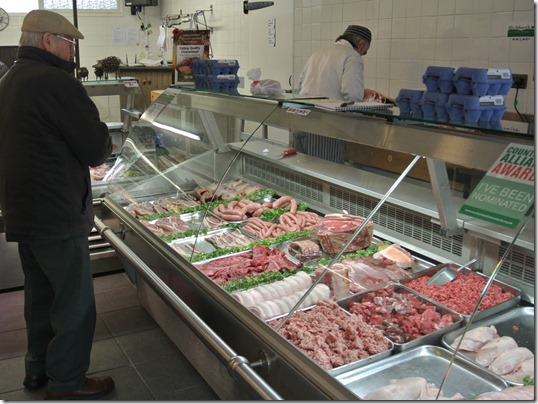 "Peter, David and Michael are our butchers, and they offer knowledgeable and individual service – able to advise on storage and cooking. We also pride ourselves on some of the best sausages and burgers in the county, made on the premises for 28 years by David."
Pass Stannard's window and behind an old iron railing you are confronted with a display of cyclamen, other potted plants and seasonal cut flowers. Through the door of "Flowers for Special Occasions" is a blooming lovely small world. Owner Jane Clarke has been a florist for 12 years and in Sax for four and a bit. Now is she beginning to see the fruits of her labour. She is a cheerful, business-like lady with a husband ("He's great and a huge supporter of what I am doing") and four grown-up children (one son and three daughters), who founded this super shop by paying the rent and her first stock with her credit card – she got the outlay back within three months.
Here, too, the secret is personal service and the creation of exclusive posies, bouquets and flower arrangements for individual customers. Where possible sourcing is local. My wife bought some Alstroemeria (nice white flowers for our table) and asked Jane is they came from Holland or further afield. "No", said Jane, "From Leiston".
As with most florists, funerals are a vital source of business, and Jane told me she is often able to give help in the sadness of bereavement. On a happier note, I interviewed her on the day after St. Valentine's. "I did lots of red roses", she said, "Hand-tied bunches and bouquets. Lots!"
EATING OUT – Main's at Yoxford
You go to Main's to eat good food Anglo-French in style, imaginatively conceived, caringly cooked and freshly served. The place is owned and run by Jason and Nancy Main. Jason is in the kitchen and Nancy looks after front-of-house.
Main's Restaurant, High Street, Yoxford, Suffolk IP17 3EU Telephone: 01728 668882 Open for dinner from 7.00 p.m. on Thursdays, Fridays and Saturdays. Three course meal for two with wine from £75.00. Parking on street. No wheelchair access.
The Old Chequers – Friston
Renovated and re-opened last November, this is a cheerful pub-restaurant now run by Susan Hall and her daughters Melinda (bar manager) and Daniella (assistant chef), a personable and professional trio. Susan has wanted to cook all her life and here she has ample opportunity with quite an ambitious menu. "Everything is home cooked", she says, "Including the chips", as we found out. They were very good – so was the fresh Dover sole and salad that went with them on our visit. You eat in the main bar area – the whole ground floor having been opened up – with a lovely big log fire.
The Old Chequers is already well established with locals as a meeting place, with passing trade wanting "a pie and a pint", or others, like us, on the look-out for places offering good local ingredients, well cooked and presented. They do parties, too – 20 hunters one day last week, a group of more than 50 shortly, for example.