As someone brought up with the cinema, it being almost the only form of entertainment available, and who worked in one for several years, I marvel at the atmosphere created by the Aldeburgh Cinema and its associated Club. Literally it re-creates the treat of "Going to the Pictures". With the modern difference, of course, of high definition digital images and Dolby sound – no scratches, squeaks and film-breaks.
In this past couple of weeks we have enjoyed current successes like "Quartet", but have also seen two Golden Oldies of vastly different styles. The first, selected by the Aldeburgh Cinema Club, was the brilliant 1967 tragi-comedy set in World War II Nazi-occupied Czechoslovakia, "Closely Observed Trains".
The second, the centre-piece of a celebration organised by the cinema's management was the showing of the 1957 British comedy "The Smallest Show on Earth". The occasion was arranged to celebrate the 80th. Birthday of chief projectionist Neville Parry and it was a full house. Before the screening General Manager Thomas Gerstenmeyer set the scene for the afternoon,; Front of House Manager Susan Harrison chatted with Neville and presented him with a scrapbook containing greetings and congratulatory messages from several hundred Aldeburgh cinemagoers and on behalf of the Board of Directors, Barnaby Milburn made a presentation. There was warm applause at all points for Neville, "Chief" for many of his 40 years at the cinema.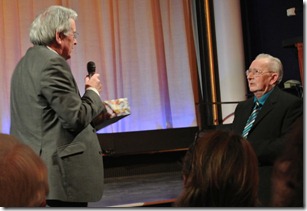 Not long ago, Neville had a triple heart by-pass operation at Papworth Hospital, and nominated that great institution for a charitable collection, which raised £315.
After the screening, tea, sandwiches canapés and cakes were served in the lobby of the cinema – and I can testify as to the very high quality of these, which made a fitting conclusion to a most enjoyable and splendidly organised function.